If you are looking for a Class C recreational vehicle, why don't you go for the best Class C RV? Class C motorhomes have gained immense popularity among RVers as a perfect alternative to Class A motorhomes in terms of luxury and features.
But, when it comes to buying the right one, things can get a bit complicated. With innumerable options available, you may get confused and end up buying one incompatible with your requirements.
It is wise to go through Class C RV reviews to avoid such a disastrous purchase, especially for such a high-value investment. We've reviewed 10 most reliable Class C RV models so you can make an informed buying decision.
Best Class C RV Models for Serious Travelers
Here is a compilation of some of the best Class C motorhome under 30 feet. Check out these reviews and find out the best Class C RV for the money.
1. Winnebago View Class C motorhome
Winnebago is one of the best Class C RV brands that have a wide range of motorhomes in their inventory. Of those, Winnebago View is quite popular. The reason could be its emphasis on user comfort and practical features instead of luxurious add-ons. The total weight of this motorhome is 15,250 pounds.
Both traveling and residing in this motorhome is convenient as it includes an HDTV, a full galley kitchen, air conditioner, ducted furnace, and a 30+ gallon freshwater tank. It comes with all the necessary features you need to live a comfortable life.
The motorhome interior is 25-feet long, and you get to choose from three floor plans and many other customized features. You can modify the bathroom, dinette, and seating area along with the queen bed that accommodates four people.
2. Coachmen Freelander Class C RV
The Coachmen Freelander Class C motorhome offers two types of models featuring either a Chevy or a Ford chassis and both can be included among the best Class C RV models. It has established its standard with superior features and high-end components. The weight of the total vehicle ranges from 12,500 to 14,500 pounds.
A rot-resistant construction made of lightweight aluminum makes this motorhome weatherproof. You can choose from more than a dozen floor plans, most of which offer a family-friendly package. You can rest easy knowing that the package includes sleeping area fans, a child safety net, upgraded mattresses, and many more.
In this RV that can fit in 8 people, you will also get a pre-wired satellite prep, a double door refrigerator, oven, microwave, pantry, burner cooktop, double-bowl sink, and up to 100 cubic feet of exterior storage space.
3. Coach House Platinum III
If a luxury Class C RV is your priority, this new Platinum III model from Coach House will be the right choice. With a gross weight of 11,000 pounds, it has a premium design and luxury features.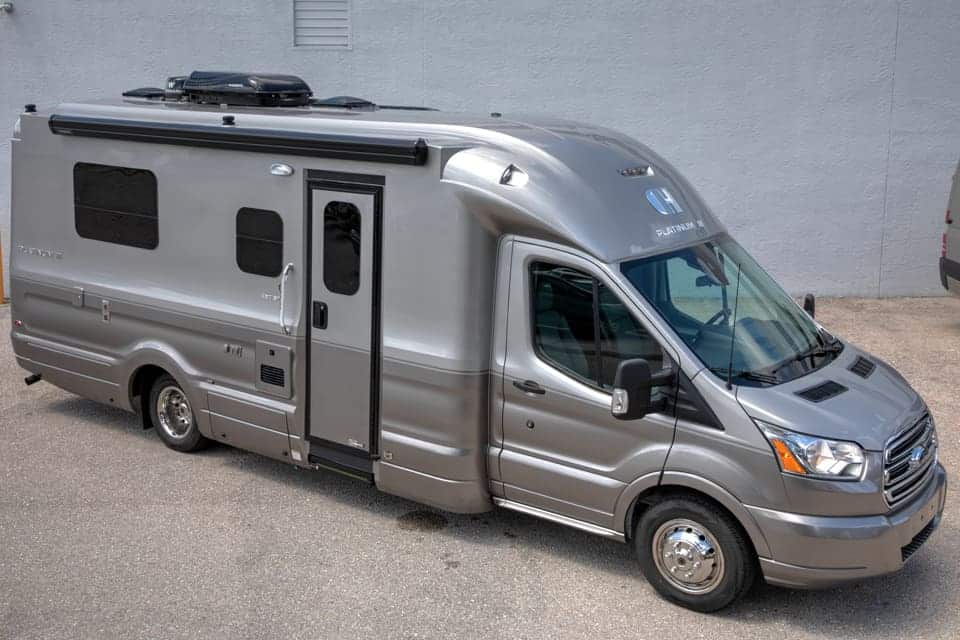 The designers built this one of the best Class C diesel motorhomes with a patented one-piece molded fiberglass shell. It gets its power from the Power Stroke turbo­-diesel engine.
Being one of the best Class C RV models, this unit offers two excellent floor plans. One comes with a convertible dinette and the other has a sofa bed on the backside of the cab. There are also two twin beds, an RV air conditioner, furnace, a full galley kitchen, and a bathroom for your convenience.
4. Forest River Sunseeker
Weighing 14,200 lbs, this model comes with a Ford and a Chevy chassis. It offers a total of nine floor plans but only three of them are under 30 feet. Its split-level design provides more headroom for the passengers.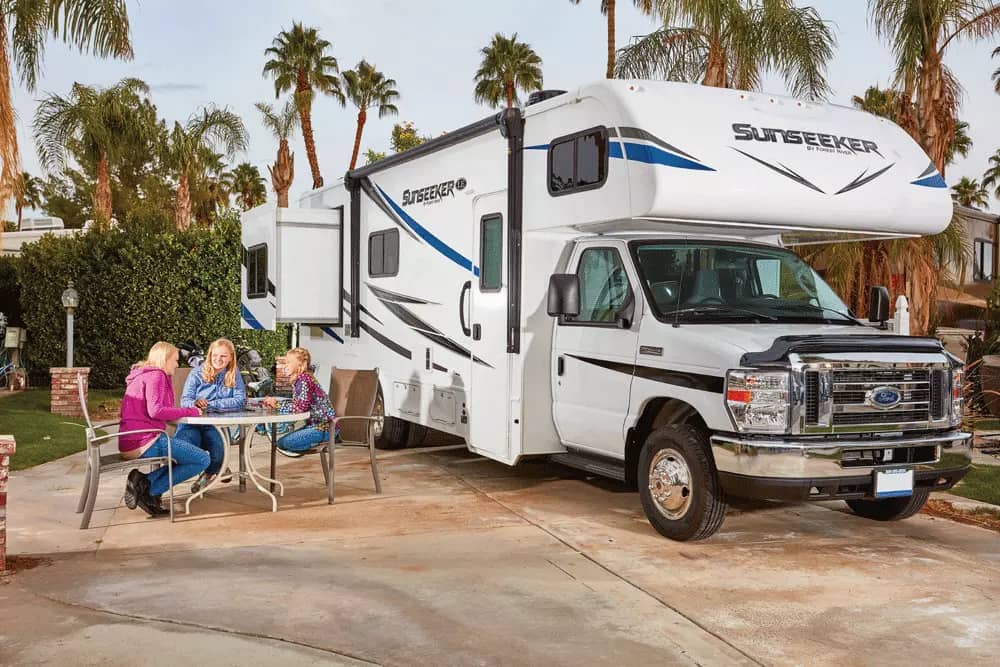 In this budget-friendly best Class C RV, you get a 40-inch TV with a workstation, 10-cubic-foot refrigerator, BTU furnace, flip-up countertop extension, cooktop, and microwave.
Other attractive features are an updated interior and a one-piece molded fiberglass cap. Six people can live in this RV that comes with a queen-size bed and an optional sofa-converted-bed.
5. Dynamax Force HD 37BH
Looking for a travel trailer with sleeping space for eight people? The 37BH HD FORCE best Class C motorhome for a large group. With 33,000 pounds of gross weight and the ability to tow 20,000 pounds, this performance-driven RV can accommodate your friends and family members.
Bunk beds, cab-over bunk beds, love seat, hide-bed-sofa, dream dinette — you can use them all as the sleeping space. There is room for additional appliances too like a 50-inch TV, fireplace, washer/dryer combo, and more, along with a built-in 32-inch LED TV, Cruise Control, storage cabinet, and a king bed.
A stainless-steel sink, under-cabinet lighting, gooseneck faucet, residential refrigerator containing icemaker are the star attractions of the Galley. In the bathroom, a porcelain toilet, Oxygenics BodySpa RV showerhead, large corner shower with glassdoor, and brushed-nickel faucet are ready to welcome you.
6. Jayco Greyhawk Prestige 30XP
This motorhome is here to stun you with its exotic interiors and bold exterior graphics. It has automotive-bonded windshields that not only look super-cool from the outside but also let in plenty of light inside the RV. When you do not need the light, just use the power shade.
Besides an 18-foot awning with integrated LED lights, you will get a cooktop plus stove, 12-cubic-foot residential fridge, solid-surface countertops, kitchen backsplash, and decorative shower surround. Its split bathroom comes with a toilet, sink, and shower enclosure.
If necessary, you can expand the living, bedroom, and galley areas using the full-wall slide feature. The capacity of the cab-over bunk is a massive 750 pounds. This 30XP model also comes with improved riding and maneuvering facilities.
7. Holiday Rambler Augusta 30F
While searching for the best Class C RV, you have to consider this motorhome. Its gross weight is 14,500 pounds, and its exterior length is above 31 feet. Its large-size master bedroom with a king bed, two LED TVs, and an RV refrigerator ensure that you get a complete residential experience without burning a hole in the pocket.
This motorhome has everything to become a luxury living place: a galley countertop, a water-filtration system for the whole RV, and upgraded cabinetry. It even has an on-demand water heater and tank for round-the-year camping.
Additionally, you will get the basic 15,000-mile guarantee for one year, along with a limited structural warranty of 45,000-mile or 36-months.
8. Thor Chateau Class C Motorhome
The Chateau from Thor is one of the top-rated Class C motorhomes that you can get around $60,000. Being one of the oldest of its type in the market, many RVers prefer it for its classic appeal. There's no doubt that its premium mattress and furniture make it a value-for-money product.
From more than 22 floor plans, Chateau 22B Chevy and Chateau 22E are the most preferred ones of the users. These trailers can accommodate four to seven people.
From its long list of features, some noteworthy ones are ceiling ducted air conditioning, mega-storage compartment, cabinetry, one-piece TPO roof, power windows, and keyless entry system, hard vinyl ceiling, and a powered patio awning.
If these are not enough, you can add extra amenities with the premium package. There are also options for upgrading the existing features.
9. Leisure Travel Vans Unity Rear Lounge
Built on the chassis of Mercedes-Benz, this RV comes with an innovative design. Its interior includes separate living areas and a sleeping facility for four people. Its floor plan consists of a spacious rear lounge, double Murphy bed, near floor-to-ceiling windows, and an entertainment center.
If you are a book lover, utilize these Power-reclining sofa chairs for peaceful reading time. You can also set up the removable swivel table to turn the living area into a temporary workstation.
For tech-savvy people, the unit offers the touchscreen-based Internet of Things solutions. Touchscreen multiplex controls and a built-in wireless charging pad will provide a new level of experience. In this motorhome, it's possible to control almost all the components using a smartphone application or any of the six displays inside the RV.
10. Phoenix Cruiser 2552
Phoenix Cruiser is one of the best Class C RV units featuring fine craftsmanship. It can offer an impressive ride, thanks to the 206-inch extended wheelbase and proper weight distribution.
The chassis of Phoenix Cruiser comes from Ford E-450, and it gets its power from a 6.8L Triton V-10 engine. Its gross weight is 14,500 pounds, with an exterior height of almost 28 feet. In this Phoenix motorhome, you will get solid wooden cabinets and customized leather-made furniture.
You can easily combine the dual twin electric beds to turn it into a king bed. The large bathroom, sizable wardrobe, roomy shower, leather seats for driver and co-driver, 250-amp alternator, electronic updated Ford front dashboard — everything contributes to your convenience while boondocking.
Wrapping Up
If you are looking for the best Class C RV, you can refer to the list provided here. Do not forget to compare multiple motorhomes before making the final decision.
Consider trailer size, budget, and durability above everything else while buying a Class C unit. If you are planning to make any changes in the future, confirm if the RV has upgrade options.