The number of RV owners is increasing day-by-day as people want to travel to different places at their own time and convenience. To ensure a comfortable journey by RV throughout the year, you need to make sure that your RV has a fully functional AC.
To ensure a healthy AC, you need to take proper care of your air conditioner. One major part of AC maintenance is cleaning the system's filter. If you want to know how to clean RV air conditioner filter, keep reading.
Many RVers don't know the correct way of cleaning the filter, leading to spending money on professional service or damaging the component when trying to do this at home.
Worry not. We will suggest one ideal method used worldwide to clean the air conditioner of RVs. Before going to that section, let's discuss the importance of keeping the AC filter clean.
Why to Keep RV AC Filter Clean: Top Reasons
The filter is the lifeline of an air conditioner, which ensures that you get fresh air. A dirty filter will hamper the main purpose of having an AC and end up allowing polluted and dirty airflow inside the RV.
Dirt accumulating in the filter may spread in ducts and make the whole AC go bad ultimately. It will cost you a lot to fix an AC.
An air conditioner with a dirty filter consumes more energy and reduces airflow inside the RV.
How to Clean RV Air Conditioner Filter: 5 Simple Steps
Here's a complete step-by-step process of cleaning an RV air conditioner. This method is applicable only for washable filters. So, make sure that your AC does not have a disposable filter which is suitable for one-time use.
Note: Do not try washing an AC filter which is disposable, this will not restore its previous efficiency. In fact, washing will most probably damage the filter.
Step 1: Remove AC Filter
The first thing one has to do before opening any electronic equipment is to turn it off. The same thing has to be done here for the RV air conditioning system .
Then, detach the protective cover by removing screws or pushing the tabs. Refer to the AC manual guide about safely opening the cover and removing the filter from it.
Complete removal of the AC cover might not be necessary if you can easily remove the filter when the cover is partially opened.
Step 2: Clean Filter with Vacuum
The next step in how to clean RV air conditioner filter is taking the filter carefully out of the RV to avoid the interior from getting dirty. At this stage, a vacuum cleaner will prove to be your best buddy. Use it at low or medium speed to clean all the dirt and other pollutants of the filter.
Handle the air conditioner filter gently to ensure that it does not get damaged in any way. If you clean the filter regularly, a deep cleaning may not be necessary unless the filter has some stubborn dirt on it.
Step 3: Use Water to Better Cleaning
If you think that vacuuming has failed to remove 100% dirt from the filter, try some wet cleaning. Put a few spoons of mild detergent powder in lukewarm water to create a thick lather. Put the solution in a container and submerge the filter in it.
For a normal level of dirt, let it rest for around 15 minutes. For stubborn dirt, leave it for several hours. You can also use a soft brush to gently remove the grime and then clean both sides of the filter by using a hose.
Note: Do not use any harsh chemical, abrasive brush, or hose nozzle with high pressure at this stage of cleaning, as these things may damage the filter.
Step 4: Get Rid of Bacteria
Apart from grime, dirt, and dust, your AC filter may contain some bacteria, which will not perish simply by cleaning with soapy water. You need to kill these bacteria to ensure a healthy environment inside the RV.
Create a solution by mixing an equal quantity of vinegar and water. Spray this solution on both sides of the filter.
Wait for 10 minutes and rinse the filter under running water. You can also use a hosepipe to rinse.
Step 5: Reinstall the Dry Filter
Once the cleaning part is done, it is time to put the filter back in the air conditioning system. But this should not be done when the filter is still wet.
Air-dry the filter for several hours outside the RV by placing it against a wall on some dry newspapers. You can also put the filter on a rack and place it outdoors on some dirt-free surface.
Once the filter is dry, put it back on the AC and reinstall the cover. Now, the AC is ready to supply fresh and pollution-free air.
How Often Should You Clean the AC Filter?
Besides knowing how to clean RV air conditioner filter in the right manner, you should know how often the filter should go through this cleaning ritual.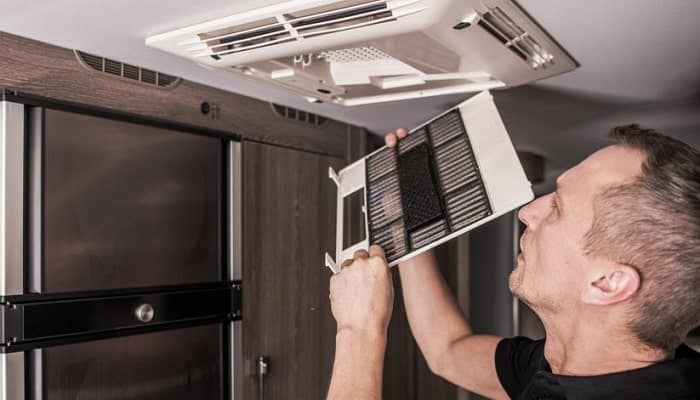 One way to find out is to examine the filter's condition on a regular basis. Check it once in a month if you are a regular user and clean if it is dirty.
For a clean filter, you can reschedule the cleaning work for the next month. If you are not a regular AC user, check the filter once every two months.
Final Words
Like every other part of your RV, maintenance of the air conditioner is very important. To keep the AC properly functioning, regular cleaning of the AC filter is mandatory.
We have described the easiest method of how to clean RV air conditioner filter. Take a note of the steps and you will be able to clean the filter anytime, anywhere, without any hassle to avoid regular RV air conditioner filter replacement.
A clean RV air conditioner ensures a healthy and pollution-free environment inside the RV and protects from air-borne diseases.