Why does anyone want to own a diesel pusher instead of a rig that runs on gasoline? There are a few reasons but the choice mostly depends on personal preferences. These two types of recreational vehicles have substantial differences between them. However, both of them have ardent fan-following who would eagerly vouch for them.
If you have already decided on a diesel unit, you might have been looking for the best diesel motorhome for the money.
What Are Diesel Pushers?
Every RVer, who wants to live large on the road, dreams of owning a Class A diesel motorhome sometimes down the road.
Class A diesel motorhomes are the crème de la crème of RVs. These fully decked out vehicles will make you feel like you are living in a home. The ride is so comfortable, the facilities are abundant, and the luxury features are so spot on that it doesn't feel like an RV.
These vehicles are typically 24 to 40 feet long and can set you back for $300,000. In fact, the price of a customized diesel pusher can touch seven figures too. People who go for the customized option often choose upgrades like heated tile floors, on-board electrical plants, a big kitchen with all standard equipment, and more.
Diesel Motorhome Pros and Cons
Comparing different aspects between diesel vs gas motorhome will give you a clear idea about the positives and downsides diesel pushers.
The Pros of Diesel Motorhomes
Availability of options. In the diesel-run category, you will get a wide range of floor plans. So, you can choose according to your needs and desired lifestyle. Also, the interior in these vehicles is more luxurious than that of a gas-run RV.
Longer lifespan. They often outlast a gas engine by a decent margin. Between a rebuild or overhaul, it can go more than 200,000 miles. Full-timers who plan to drive a lot between maintenance schedules will definitely love a diesel RV. Also, longer lifespan means a higher resale value.
Engine power. Another strong point of the diesel version. Its superior low-end torque helps with towing loads and climbing uphills. A diesel engine produces more torque at lower RPMs, which is great for cruising mountainous roads with heavy loads.
A gas engine produces more power at higher RPMs, which is helpful for quick acceleration. However, speeding up is not quite desirable when driving an RV.
Riding comfort and hauling capacity. Nothing can beat diesel pushers in terms of riding comfort. Because of having a heavy chassis and air ride suspension, they provide a smooth riding experience.
The strong, brawny chassis also has a greater towing capacity. You can haul plenty of stuff, which is a plus when you are traveling with your family.
Fuel efficiency and emission. Buy a diesel RV if you want to have the fuel economy. There won't be a dramatic difference compared to a gas engine, but you will get more miles per gallon, for sure. They also emit less carbon dioxide, and other greenhouse gases.
The Cons of Diesel Motorhomes
Expensive fluid. Diesel fuel is more expensive than gasoline. Besides, newer motorhomes require a special diesel exhaust fluid (DEF) that is pricey and not available everywhere. This is extra to your expense tally of owning a diesel pusher.
Maintenance. Diesel RVs require less-frequent but regular maintenance. Upkeep negligence can bite you back in the form of some highly expensive repairs. Also, diesel engine maintenance expenses, including costs of parts, servicing, and more, are higher than gas engines.
Overall price. The price of a diesel-run RV could be double than of a gas-run unit in the same category. The customized versions cost even more. However, this price tag is somewhat justifiable considering the long lifespan and numerous benefits they offer. And, their resale value is high too, so you can recoup a greater percentage of the expenses.
Buying an RV: Gas vs Diesel RV
Comparing gas vs diesel RV will put the latter miles ahead of the gas engine vehicles. They offer so many benefits that it's quite hard to ignore them. However, buying an RV is still a personal decision, depending on your lifestyle, travel plans, and budget.
Diesel motorhomes are much more expensive than the gas RVs. Sure then come with plenty of comfort features, but do you really need them? If you travel solo or with a partner, there is no need for a large diesel pusher. Also, a diesel RV seems extra when you are an occasional or seasonal traveler. Why buying a highly expensive motorhome and then leaving it in a storage facility for most time of the year?
However, a diesel RV is the best solution if you have the money and want to make it your permanent residence. If you ever decide to go back to your regular life, you can recoup a fair share of the spent amount because diesel pushers have a good resale value.
6 Best Diesel Pusher Motorhome for the Money
Anybody owning a pusher will praise its solid construction and stable handling on the road. Diesel pushers also last longer than their gasoline counterparts.
We've compiled a list of best diesel motorhomes to save your time.
Tiffin Motorhomes, Newmar, and Winnebago are some of the best diesel RV manufacturers currently operating in the market. They manufacture some of the top rated Class A diesel motorhomes that money can buy. Featuring a solid framework, high-quality parts, and loads of luxury add-ons, these coaches allow you to travel in comfort and style.
If you are shopping for a reliable diesel pusher, these are the best options with highest ratings from customers.
What are the best diesel motorhomes for the money:
Newmar Ventana 4369
Tiffin Allegro Breeze 31 BR
Tiffin Allegro Bus
Tiffin Phaeton 37BH
Winnebago Forza 34T
Newmar Dutch Star 4369
1# Newmar Ventana 4369 Motorhome
The Ventana 4369 from Newmar is one of the best class a diesel motorhome units in the market. It is a spacious, fully loaded home on wheels that offer hotel-like comfort and facilities away from home.
All models in the Ventana series are equipped with state-of-the-art features including top-grade electronics and modern appliances.
The Ventana 4369 is huge with a length of 43 feet and 10 inches. The interior space accommodates a master suite, well-decorated living area, and a fully equipped kitchen. The bedroom has a king-size bed and a huge bathroom with a shower and two separate sinks.
2# Tiffin Allegro Breeze 31 BR Motorhome
This compact diesel pusher is the best diesel motorhome for the money if you are looking for something smaller and less expensive than Ventana 4369. It is the most compact unit in Tiffin's inventory but does not lack in luxury features.
The unit is packed with innovative and advanced features including porcelain tile floor, customized PowerGlide chassis, handcrafted cabinets, and more. The amenities include a fireplace and TV in the living area while the spacious kitchen has a three-burner stove and a residential fridge.
This model has three slides. One opens up the queen-size bed area while the rest two are for the living space.
3# Tiffin Allegro Bus Motorhome
The diesel motorhome is one of the best diesel RV units on this list with a combination of a powerful engine, a high-quality framework, and a sophisticated look. The use of top-grade materials and features further enhances the vehicle's unmatched elegance.
Allegro Bus houses a Cummins 450 HP engine inside the Powerglide chassis. The huge engine coupled with a solid structure can project massive power on the road. The beautiful interior displaces top-notch finishing touches. You have to admire the marvelous ceiling effects, porcelain tile floor, central vacuum, and the fireplace.
4# Tiffin Phaeton 37BH Motorhome
The Phaeton 37BH is another best diesel motorhome for the money from Tiffin Motorhomes. The stylish unit with upscale features is for those campers who like to travel in style.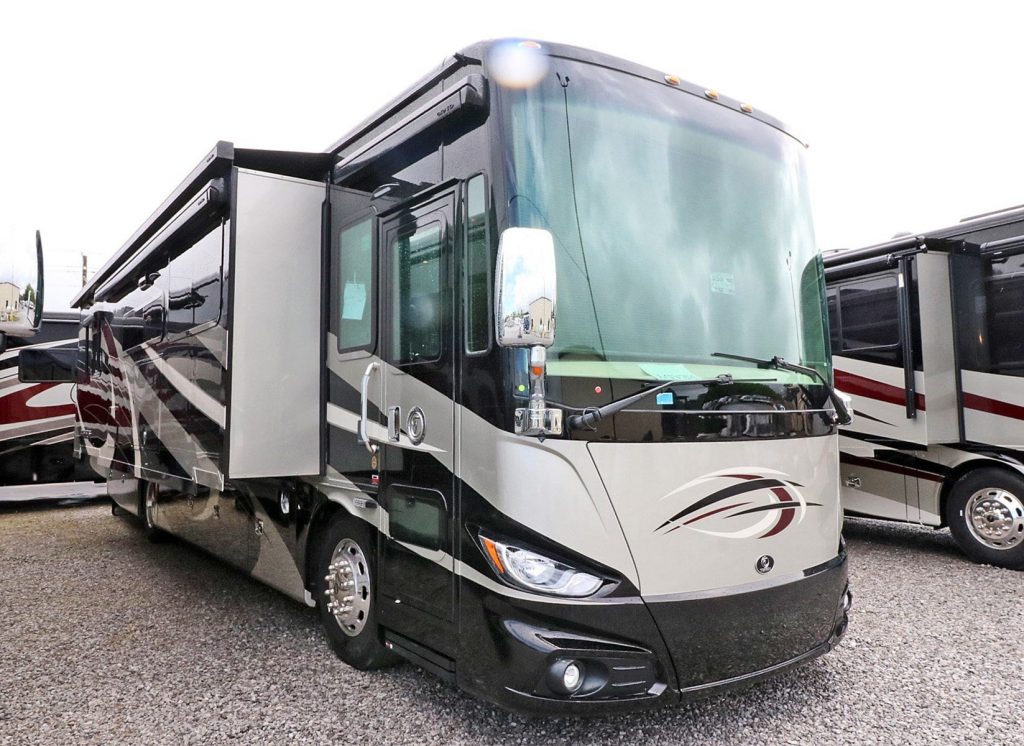 The master suite accommodates a queen-size bed and a full bathroom. There is another half-bath on the front side for kids or guests. There are three large slide-outs that open up to the living room.
5# Winnebago Forza 34T Motorhome
The Forza 34T from Winnebago is a major powerhouse on the road. The family-friendly rig looks highly elegant with full-body paint. There could not be a better RV if you are thinking of having long trips across the country with your family or friends. It will keep everyone relaxed and entertained with advanced equipment, plush furniture, and high-end entertainment systems.
There is a living area slide-out that creates a spacious living space, which is great when you are traveling with a group. You can choose either a dinette/convertible sofa combo or a wrap-around sectional sofa when buying the pusher. Another slide out opens up the bedroom and kitchen areas. The bedroom accommodates a queen-size bed and has a separate sliding door if you need privacy.
6# Newmar Dutch Star 4369 Motorhome
With a deluxe interior design and plenty of luxurious features, the Dutch Star 4369 from Newmar is another best diesel motorhome for the money. This unit belongs to the brand's one of the most iconic coach lines.
One unique option that the Dutch Star 4369 offers is the three interior design choices. You can pick one depending on your travel requirements and personal taste.
The master suite has a full twin-vanity bathroom along with another bath-and-a-half. Three slide outs make sure that you always have extra space. Other features include a well-equipped kitchen and a living space with a dinette and two sofas.