Decided to embark on the RV life but don't know where to start? You've come to the right place! In this beginner's guide to living the high life on the road, we will cover the true ABCs of motorhomes – the best RV brands on the market that you should start your research from.
This guide will be the most detailed beginner's guide to RV brands you'll find on the Internet in the way that it clearly highlights the unique strengths of each brand, and the classes and categories of RVs that they specialize in. This is important as each class comes with distinctive size and amenities, plus there are many sub-categories for different types of travelers, such as large-size luxury motorhomes, four-season RVs, lightweight teardrop travel trailers, or affordable and minimal campervans for beginner solo travelers.
Since it's natural that each manufacturer will specialize in only a few specific categories, this will be the basis on which you can proceed to hunt for the right vehicle for your budget and camping needs, with much more to explore in our comprehensive library of RV reviews.
If you're bored and stressed being holed up in your home amid this pandemic, or not ready yet to commit to this lifestyle long term, renting is a great idea to test things out. Below are the best travel trailer brands in 2020 so that you can easily find the best fit for your wanderlust. Each name in our list is a prestigious brand that has a clear proven track record of providing functional and durable motorhomes as well as top-notch customer service, based on the reviews of full-time RVers and professionals alike.
Best RV Brands: Manufacturers With Multiple Classes
It is very important to note that there are different classes of RVs with different size and weight range as well as amenities. Which RV manufacturers are rated best really depends on the class of RV that you're looking for, as there will be many brands that focus on only one or two classes and they do it well. Such specialization can mean a high level of expertise in that particular class of RV and thus offer affordable prices and quality.
That said, the first section of this guide will cover the best RV brands with larger product portfolios, i.e. offering multiple classes of RVs. The later sections will cover manufacturers that only produce one single class, including Class A, Class B, Class C, Fifth Wheel, Travel Trailer and Truck Camper.
Let's start off with prestigious manufacturers who offer different classes.
1. Airstream
Airstream has been in business for close to 100 years, with a deep focus on compact RVs for solo and couple travelers or small groups. Its strongest lineup is its travel trailers, which is what the brand is known for. However, Airstream's Class Bs are designed and built with just the same quality and standards, so be sure to check them out.
The Airstream philosophy has always been "Let's not make any changes, let's make only improvements!" Indeed, every inch of an Airstream has a functional purpose, so you get the most out of the limited space. This philosophy has been apparent even in the classic Airstream of the thirties.
Class B Motorhomes:
Atlas, Interstate Lounge EXT, Interstate Grand Tour EXE, Tommy Bahama® Interstate, and Interstate Nineteen
Travel Trailer Models:
Classic, Globetrotter, International Serenity, Flying Cloud, Caravel, Bambi, Nest, Basecamp
Airstream is known for their iconic, vintage, Instagram-worthy silver-bullet, aluminum rigs that will never go out of style. Some notable features include panoramic windows, off-the-grid capacity, and upgraded styles. Airstreamers can choose from classic bubble-style models, or opt for an off-road-style Basecamp or the newest fiberglass model, the Nest.
2. Newmar Corporation
Newmar has been making quality RVs for over 50 years and was recently acquired by Winnebago Industries. Newmar is one of the best RV brands in general and perhaps the most recognized names in the motorhome market, especially the luxury motorhomes with their Luxury Class A models and Super C models. Their strongest offerings are the Class A lineup.
Their Class A and Class C motorhomes are designed with powerful engines and solid, luxury bodies. Another innovation that sets the brand apart is their patented Comfort Drive™ steering system that navigates the road and adjusts to curves with a self-straightening steering system, all for a comfortable and stress-free drive.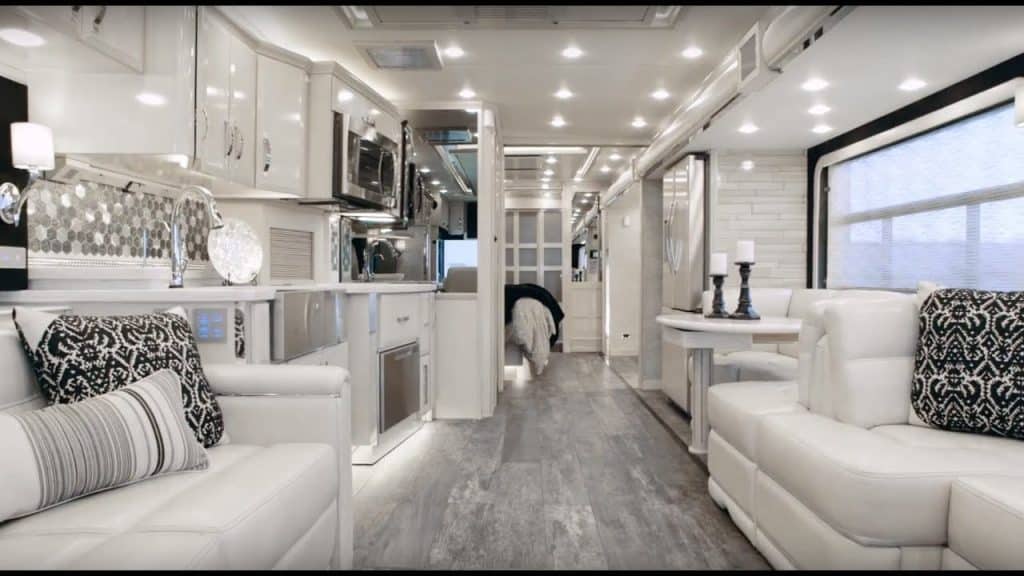 Class A Motorhomes
Diesel luxury models: King Aire, Essex, London Aire, Mountain Aire, and New Aire
Diesel models: Dutch Star, Ventana, and Kountry Star
Gasoline models: Canyon Star, Bay Star, and Bay Star Sport
Class C Motorhomes:
Super C models: Super Star and Supreme Aire
Fifth Wheel Models:
Micro Minnie, Voyage, Minnie Plus
Newmar entered the Class A market in the 1980s and has since continuously evolved to offer important improvements. Their longest-running models, Dutch Star and Mountain Aire, are still some of the most loved Class A motorhomes on the market.
Newmar was the first RV manufacturer to introduce slide-outs in a Class A motorhome. Starting in 2020, Comfort Drive™ comes standard on all of Newmar' Class A models.
That said, their super luxury Class C models are also definitely worth a test drive. They feature a powerful engine paired with a solid, luxury and spacious Freightliner chassis that offer space, privacy and ample amenities.
Apart from the luxury motorhomes, Newmar is also a well known name in the affordable fifth wheel category. Each of their fifth wheel models offers comfort and quality, plus decent space. Even the smallest of them, the Micro Minnie is less than 27′ long, but still comfortably sleeps at least five.
3. American Coach
American Coach is owned by the REV Group, and is known for their luxury upscale motorhomes with patented Freightliner® Custom Chassis and state-of-the-art construction.
Class A Motorhomes:
Eagle, Dream, and Revolution
Class B Motorhomes:
Patriot and Patriot Cruiser
If luxury, comfort and aesthetics are what you're looking for, American Coach motorhomes have interior upgrades ranging from fabrics and flooring to highly innovative electronic systems, and exquisite finishes both inside and outside, which provides owners with a luxury living.
4. Entegra Coach
Entegra Coach describes their RVs as, "The quietest riding, best handling coach on the market today. Period." And this is as true as gold. Period. Entegra is now part of Thor Industries.
The brand is known for their luxury, solid hand-built coaches, all come with a two-year limited warranty and three years of roadside assistance, which speaks volume about their quality standards. What sets Entegra's Class A and Class B apart is state-of-the-art structure that is built to last and the variety of eye-pleasing luxury upgrades, which makes it feel just like home.
Class A Motorhomes:
Gas models include: Vision and Emblem
Class B Motorhomes:
Odyssey, Esteem, Qwest, and Accolade
5. Thor Industries
Thor Industries began in 1980 and has been continuously growing in size and prestige over the years. Since then, Thor Industries has successfully acquired some of the biggest names in the RV industry, particularly in the motorhome category, making this segment their strongest lineup that sets the brand apart. If you prefer to drive in a motorized RV, Thor might have what you need.
Thor has many models, engine, and chassis configurations to choose from for their Class A, B and C models. The uniqueness of the brand is the focus on their patented RUV™ vehicles, which are more than a motorhome, but a true home on wheels built with all of the comforts of a sticks-and-bricks home.
Class A Motorhomes:
Diesel models: Palazzo, Aria, Venetian, and Tuscany
Gasoline models: A.C.E., Windsport, Hurricane, Miramar, Challenger, Axis RUV, and Vegas RUV
Class B Motorhomes:
Gasoline models: Tellaro and Sequence
Class C
Diesel Super C models: Omni and Magnitude
Gasoline models: Chateau, Four Winds, Quantum, Compass RUV, and Gemini RUV
Thor Motorcoach produces motorhomes under the umbrella of Thor Industries and is mostly associated with large and luxury motorhomes Class A motorhomes and Class C models. That said, however, their Class B camper vans offer great value for money. They are small, but powerful and comfortable.
Their smaller Class A and Class C models also offer a good balance of amenities and size, which allows easier handling even on city streets. Thor is definitely among the best RV brands these days when it comes to motorized RVs.
Manufacturers With Multiple Classes: Fifth Wheel, Travel Trailers and Truck Campers
1. Grand Design RV
Grand Design specializes in fifth wheel and travel trailers, and are known for their good balance of easy towability, functional design, durability and value for money.
Fifth Wheel Model: Reflection
Travel Trailer Models: Transcend, Imagine, Reflection
Perhaps the small product portfolio also allows them to focus on continuously improving their RVs from the feedback and reviews they receive. Indeed, their newest travel trailer, the Transcend, shows that they listen to their customers and features immense improvements like open floor plans, functional space-saving design, and much more flexible towability.
2. KZ
KZ has something for every type of traveler even with its few fifth wheel and travel trailer models.
Fifth Wheel Models: Durango Half-ton, Durango, Durango Gold, Sportsmen
Travel Trailer Models: Connect, Escape, Sportsmen
You won't be missing home with KZ's spacious and full-equipped fifth wheels. These home-on-wheels are perfect for full-timers with residential furniture, a chef's kitchen, multiple slide-outs, washer/dryer prep, king-sized beds, a walk-in closet, and a residential showe.
KZs three travel trailer models can cater for varying needs, from the ultra-lightweight for spontaneous trips to models for longer trips with one or more companions.
3. CrossRoads RV
Founded in 1996, CrossRoads RV prides themselves on strong relationships with local dealers and the special "Build My RV" feature on their website, which allows customers to browse and select brands, floor plans, features, and designs to construct their dream camper that exactly match their needs with minimal compromising. Their travel trailers seem to be their stronger lineup.
Fifth Wheel Models: Cameo, Cruiser, Cruiser Aire, Volante, Redwood
Travel Trailers Models: Zinger, Sunset Trail, Volante, Cruiser Aire, Hampton
CrossRoads RV fifth wheels come in a variety of floor plans so you can have your pick. Their travel trailers also offer different single-level floor plans and come with stainless steel appliances, residential wood accessories, and much more.
4. Cruiser RV
Cruiser RV specializes in toy haulers for the outdoorsy adventurers with a lot of gears, and affordable, compact and lightweight travel trailers. Such designs are fine-tuned each year so consumers get the best of the best.
Fifth Wheel Models: Stryker
Travel Trailers Models: Embrace, Fun Finder, MPG, Radiance, Shadow Cruiser
Cruiser RV manufactures one fifth wheel: the Stryker, which is also a toy hauler with four models to choose from. The brand's travel trailers, most of which are half-ton towable, are specially designed to minimize pull weight without sacrificing amenities. If you're a spontaneous solo or couple travelers on a budget, these affordable trailers are for you.
5. Dutchmen RV
Fifth Wheel Models: Astoria, Atlas, Yukon
Dutchmen offers several fifth wheel models, including the Atlas, which can sleep up to ten, has one touch auto leveling, comes with an iN-Command System, and is prepped for WiFi 4G LTE. All Dutchman brands carry one of the best warranties in the industry, as well as a quality pre-delivery inspection.
Travel Trailer Models: Astoria, Aspen, Coleman, Kodiak
Dutchmen travel trailers offer best in class floor plans that fit any camping style. Take the Coleman and Kodiak, for example. The iconic Coleman Lantern has amenities and features like large windows, solid touch kitchen countertops, upgraded furniture, and high capacity holding tanks. The Kodiak is a leader in lightweight technology and can be towed by most SUVs, minivans, crossovers, and trucks!
6. Heartland RV
Heartland was founded in 2003 as a company by RVers, for RVers. Within five years, they made their name in the industry and was particularly known for their recognizable travel trailers like the Mallard and Pioneer. Engineering and innovation are Heartland's competitive advantages, including their patented turning radius, universal docking centers, and unmatched storage capacity.
Fifth Wheels Models: Milestone, Elkridge, Big Horn, Big Country, Landmark, Pioneer
Travel Trailer Models: North Trail, Wilderness, Mallard, Sundance, Prowler, Trail Runner, Pioneer
One thing that sets fifth wheels apart is their patented tight turning radius design, allowing the vehicles to be easily towed by short-bed extended cab trucks without hitting the cab of the truck.
What's special about the brand's travel trailers is their extensive storage space, plus extreme comfort with cozy design and decor. They are well built and lightweight, with the materials being mostly aluminum.
What's more, many models offer bunkhouse floorplans, which is ideal for larger families, in addition to models of smaller sizes for solo campers or couples.
7. Highland Ridge RV
Highland Ridge RV are principally known for their full lineup of spacious, well-equipped and well-designed fifth wheels, in addition to their lightweight travel trailers that only require an SUV to tow. Both their fifth wheels and trailers offer from lite to full-profile models, so you can have your pick, no matter how many companions you travel with.
Fifth Wheel Models: Light, Open Range, Mesa Ridge, Silverstar
Travel Trailer Models: Open Range, Open Range Ultra Lite, Light, Mesa Ridge, Mesa Ridge Lite, Mesa Ridge Limited, Silverstar, Silverstar Lite, Silverstar Limited
Highland Ridge offers every type of fifth wheel with lite, full-profile, and luxury models, suitable for groups of different sizes. Known for their luxury features, these fifth wheels typically include high-quality features like stainless steel appliances, arched ceilings, and an upgraded heating system.
What's special about Highland Ridge's travel trailers is that most models can be towed by SUVs and medium-duty trucks, making them the ideal option for beginners or weekend campers.
8. Palomino RV
Palomino is best known for their truck-bed campers that come with very smart space-saving designs, which is ideal if you already own a pickup. Today, they produce a full line of travel trailers, including the Revolve, which won RV News' 2019 Best of Show new unit, as well as fifth wheels and truck campers.
Palomino's RVs are rugged built, lightweight, easy to tow, come with full amenities and are affordable. In general, you can expect a well furnished interior design.
Fifth Wheel Models: Columbus, Puma
Travel Trailer Models: Palomini, Puma, Real-Lite Mini, Revolve, Solaire, Columbus
Truck Camper Models: Backpack, Real-Lite, Rogue
Palomino makes both hard and soft-side truck campers designed to fit a variety of pickups on the market, so there's likely one for yours. Palomino manages to fit in the bed of a truck many of the features that you'd normally find in a more spacious travel trailer.
9. Prime Time Manufacturing
Prime Time Manufacturing is now owned by Forest River, Inc. Though just over a decade old, this manufacturer has earned over 20 prestigious DSI Quality Awards, thanks to their strong commitment to craftsmanship and quality: every rig must pass the thorough 65 point inspection. They are also praised for their great customer support, including the Emergency Roadside Assistance on every unit.
Fifth Wheel Models: Crusader, Crusader Lite, Sanibel
Travel Trailer Models: Navi, PTX, Avenger, Tracer Breeze, Tracer, Lacrosse
Despite having a small number of offerings, Prime Time's lineup of fifth wheels and travel trailers have varying options for every camper, including the experienced, the casual and the first-timers alike. Rigorous quality control and superb craftsmanship means every detail, every nook and cranny of every rig will provide you with a comfortable camping experience.
10. Starcraft
Starcraft only makes fifth wheels and travel trailers, and a total of only 3 models at that, but has made a name for themselves for their easity towable vehicles, which means you might not need to upgrade your family car to a truck just for towing.
Fifth Wheel Model: Telluride
Travel Trailer Models: Autumn Ridge, Super Lite
Starcraft's half-ton towable fifth wheel comes with luxurious standards like stainless steel appliances, solid surface countertops, theater seats, a fireplace, and even pull-out pet dishes and a pet bed, which essentially means you need not sacrifice the fundamentals of a cozy home.
Both Starcraft's two travel trailers are easy to tow and have many space-saving innovative enhancements, in addition to many nice features like heated and enclosed underbelly for toasty camping in winter, power awning with LED lighting and built-in speakers.
11. Lance Campers
Lance is famous for their truck campers, and is making their mark in the industry for their commitment to creating environmentally friendly, toxin-free RVs. The brand has been building truck campers since 1965, making them one of the oldest and most popular in the industry. Some of the originals are still running strong on the road today, a testament to their quality and durability.
They have been gaining popularity in the travel trailer arena with their full line of travel trailer models ranging from a smaller 14′ models to larger 25′ ones that sleep up to eight people, catering for every type of camper.
Travel Trailer Models: 1475,1575, 1685, 1985, 1995, 2075, 2185, 2285, 2295, 2375, 2445, 2465
Truck Camper Models: 650, 825, 850, 855s, 865, 975, 995, 1062, 1172
12, nuCamp RV
nuCamp is one of the new kids on the block, but they are making waves with their aesthetically pleasing campers and truck campers.
Travel Trailer Models: TAG, TAB, and Avia
Truck Camper Models: Cirrus 720, 820, 920
Their ultra-lite teardrop campers, the TAG and TAB, are ideal for 1 to 2 person minimal designs but with all of the essentials, while the Avia is bigger with more amenities.
nuCamp's truck camper Cirrus has a sleek design and luxurious features that sets it apart from the rest, including its spacious sleeping quarter, standard solar kit, and wireless backup camera.
13. Travel Lite RV
"Lite" is in the name, so you know what to expect. Travel Lite RV specializes in light-weight trailers to tow behind a SUV or crossover, with cutting edge modern design and unique safety features.
Their truck campers are also super lightweight. The Rayzr doesn't have an area that extends over the cab, so you can fit it in the bed of the truck and travel hassle-free.
Travel Trailer Models: F Lite, Falcon, Peak 9, and Evoke
Truck Camper Models: Super Lite, Extended Stay, Rayzr
Best RV Brands: Class A Only
Essentially, a Class A motorhome is an all-in-one RV, perfect for families and large groups who need a lot of room and privacy, plus a high level of comfortability and convenience. If you are looking for a spacious and luxury RV, Class A diesel motorhomes are ideal choices as they are specially designed for long trips and can even handle cross-country adventures with ease.
A Class A usually includes a lounge and dining area, a fully-equipped kitchen with sufficient counter space for cooking, a bathroom with shower, and one or two separate bedrooms. Slide-out is a common feature you can find in many Class As, which serves to increase the interior space.
1. Monaco Coach
Founded over half a century ago, Monaco Coach has been known for luxury Class A motorhomes built for comfort, longevity and style. Today, Monaco Coach is owned by REV Group, and continues to produce motorhomes with a handcrafted touch. With such a laser focus in Class A, you can trust that whatever you pick will be worth your investment.
Class A Motorhomes:
Diesel models: Monaco Signature and Monaco Marquis
Best RV Brands: Class B Only
If you travel alone or with your spouse and do not need a whole lot of space, then a Class B might be a great option. They're ideal for weekend getaways, single travelers and spontaneous travelers due to their compact size and drivability. Another huge plus is there's no need to tow an extra vehicle behind for day trips and excursions.
Class Bs are also called campervans or van campers or a van conversionIt is sometimes called, since they're typically built on a standard (full size) or extended van with a raised roof for extra head room for walking upright. Thanks to such a small van chassis, Class Bs are among the easiest RVs to drive.
Often without a bathroom and space for washing and drying clothes, a Class B is suitable for shorter trips. A typical Class B is equipped with basic kitchen appliances, a bed/dinette combo and sometimes a toilet for the larger sized vans.
1. Midwest Automotive Designs
Midwest Automotive Design is among the best RV brands in the arena of luxurious Sprinter vans custom conversions. You can choose from two roof heights, 3 wheelbase lengths, and a selection of elegant colors. Their in-house craftsmen, designers, and engineers will get you exactly what you are looking for in your dream van. Today, the models are built on the spacious and comfortable Mercedes-Benz Sprinter chassis.
Class B Motorhomes:
Diesel Models: Daycruiser, Weekender, Promaster Legend, Passage
2. Coach House
What's special about Coach House is that the brand offers different options for chassis and engine power. Choose the traditional-style van-sized Class B or the larger Class B-plus model, which is like a downsized Class C motorhome.
Class B Motorhomes:
Diesel models: Platinum II, Arriva
Gasoline models: Platinum and Platinum III
3. Leisure Travel Vans
Leisure Travel Vans has been producing quality class B and B-plus RVs for over 50 years, so despite being a small manufacturer, it is one of the best RB brands in the campervan category.
Their luxury B-plus vans are built on a heavy-duty and quite spacious chassis, making them the perfect hybrid between a Class C and a Class B, with more space plus upgraded comforts and style compared to the regular van-sized Class Bs.
Class B Motorhomes:
Diesel B-Plus Models: Serenity, Libero, Unity, and Wonder
4. Pleasure-Way Industries
As one of Canada's best RV brands, Pleasure Way is known for solid hand-built rigs with superb craftsmanship and attention to details, plus the ability to withstand the country's very harsh weather conditions. Everything built to order; there are no construction lines with Pleasure-Way, only craftsmen doing great work.
On average, it takes six weeks and over four hundred man hours to finish just one Pleasure-Way motorhome, so you can imagine the superb quality construction. The floor, walls, and roof of their rigs are made of tubular steel with fiberglass coverings. In addition, they have a very high standard for quality control: every single coach made is audited, and every craftsman's work must meet their rigorous standards and testing.
Another perk is that you can tell from such commitment to customer's satisfaction that you'll just get a wholly different level of service with Pleasure-Way.
Class B Motorhomes:
Diesel Models: Plateau FL, Plateau TS, Ascent TS
Gasoline Models: Ontour 2.2, Ontour 2.0, Lexor FL, Lexor TS, and Tofino
5. Advanced RV
With Advanced RV, you can custom design your dream RV from the wheelbase to the skylights. Potential owners spend three days in Willoughby, Ohio, alongside a team of designers, customizing their dream Class B vehicle.
Advanced RV builds its Class B rigs on a state-of-the-art Mercedes-Benz chassis, and . options include a diesel engine, 4 x 4, and total off-the-grid boondocking options like solar and lithium batteries.
Class B Motorhomes Models: Ocean, Ocean One, and Shorty
6. Regency RV
Regency RV has been constructing top-of-the-line Class B rigs with superb craftsmanship for over 25 years. The brand is a prime example of effective specialization. They offer Class B coaches in either diesel, built on a Mercedes Benz chassis, or gasoline, constructed on a Ram chassis with a V6 engine. Regency RV.
Class B Motorhomes
Diesel Models: Xalta and Ultra Brougham
Gasoline Models: National Traveler
Best RV Brands: Class C Only
If you cannot decide between Class A's space and comfort versus Class B's drivability and versatility, and can afford a bit more than the average price for a Class B, here is the great news: Class C combines the best features of both Class A and B, making it a highly versatile, drivable and relatively affordable mid-size motorhome.
So in short, this type of RV is an excellent option for budget-minded full-time RVers since they offer a full range of amenities and decent space at a relatively affordable price. In terms of drivability, you are basically driving a pickup truck with something attached on top of it.
1. Lazy Daze
Founded in 1956, Lazy Daze is one of the smallest but the best RV brands on the market today when it comes to affordable Class C motorhomes. In fact, Lazy Daze campers are among the cheapest on the road yet still offer good value for money. Do note that it is one of the few RV brands that don't feature slides, which partly explains the loveable price tag.
Class C Motorhome Models: 24', 27', 31' built to order
2. Dynamax
If you only have the budget for a Class C but would like as much space and luxury as possible, Dynamax might be the best RV brands for you. Dynamax makes regular smaller-sized Class Cs all the way up to Super C Freightliners built on semi-truck chassis to offer serious Class-A luxury and space.
Class C Motorhome
Super C models: Force HD, DX3, Dynaquest
Diesel models: Isata 3
Gasoline Models: Isata 4 and Isata 5
3. Renegade RV
Renegade's RVs are made for the long haul. Their super C models haul approximately 20,000 pounds, making it simple for the outdoorsy adventurers to haul around some heavy-duty toys during the trip.
Super C models: Ikon, XL, Verona, Verona LE
Best RV Brands: Fifth Wheels Only
Fifth-wheel trailers require at least a large pickup truck or conversion vehicle to tow. Categorized as being on the fancy side, a 5th wheel offers the same level of comfort a Class A does.
This RV class usually gives you the most living space. Fifth-wheels typically include full-size kitchens and baths, ample storage and sleeping accommodations for up to eight people. Slide-outs offer additional interior space, and the hitch for towing allows for multiple living levels — a unique feature not available in other types of RVs.
1. DRV Luxury Suites
If you want space and luxury, go with DRV Luxury Suites— after all, it's in the name. From hardwood cabinetry to quartz countertops to custom flooring, every single detail in their luxury fifth wheels screams "Luxury!" and class.
Both models feature the brand's custom engineered 15″ triple box tube frame that measures 101″ across, making them some of the largest and most rigid RVs found on the road today in the industry. If you travel with your families and need space, storage and privacy, on top of luxury and comfort, DRV Luxury Suites would be the best RV brands for you.
Fifth Wheel Models: Mobile Suites, Elite Suites
2. New Horizons RV
New Horizons RV deeply specializes in custom RVs designed for full-timers. The brand has consistently received awards from the RV Consumer Group thanks to their high quality and craftsmanship. In addition to space and design, quality materials that ensure year-round comfort, including real wood cabinets and solid surface countertops, are what set a New Horizon fifth wheel apart from competition.
Fifth Wheel Models: Summit, Majestic
3. Vanleigh RV
Vanleigh is the new kid on the block that specialized in fifth wheels, so you may have never heard of it before, but that doesn't mean they don't know their craft. Vanleigh was founded by Van and Leigh Tiffin, the son and grandson of Bob Tiffin, the founder of Tiffin Motorhomes (the brand will be covered in a later section), which is also one of the best RV brands in their specialized categories.
Fifth Wheel Models: Beacon, Vilano, and Pinecrest
4. Shasta RV
Founded in 1941, Shasta RV is one of the oldest players in the fifth wheel category. The Phoenix fifth wheel is designed with high end features and luxurious interiors, and provides a great towing experience with half and three quarter ton trucks.
Fifth Wheel Model: Phoenix
Best RV Brands: Travel Trailers Only
Also in the towable RV category, a travel trailer more compact compared to a fifth wheel, and thus doesn't offer the same luxurious amenities. Travel trailers come in all shapes and sizes, from the tiniest 4-foot teardrops all the way up to 40-feet long models with room for up to eight people, with varying interior features.
An important advantage over fifth wheels is that ravel trailers can be towed by any vehicle rated to handle their weight capacity. This means that in many cases, there's a likely chance that you can find an appropriately sized travel trailer for your family car, so you won't need to upgrade your existing vehicle for towing.
1. Oliver RV
Oliver RV makes only one model of travel trailer, but has made a name for it. If you need a well-constructed RV for four-season camping, and especially if you love the vintage look of fiberglass travel trailers, Oliver RV might be the best RV brands for you.
While not as big and long standing as some other best RV brands in this list, what sets Oliver apart is absolute top-notch construction and thus weather-proofness and durability.
Every Oliver travel trailer is built with four distinct fiberglass shells: two inner shells and two outer shells in addition to the original aluminum frame. You can count on Oliver trailers staying toasty even on the coldest winter nights, thanks to the extra composite materials built into the shells, the use of reflective and insulating materials and an air gap between the 2 shells.
The double hull functions much as double pane windows would, and when combined with the Dometic Penguin 2 furnace that comes standard, would keep the temperature at comfortable levels and also prevent condensation from forming on the inside.
As a result, these travel trailers are perfect for four-season living in a way most other best RV brands on the market simply cannot match.
Model: Legacy
The Legacy is a double-hulled fiberglass trailer with precision crafted interior molded fiberglass. Other features include a monitoring system for water tanks and batteries, a complete bathroom with molded vanity and toilet, and a 16′ retractable awning, which means you get everything you need despite that retro vibe.
2. Braxton Creek
Braxton Creek is known for quality craftsmanship in every corner of their family-focus travel trailers, all come with a two-year bumper to bumper warranty and professional customer support. With floorplans that range from a rear living area to a large bunkhouse layout, plus the option of super lightweight teardrop trailers, Braxton Creek has all types of travel trailers for everyone, from solo travelers to couples to families.
Models: LX, BX, Bushwacker Teardrop, and Bushwacker Plus
3. Venture RV
Venture RV comes from the same folks who build KZ RVs and is known for the more compact and lightweight travel trailers built for more spontaneous off-road, off-grid adventures.
Models: Sonic, Stratus, Sporttrek
In 2019, the Sonic X was awarded the Best of Show Award for lightweight travel trailers. It won RVBusiness's RV of the Year in 2020.
Best RV Brands: Truck Camper Only
Truck campers feature a hard-sided camper shell that is attached to or sits on top of an ordinary pickup truck. This means great versatility and affordability, as you do not need to buy a whole new RV or upgrade your existing vehicle to tow the newly purchased RV. They slide on and off the truck bed, so it is possible to drop your camper at the campsite and take just your truck with you for grocery shopping and explorations.
Truck campers typically sleep two passengers.These RVs are easy to drive and are perfect for weekend getaways, spontaneous and outdoorsy travelers who stay outdoors most of the time and can sacrifice luxury amenities.
1. Adventurer Manufacturing
Founded in 1969, Adventurer Manufacturing has been around for over fifty years. The brand began in British Columbia, Canada and moved to Yakima, Washington in 2008, where the brand continues to commit to top-notch engineering and customer satisfaction.
Truck Camper Models: Adventurer, Eagle Cap, Overlander, Scout
Adventurer vehicles are known for their large space and high level of comfort that surpass the typical truck campers. With many models and floorplans to choose from, you'll likely find one that fits your existing pickup as well as your needs and budget.
2. Rugged Mountain RV
If you're planning on four-season camping and exploring far off the beaten path, Rugged Mountain's truck camper may be the best option for you. With both standard and residential packages, you are sure to find a model and floor plan that will keep your whole family toasty and comfortable even in the harsh winter months.
Truck Camper Models: Granite 11RL, Granite 9RL, Polar 990, Polar 860
Manufacturers With Multiple Classes: The Lesser Known Names
1. Tiffin Motorhomes
Founded in 1972, the family-run RV manufacturer Tiffin has sold more than 65,000 motorhomes to date. Tiffin's specialty is luxury Class A and Class C motorhomes with beyond-excellent customer service. The company is one of the best RV brands in the market for big sized luxury motorhomes for families and larger groups of travelers.
If you want to get a taste of the level of comfort and luxury that Tiffin's RVs have to offer, hop on their website for a 360-degree virtual tour and be prepared to be blown away.
Class A Motorhomes:
Diesel models: Allegro, Allegro Red, Allegro Breeze, Allegro Bus, Phaeton, and Zephyr
Gas model: Open Road Allegro
Class C Motorhomes
If you want something more affordable and easier to maneuver than a Class A, Tiffin's Class C Wayfarer is a streamlined rig built on a Mercedes-Benz Sprinter chassis, ideal for narrower campsites and hard-to-get-to places.
2. NeXus RV
Though being lesser known, Nexus is one of the best RV brands in the small arena of custom built motorhomes. They offer Class A, Class B, Class C at affordable prices with a factory-direct sales approach.
With their Class A and Class C, NeXus allows potential owners to choose a base-price floor plan with the standard specs, and then pick multiple upgrades to create the exact motorhome that you've always dreamed of without having to compromise.
Class A Motorhomes:
Diesel models: Bentley, Diamond Series, and Evoque
Gasoline model: Maybach
Class B Motorhomes:
Class C models: Triumph and Phantom
Diesel Super C models: Triumph SC, Wraith, Ghost
The Viper is a Class B-plus motorhome that has the sleek features of a Class B but offers more room and looks like a Class C. If you would like an RV that's easy to drive around but is more spacious than a typical Class B van, the Viper is for you.
3. Holiday Rambler
Founded in 1953, and is now owned by the prestigious REV Group, Holiday Rambler focuses on Class A and Class C rigs that are specifically designed for hardcore full time camping for large families. This means the construction of each motorhome combines a smooth and quiet ride, luxury features, and floor plans designed with the living space in mind. Even if you have been on the road for months, your whole family will feel comfortable in your Holiday Rambler.
Class A Motorhomes
Diesel models include: Endeavor and Navigator
Gas models include: Vacationer, Invicta, and Admiral
Class C Motorhomes
Diesel model: 2019 Prodigy
Gasoline model: 2019 Augusta
4. Chinook RV
Chinook RV calls themselves "the sportscar of motorhomes". Offering Class C, travel trailers and soon an extra Class B-plus, the brand is principally known for their sleek and luxury travel trailers with elegant interior design. If you want a quality, functional rig with top-notch aesthetics, Chinook might have what you are looking for.
Chinook RV recently purchased Riverside Travel Trailer, and integrated their models together.
Class B Plus Motorhome: Summit (Planned for debut in 2020 but due to Covid-19, the rollout of the Summit model has been pushed back.)
Class C Diesel: Countryside
Travel Trailers: RPM, RPM Extreme, Dream, and Trail Wagon
Among their travel trailers of different sizes catering for different needs, the Trail Wagon and RPM both double as toy haulers and have fewer amenities than the average travel trailer, perfect for the no-frills outdoorsy adventurers who may have a motorcycle or other gears to tow along.
5. Phoenix USA
Phoenix specializes in quality Class B-plus vans and powerful gas-powered Class C motorhomes with a factory-direct sales approach, which means better prices for the budget-minded campers. It is one of the rare manufacturers that offer both gas- and diesel-powered Class B vans.
Class B Motorhomes:
Diesel models: Phoenix TRX
Gasoline models: Phoenix TRX and Phoenix Cruiser
Class C Models: Cruiser
Phoenix offers a quality and spacious Class B-plus motorhome with different sizes for different groups of campers.
Phoenix's Class C Cruiser is known for its standard Ford V-8 engine built on an E-450 chassis, which means serious gasoline power to take you through any mountain pass.
So, welcome to the fascinating world of RV camping. We hope you got a good headstart with our guide on the best RV brands. With the Corona virus not seeming to go away anytime soon, RV traveling has been gaining popularity as people are seeking different and affordable ways to travel that don't involve flying and cruise ships. In fact, RV camping is not only affordable but also versatile and allows for widely differing needs, preferences and wallets.