There are numerous benefits to owning a lightweight travel trailer, specifically those under 5,000 pounds, one of which being easier handling and maneuvering on the road. Lightweight travel trailers can range from just above 1,100 lbs to 5,000 lbs, plus they are available in varying price range, the number of amenities and special features such as off-road capabilities, so there is a lightweight trailer out there for any camper. While the vast market can have you overwhelmed, our handpicked list of the very best travel trailers under 5000 lbs can serve as a shortcut to your purchasing decision.
These best lightweight travel trailers are shortlisted for their well-roundedness and all have a proven track record as reviewed by full-time and seasoned campers. You know you're getting excellent value for money: design and craftsmanship, construction and durability, functionality and features, amenities and comfort.
Dive into this comprehensive comparison of the best travel trailers under 5000 lbs to pick out the best option for your travel needs and preference. In addition, you will find a host of useful information that will make your purchasing and maintenance experience as stress-free as possible.
---
Travel Trailers Under 5000 Lbs: Benefits
The most important benefit of a travel trailer under 5000 lbs is there are ample models and floor plans out there that you can tow with your existing SUV or van. That means you won't need to upgrade to a pickup as a capable towing vehicle at the same time you invest in a camper trailer.
Among the travel trailers under 5000 lbs, there are also many models that offer just the same level of comfort that a large full-fledge RV would have, but with a fraction of the weight. So you have the best of both worlds: lighter weight for easy handling on the road and adequate amenities for perfectly comfortable camping.
There are numerous advantages to investing in the best travel trailer under 5,000 lbs. A lighter weight also means better fuel economy and savings on gas in the long term. Easy maneuvering also means more off-road capabilities and more freedom to explore more hard-to-get places that a bulky RV would have difficulty navigating. Furthermore, enthusiasts of minimalist living claim that a travel trailer of such a size has just the right amount of storage and space when you should be spending most of your time exploring the great outdoors.
---
Best Travel Trailers Under 5,000 Lbs Reviews
Below are our handpicked list of the very best campers under 5000 lbs based on a thorough consideration of their well-roundedness, including specifications, features, construction, durability, amenities, and value for money.
There are the perfect RV trailers under 5000 lbs for any type of camper, from the off-road ready toy haulers for the outdoorsy adventurers, to the ultra, ultra minimal and lightweight for spontaneous getaways to the bigger, heavier, fully equipped and more luxurious for big families and month-long camping. Each model has a proven track record based on in-depth ultra lightweight travel trailer reviews from seasoned and full-time RVers worldwide, so you know you're getting the best bang for your buck.
1. Happier Camper HC1: Vintage and Instagram-Worthy
The Happier Camper HC1 is very well known among campers and camping enthusiasts. It is consistently featured in reviews for the best travel trailers under 5000 lbs thanks to its unique and praise-worthy design, flexible living space configuration and its amenities, despite being very lightweight and compact.
This little trailer is among the lightest options of this list. Packing only the most essential of amenities onboard, Happier Camper HC1 is considered to be an ingenious solution for the spontaneous travelers who often go on short weekend trips. Known as the Swiss Army knife in the lightweight travel trailer world, the Happier Camper unit is versatile which lets it flexibly tackle various camping conditions.
With a combination of retro appearance and modern features, HC1 is also your best bet if you desire something traditional but with high levels of comfort.
In addition to its distinctively vintage and extremely Instagram-worthy aesthetics, what makes this lightweight trailer special is the highly flexible Adaptiv™ modular interior system allows you to easily customize your trailer on-the-fly, to suit a variety of needs. The interior of Happier Camper HC1 resembles Lego cubes: from the sleeping space to the kitchen, everything could be tailored to create the layout you want in just minutes. Configuring and reconfiguring possibilities are near limitless.
HC1 would be able to accommodate up to 5 travelers comfortably, quite nice for an ultra-lightweight model.
Thanks to the large rear hatch and windows, ventilation should be top-notch. Regarding electricals and lighting, Happier Camper HC1 features multiple LED lights from the exterior to the interior. With many ports and outlets, it's going to be a walk in the park to keep your appliances operational.
The HC1 can feature a kitchenette that comes equipped with a 5-gallon freshwater and gray-water tank. The 4-gallon roadshower option features an easy-to-refill way to stay clean on any adventure.
As for durability, this gorgeous little home on wheels will stay with you for many years down the road. The HC1 is built to last generations, being made with 100% fiberglass double hull handcrafted shells, honeycomb fiberglass floor grid, custom hardware, and custom durable components. Fiberglass is flexible and strong. It has a very high strength-to-weight ratio and exhibits less expansion and contraction due to heat or cold than alternative materials.
Specifications:
Dry Weight: 1100 lbs
Tongue Weight: 110-150 lbs
Gross Vehicle Weight Rating: 3500 lbs
Overall Length: 13'
Exterior Height: 7'4"
Walkable Floor Space: 42 sq ft
Shell Length: 10'
Inside Width: 6'6"
Inside Height: 6'1"
Features:
Sleeps up to family of five
Double hull insulated shell
Adaptiv modular interior
Large rear hatch door
Leveling/swing jack
Off-the-grid and solar-ready
Premium fabrics and hardwares
Fresh water tank: 5 gallon
Gray water tank: 5 gallon
Pros:
Fits in a single parking space
High capacity
Excellent structural strength
Fully customizable interior
Cons:
No bathroom
Lacks electrical jacks
2. Taxa Outdoors Cricket
Another one of the best travel trailers under 5000 lbs these days is the Taxa Outdoors Cricket, which is instantly recognizable due to its asymmetrical outer shell.
With a super light dry weight of under 1,100 pounds, the Taxa Outdoors Cricket can be towed with any four-cylinder SUVs and crossover vehicles, so you might not need to upgrade to a pickupEven when fully loaded with gears, food, supplies and passengers, the Cricket still makes it into any list of the top travel trailers under 4500 pounds.
Plus, with the weight and overall dimension being kept to a bare minimum, maneuvering on the road would not be a problem. Importantly, with this compact trailer, you have more freedom to explore hard-to-get places off the beaten path, which a heavy and bulkier trailer might have a hard time navigating.
Despite being one of the lightest and most compact trailers on the current market, with a dry weight of under 1,100 lbs, this little shell will wow you with its smart, functional space utilization. You have everything you would need for a neat camping trip, and advocates of the minimalist lifestyle also suggest that the Cricket is just right if you're not camping for very long: you will be spending most of your time outdoors anyway.
You might be surprised that this tiny trailer can comfortably accommodate up to two adults and two children. There's a 15-gallon freshwater tank and a 16-gallon grey water tank, which is more than adequate for couple travelers or a family of three or four.
The tall campers might shy away from such a compact trailer, but worry not, as the pop-up roof can allow for additional headroom. It is small, but offers superb ventilation in all types of weather, featuring four swing windows and five mesh windows. For storage, the under bed storage is more than sufficient to store your clothes, beddings and supplies.
Specs:
Dry Weight: 1100 lbs
Tongue Weight: 245 lbs
Gross Vehicle Weight Rating: 2,700 lbs lbs
Cargo Capacity: 900 lbs
Overall Length: 15′
Exterior Height: 4'2″ (closed) to 6'10" (open)
Exterior Width: 5'3″
Walkable Floor Space: 63 sq ft
Shell Length: 10'
Inside Width: 6'6"
Inside Height: 6'1"
Features:
Powder-coated steel chassis
Recycled ripstop polyester tent side with five mesh windows
Five acrylic, insulated windows with screens & shades
12V roof exhaust fan
Non-slip seamless nickel patterned flooring
Countertop sink
2-burner stove
Furnace & water heater system
Full size bed with under bed storage (25 cubic feet)
Interior and exterior LED lighting
Interior and exterior 12V accessory outlet
Exterior hot & cold shower
1" plywood deck
Pre-wired solar input
Fresh Water Tank: 15 gallon
Gray Water Tank: 16 gallon
Pros:
Easy handling thanks to being one of the lightest trailer on the current market
Excellent durability despite lightweightness
Outstanding ventilation
Cons:
Some floor plans are not exactly affordable
Additional packages offer not much extra values
3. Airstream Sport Travel Trailer
If you love that vintage bare aluminum travel trailer look, Airstream is the answer. If you also prioritize handling, then the Airstream Sport is one of the most sought-after lightweight RVs in the world.
The identifiable aluminum exterior is one of the reasons this trail is so light. In addition, their unique design, aesthetically and homely layouts and the great attention to details make this trailer extremely desirable for travelers of all kinds.
Although the outside looks similar to the models Airstream has had for over eight decades, the inside is up-to-date with modern appliances and two beautiful layout options. Either floor plan has a well thought out layout to optimize space and storage. The Sport Airstream can comfortably sleep up to four individuals and includes everything you need for utmost comfort.
The Sport features all the necessary amenities so that you won't miss your home: a fully equipped kitchen, a bathroom, sitting area, dining area, and a bedroom. In addition to its light weight and aesthetics, the Sport is loved for its multiple-purpose design.
For example, the sitting area that is shared as a dining area can be transformed into a second sleeping area that can sleep two. The kitchen comes with a sink and gas stovetop that can both be covered to create extra counter space. The bathroom has a sink, a porcelain toilet, a stand-up shower and a removable head.
A much loved feature of the Sport is the bedroom situated at the back of the trailer. In addition to the comfy queen size memory foam bed that can sleep two, the bedroom is perfected by surrounding panoramic windows, so you wake up to lovely sunrise and gaze at the stars at night.
Another important feature that makes this trailer so easy to tow and handle on the road is that as all Airstreams are built between the wheels instead of above the wheel like models from other manufacturers. This brings the floor and the whole frame down, which lowers the center of gravity. To enhance that, the water tanks are also kept low. This means easier maneuvering and less swaying during a lane change, especially an emergency lane change situation.
Specs:
Dry Weight: 2,860 lbs
Tongue Weight: 350 lbs
Gross Vehicle Weight Rating: 3,500 lbs
Cargo Capacity: 640 lbs
Overall Length: 16'4″
Exterior Height: 9′ 3″
Exterior Width: 8′
Inside Height: 6′ 4.5″
Inside Width: 7′ 7″
Features:
Two floor plans to choose from
11,000 BTUs air conditioning unit
12,000 BTUs furnace
Exterior and interior shower
USB and 110V charging ports
Retractable awning
Outdoor storage locker
Solar power pre-wire kit with off-grid upgrade options
Fresh water tank: 23 gallon
Combination Black & Gray Tank: 12 gallon
Pros:
Pleasing aesthetics for both exterior and interior
Better fuel economy than competitors thanks to unique patented aerodynamic shape
Less swaying thanks to lower center of gravity compared to most travel trailers
Greener: the aluminum, steel, and wood used to make Airstreams are can be recycled
Cons:
The Sport starts at $47,900, which is more expensive than a few other lightweight models
Related: Best Small Campers With Bathrooms & Showers
4. Forest River Rockwood Geo Pro
The Forest River Rockwood Geo Pro is one of the heaviest, most durable, most spacious, well equipped with the most luxurious amenities in this list, and definitely one of the best travel trailers under 5000 lbs on the market.
There are eleven floor plans to choose from, which can accommodate between two to four passengers and can cater for different camping needs, so there's likely a Rockwood Geo Pro for your. There are also toy haulers options for the hardcore adventurers.
Despite its weight, the Rockwood Geo Pro is between 11 to 20 feet long, which is not at all outrageous. In addition, this top-notch quality trailer is designed and built with care so that maneuvering is not a problem. It is also made to be towed by most regular standard SUVs. But we must note that it's cutting it close in terms of weight, so you might want to check the eleven floor plans available to pick the one that your existing family vehicles can tow.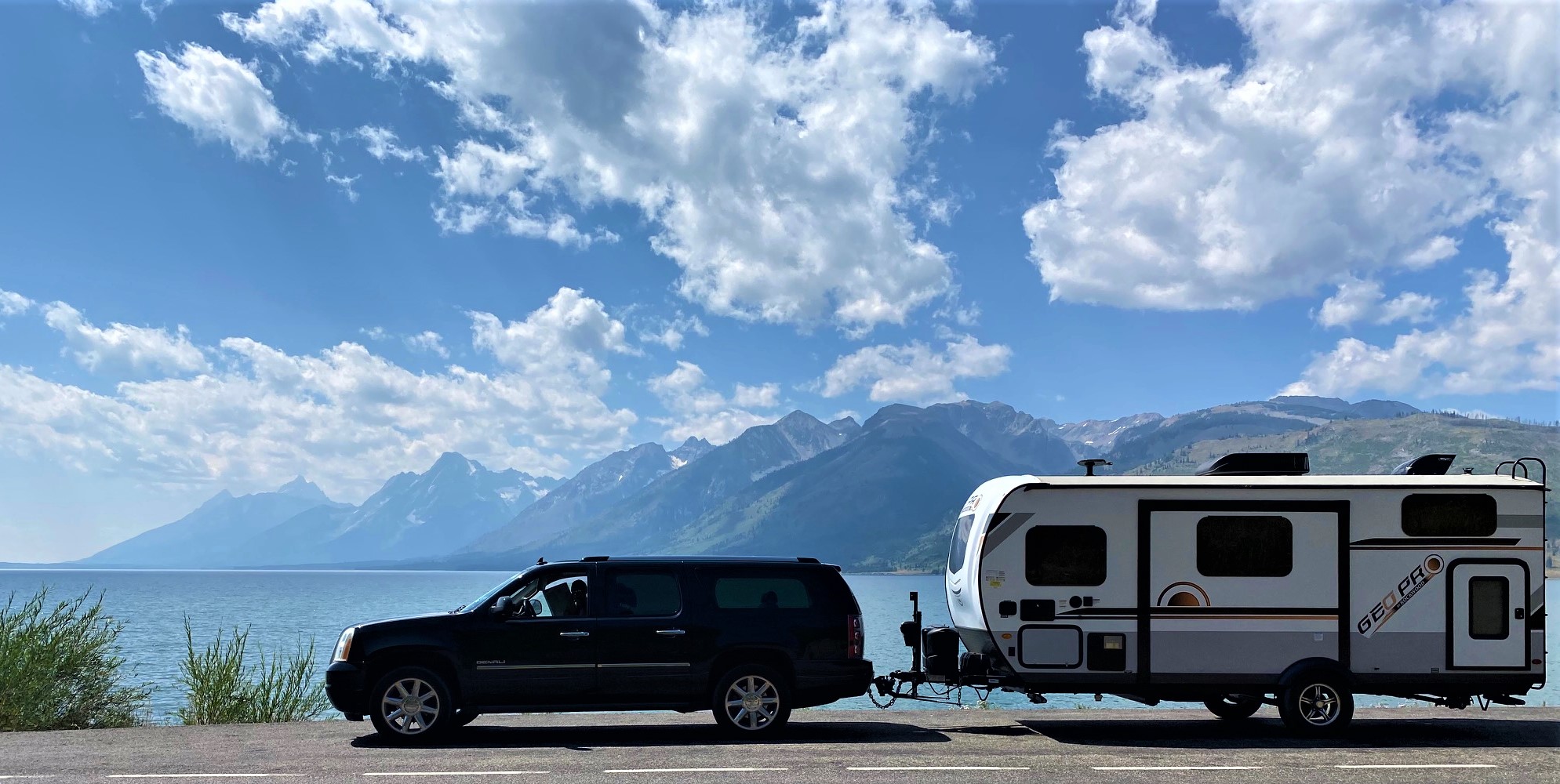 As for construction, the Forest River Rockwood Geo ProSince features a solid six-sided aluminum cage design and vacuum laminated roof and walls, allowing it to last for generations and withstand a lot of beatings by mother Nature.
All floor plans of Rockwood Geo Pro come fully equipped, so you can comfortably sleep, cook, dine, bathe and entertain yourself inside. All standard models offer Wi-Fi range extenders and a roof mount solar panel with converter. You can opt for customized options for extra comfort depending on where you often travel and your gears, including an air conditioning unit and bike rack.
There are also two toy hauler floor plans for the outdoorsy adventurers who bring along many bulky gears. The larger of the two, the Rockwood Geo Pro 19TH is 20′ long with a 8'6″ long cargo space, so you have ample room for outdoor gears like motorcycles, bikes, kayaks and paddleboards. These toy haulers come standard with solar panels, so you can boondock and live off-grid for quite a while.
Specifications (of G20BHS Travel Trailers):
Dry Weight: 3,513 lbs
Tongue Weight: 455 lbs
Overall Length: 21′ 2″
Exterior Height: 10′ 0″
Exterior Width: 92″
Awning Size: 14′
Specifications (of 19TH Toy Hauler):
Dry Weight: 3,407 lbs
Tongue Weight: 641 lbs
Cargo Capacity: 1,584 lbs
Overall Length: 20′ 2″
Exterior Height: 10′ 0″
Exterior Width: 92″
Features:
6 sided aluminum cage construction
Vacuum laminated roof and walls
5/8″ tongue and groove plywood flooring
Aluminum cage dinette base
Recessed cooktop with flush mount cover
12V refrigerator
Roof ladder
Ventilation fan and vent cover
Gas/electric water heater
Shower water saver
Outside shower
Foot flush toilets
Fresh water tank: 31 gallon
Gray water tank: 30 gallon
Black water tank: 30 gallon
Pros:
Built to be towed by most crossover vehicles and smaller SUVs.
Easy to handle despite its not-too-light weight
Excellent craftsmanship and eyes for details
Cons:
Quality control: somewhat inconsistent between units
5. Coachmen Clipper Ultra-Lite Travel Trailer
The Coachmen's Clipper series has already made a name for itself as one of the most well-rounded travel trailers today, and the Clipper Ultra-Lite is now known as one of the best travel trailers under 5,000 lbs.
While not all of its 14 floor plans have the sub-5,000 pounds GVWR rating, a lot of them do, all of which offer spacious living space despite being lightweight. A standard feature amongst all of the floorplans is three beds, making this trailer perfect for family travel.
The most popular lightweight options are probably the Clipper Ultra-Lite 14CR and the Clipper Ultra-Lite 16CFB. In addition to the floor plans, you have several optional upgrades to craft the most homely and comfy home on wheel for you and your companions.
A closer inspection and you'll find that the Clipper Ultra-Lite also offers functional and durable features. It is fully equipped with all the creature comforts of larger and more expensive models. The walnut cabinetry gives a cozy look while the residential countertops are laminated for spill resistance and adding longevity. With the 13,500 BTU air conditioner and a 20,000 BTU furnace, you can camp comfortably no matter the weather.
Specs (of the 16CFB floor plan):
Dry Weight: 2,783 lbs
Gross Vehicle Weight Rating: 3,863 lbs
Cargo Capacity: 1,080 lbs
Tongue weight: 363 lbs
Overall Length: 18′ 6″ ft.
Exterior Height: 10′ 0″ ft.
Exterior Width: 88″ ft.
Awning size: 10′
Features:
14 different floor plans available
100% adhesion residential grade linoleum
Seamless and spill-proof laminate countertops and additional safety features
13,500 BTU air conditioner
20,000 BTU furnace
Tinted safety glass windows
Bathroom skylight
Diamond plate front and rear wall protection
Fresh water tank: 27 gallon
Gray water tank: 25 gallon
Black water tank: 25 gallon
Pros:
Many choices to choose from
Homely and durable features
Child-safe features
Suitable for big families
Cons:
Some models are dealer stock only or frequently out of stock
6. Jayco Hummingbird
Jayco Hummingbird is another trailer on our list that offers more space and comfort than you would think by judging from its size and weight. Jayco is known for being a family-oriented manufacturer with many compact yet perfectly functional models, and the Hummingbird is no exception.
Walking inside, you will be pleasantly surprised that the Hummingbird packs considerably more space in the interior than its competitors. Among the smaller trailers of the best travel trailers under 5000 lbs out there, it offers a very high level of comfort with user-oriented features, functions and designs.
Jayco Hummingbird is available in eight floor plans, with length varying from 18 to 19 feet. With such a compact size coupling with its aerodynamic efficiency, the Hummingbird allows for great mobility on the road, just like its name suggests.
One of the great perks that the Hummingbird offers is the foldable picnic table and the powered awning with LED lighting, so you and your companions can enjoy full-course outdoor dining, whether in the day or at night. Or just laying around with a book and a drink in your hands, chilling out and listening to the sounds of nature. After all, staying outdoors is how you get the most out of camping in the wild.
Feature-wise, you have everything to live comfortably away from home for a while: a propane-burner and two gas burners, a lot of cooking space, built-in furnaces and an air conditioning unit for camping in any type of weather, and exterior speakers. There are also various safety features for driving.
Despite being lightweight and compact, Jayco Hummingbird boasts superior strength and versatility. To create the lightest yet strongest construction possible, Jayco employs a superior construction process which has been patented for the aluminum body construction. In addition, every sidewall, rear wall and slide room wall are made from the light but tough fiberglass. So you not only get a lot of functionality for your money, but also have solid assurance that your investment will be of great service to you for many, many more years to come.
Specs (for floor plan 16MRB):
Dry Weight: 2,794 lbs
Tongue Weight: 315 lbs
Gross Vehicle Weight Rating: 3,750 lbs
Cargo Capacity: 965 lbs
Overall Length: 19.83 ft.
Exterior Height: 9.08 ft.
Exterior Width: 8.08 ft.
Inside Height: 6.5 ft.
Features:
Aluminum body construction
Fiberglass sidewalls
Interior wood finish
Power retractable awning: 10 ft.
2-burner oven
Compact electric/propane refrigerator
13,500 BTUs air condition unit
18,000 BTUs heater
Fresh Water Tank: 25.6 gal.
Gray Water Tank: 25.4 gal.B
Black Water Tank: 25.4 gal.
Pros:
Lots of space and storage
First-rate handling
Aesthetically pleasing interior
Cons:
The bed in the interior sits a bit high
Some buyers complain about missing parts
Related: Best Travel Trailers Under 2,000 Pounds
7. Keystone Hideout 25LHSWE: For Big Families
The Keystone Hideout 25LHSWE is on the higher end of this list in all aspects: length, weight, amenities and comfort. This spacious travel trailer can comfortably sleep eight people and thus is well suited for big families. If you want easy handling on the road but do not want to sacrifice comfort, the Keystone Hideout 25LHSWE is probably among the best travel trailers under 5000 lbs for you out there.
The 25LHSWE features a full bathroom, a kitchen, a dining area, a sitting area, and various sleeping spaces, including a queen bed that can comfortably sleep two, two roughly full size beds in bunk form and two convertible sofas. The dining area comfortably seats four people but can also be transformed into an extra sleeping space. In addition, the sitting area includes a couch that can comfortably seat three and can also be converted into a sleeping quarter for one person.
The bathroom includes a sink, toilet, and a full shower with a tub. The kitchen includes a large refrigerator, a three burner stovetop, microwave, and even an oven. The oven is something you don't typically find in the lightweight travel trailer category. In short, you can see that this trailer does not seem to lack anything that would make you miss your own home.
Specs:
Dry Weight: 4,843 lbs
Tongue Weight: 530 lbs
Gross Vehicle Weight Rating: 7,500 lbs
Cargo Capacity: 2,657 lbs
Overall Length: 29.25 ft.
Exterior Height: 11.08 ft.
Exterior Width: 8 ft.
Inside Height: 6.75 ft.
Features:
Wood body and aluminum sidewalls
3-burner cook top
3 cu ft gas/electric refrigerator
Full bathroom
Beds: 1 queen, 2 doubles, 2 convertible sofas
Max sleep: 10 people
30,000 BTUs furnace
13,500 BTUs air conditioning unit
Fresh Water Tank: 60 gal.
Gray Water Tank: 38 gal.
Black Water Tank: 38 gal.
Pros:
More space, storage and sleeping space: sleep up to 10
Full amenities
Suitable for multi-family camping
Cons:
With cargo, the gross weight of the trailer exceeds 5,000 lbs
8. Palomino PaloMini: Off-Road Capabilities
The Palomino PaloMini is another luxurious trailer that is on the heavier end of our list. That said, with full amenities, this is a trailer designed for larger groups of travelers, who tend to go on longer camping trips and thus would need many features for comfortable outdoor excursions.
There are 10 distinct floor plans that can comfortably accommodate between 3 and 6 occupants. Plus, the adventurous campers can also opt for the off-road package to get extra off-roading capabilities. Therefore, you might be able to find the perfect Palomino PaloMini, regardless of your preferences and the number of companions on board.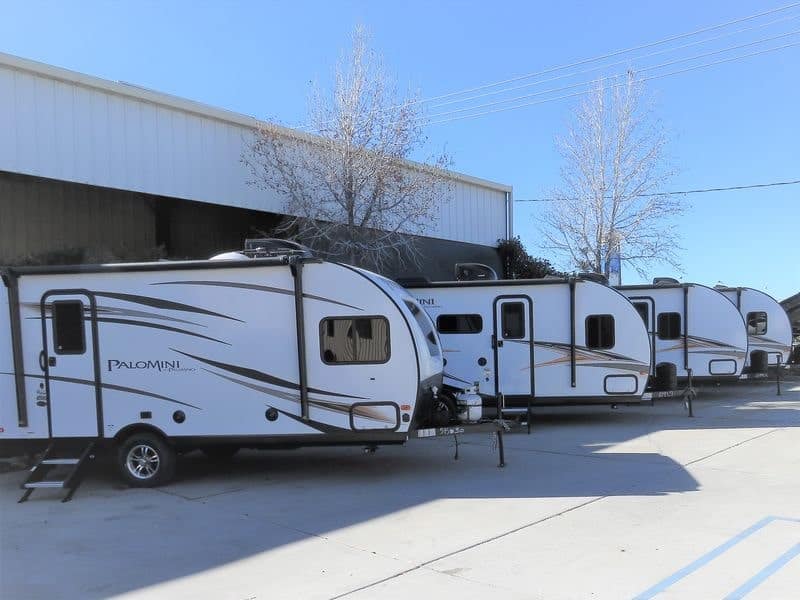 Do note that some floor plans are quite heavy, but there are certain floor plans that can be towed by light-duty family SUVs and crossover vehicles. Despite its weight that leans on the heavier side, this Palomino travel trailer varies between 16 to 21 feet long, so you won't have a problem maneuvering it on most roads, parking lots and campgrounds.
The trailer comes fully equipped for utmost comfort, including built-in furnace and air conditioning unit, a kitchen with a microwave, a fridge and 2-burner cooktop, full bathroom and an awning. If you want extra features, you can add on without having to worry about modifications. Another notable feature is the laminated walkable roof, which means an easier time for repair and maintenance for, say, the factory roof-mounted A/C.
There's also the Off-Road Package if you want to enhance the trailer's off-road capabilities. This includes extra 4″ to exterior height, 15" aluminum wheels, 28" mudder tires, lift kit, flared fenders, and assist rail.
Specs:
Dry Weight: 3,849 lbs
Tongue Weight: 545 lbs
Gross Vehicle Weight Rating: 4,945 lbs
Cargo Capacity: 1,096 lbs
Overall Length: 22′ 11″
Exterior Height: 10′ 3″
Exterior Width: 90″
Awning size: 15′
Features:
13,500 BTU roof air conditioner
20,000 BTU furnace
2 burner cooktop
Microwave
8 cubic foot refrigerator
Porcelain Toilet
Power vent in bathroom
Memory foam mattress
Bluetooth stereo
LED interior lighting
Power awning with LED light
Walkable laminated roof
4 stabilizer jacks
Fresh Water Tank: 44 gal.
Gray Water Tank: 30 gal.
Black Water Tank: 38 gal.
Pros:
Durable and long-lasting
Luxurious appliances
A lot of storage
Cons:
9. Gulf Stream Vista Cruiser Travel Trailer: Super Spacious and Durable
In addition to the Keystone Hideout 25LHSWE, the Gulf Stream Vista Cruiser is another rare travel trailer with the best possible weight-to-length ratio, with an exterior length of 26 feet but still keep the gross weight under 5,000 pounds. There are 14 floor plans to choose from, with the dry weight ranging from 2,567 lbs to 4,486 lbs.
You'll find the Vista Cruiser to be superbly constructed and fully equipped. It is made to last generations, and the carefully constructed body allows for large living space and full amenities while maintaining a reasonable weight. This tough fighter features vacuum-bonded laminated fiberglass walls, welded square tube aluminum skeleton frame, and aerodynamic one-piece laminated fiberglass roof. Not just the overall construction, the Vista Cruiser's interior is also unique and is loved for its distinct European style.
Feature-wise, it has everything you would ever need, even if you go on months-long trips in this trailer with your family. The 20,000 BTU furnace and 13,500 BTU air conditioner will keep you comfy in any kind of weather. There's also a full bath with a 6 gallon water heater and a fully equipped kitchen with cozy hardwood cabinetry, a sink with cover for extra counter space, 3-burner range with oven and microwave. Take it up a notch with the home theater studio, a rare perk that's hard to find in a non-luxury trailer like this one.
Specs (for the Vista Cruiser 19RBS floor plan):
Dry Weight: 3,119 lbs
Tongue Weight: 390 lbs
Gross Vehicle Weight Rating: 4,222 lbs
Cargo Capacity: 1,103 lbs
Overall Length: 23'1″
Exterior Height: 10'2″
Exterior Width: 7'6″
Inside Height: 83″
Features:
14 different floor plans available
Vacuum-bonded laminated fiberglass walls
Welded square tube aluminum skeleton frame
Aerodynamic one-piece laminated fiberglass roof extending from front hitch to rear bumper
Black radius tinted safety glass windows
Advanced Euro-style interior design
Premium foam mattress
High-performance laminated countertops with continuous molding edge
Deluxe wood medicine cabinet with mirror
3-burner range with oven
Home theater studio
13,500 BTU air conditioner
20,000 BTU furnace
Full dry bath
6 gallon water heater
LED step light with switch at entry door
Power awning
Fresh Water Tank: 27 gal.
Gray Water Tank: 33 gal.
Black Water Tank: 33 gal.
Pros:
Top notch durability
Modern Euro-style design
Full amenities, luxury and comfort
Suitable for large families and even multi-family camping
Cons:
Some larger floor plans can exceed 5,000 lbs when loaded
Related: Best Travel Trailers With King Size Bed
10. Winnebago HIKE: Toy Hauler and Off-Road Ready
Major RV manufacturer Winnebago builds several travel trailers that have a GVWR less than 5,000 lbs, but the Hike is a favorite by the outdoorsy adventurers.
The outdoor space and exterior design are what sets this trailer apart from the others. The entire exterior has a rugged exoskeleton to make it efficient to attach large adventure gear like kayaks. You can also pack in more adventure in the durable, convenient front storage with space for a battery, LP tanks, or adventure gear.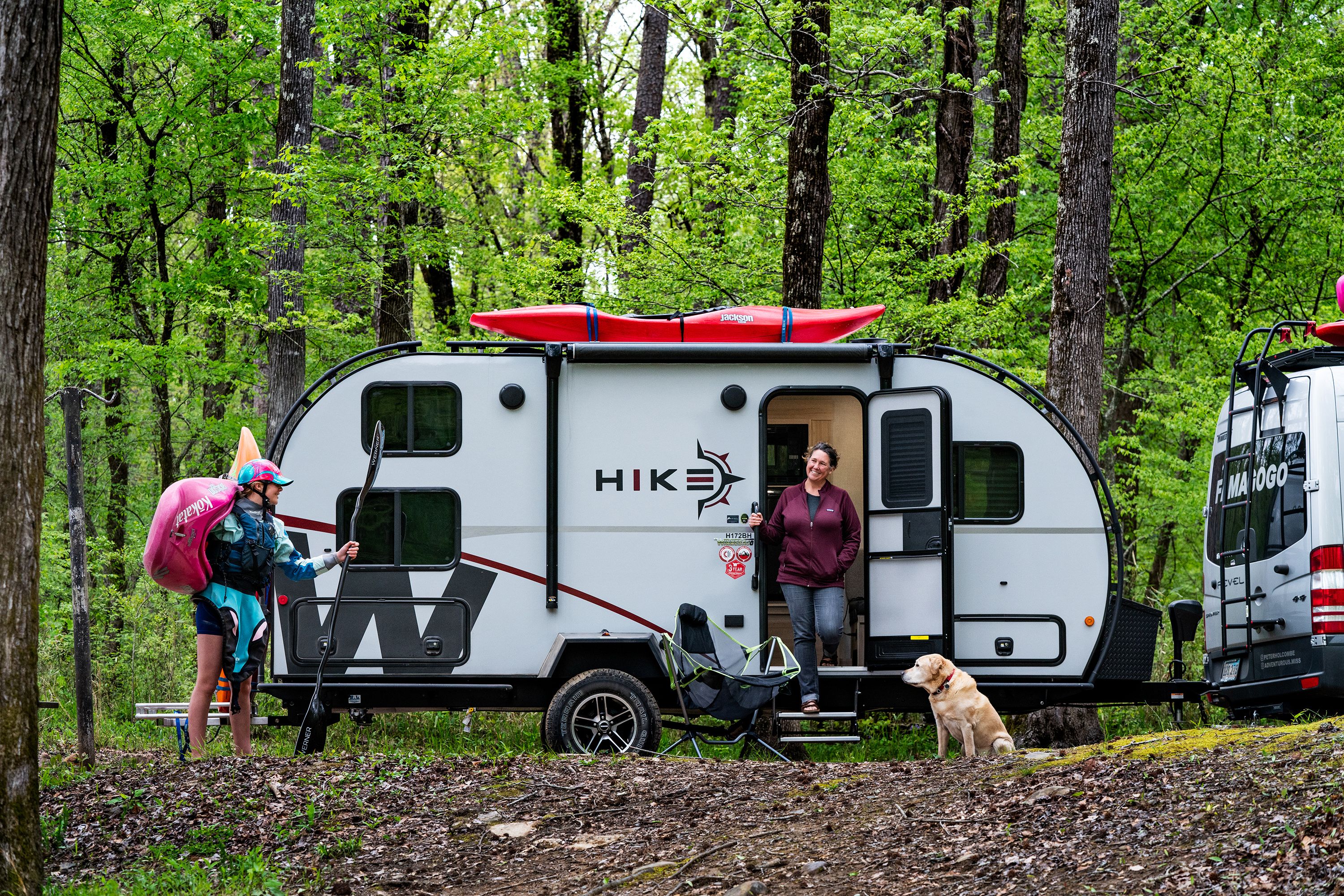 Plus, the standard HIKE is already off-road ready: off-road tires, offset wheels, and robust fenders make easy work of tough roads.
There are a few add-ons, but based on the raving reviews from campers who invested in the Hike, you probably won't need them. The original model is just perfect. There are five different floor plans to choose from, of which three of them are less than 5,000 lbs GVWR while the other two have GVWR of 6,000 lbs.
The interior's sleek, contemporary styling, clean lines, and quality interior furnishings make the inside as cozy and roomy as it is innovative.It can comfortably sleep three people. The Hike truly gives you the option to take the comforts of home off-road and off-grid.
Specs:
Dry Weight: 3,340 lbs
Tongue Weight: 420 lbs
Gross Vehicle Weight Rating: 4,200 lbs
Cargo Capacity: lbs
Overall Length: 20'7.5″
Exterior Height: 10'2″
Exterior Width: 7'9″
Inside Height: 6'5″
Awning length: 10′
Features:
3 floor plans with 4,200 lbs GVWR
Built with a rugged exoskeleton to attach adventure gear like bikes and kayaks
Contemporary and quality interior
Wifi prep
LED TV
AV System AM/FM/CD/DVD/USB/Bluetooth
USB charge ports
18,000 BTU Furnace
6 gallon water heater
Extra front storage
Extreme weather foil wrapping
Off-road tires and fenders
Roof-mounted solar charger prep
TV antenna
Fresh Water Tank: 31 gal.
Gray Water Tank: 25 gal.
Black Water Tank: 25 gal.
Pros
Many features for the adventurous campers
Ultra modern and clean interior
Cons:
Only has sleeping space for up to 3 people
Note that 2 floor plans has GVWR of 6,000 lbs
11. KZ Sportsmen Classic Ultra Lightweight Travel Trailer: Off-Road Capabilities
For its unassuming length and weight, the KZ Sportsmen Classic surprisingly packs a lot. It really is the whole package and has been a favourite by KZ customers for a while now.
This affordable and lightweight travel trailer tows with an SUV With seven different floor plans to choose from, you will be able to choose the best travel trailer under 5,000 lbs for you and your companions.
The floor plans include two toy haulers, and two expandable bunk models, which is perfect for families. This versatile bed system usually is not offered by lightweight trailers under 5,000 lbs.
Feature-wise, you have multiple bed sizes to choose from, walk-around queen bed on select models, sleeping space for up to eight people, a dining table large enough for a family, spacious shower, a kitchen with a perfectly deep sink, and more closet space than other travel trailers of similar size. That is, all of the things that make this trailer feel like home.
There are tons of available upgrade options, but the standard trailer set up is excellent too. The upgrade options do offer some unique features that will allow you to customize your home on wheels to the fullest.
If you like to travel off the beaten path, get the off-road upgrade option to make your outdoor adventures more rugged and remote. It includes all of the excellent standard features along with extra ground clearance, aluminum rims with 15" mud tires, and an electronically controlled heated holding tank. If you plan on getting off-grid, this is the perfect trailer with solar-ready preparations, on top of the above off-road package.
Specs:
Dry Weight: 2,850 lbs
Tongue Weight: 370 lbs
Gross Vehicle Weight Rating: 3,500 lbs
Cargo Capacity: 650 lbs
Overall Length: 22′
Exterior Height: 107″
Exterior Width: 90″
Inside Height: 78″
Key Features
7 floor plans to choose from
Optional off-road package
Tinted Windows
Tongue & groove plywood flooring
2-Burner Range
Microwave
8 cubic feet refrigerator
20,000 BTU furnace
6 gallon water heater
Flip-up entry steps to make climbing in and out easier
Electric awning with LED lights
Solar prep ready
Alum-a-tough roofing with a 12-year limited warranty
Fresh Water Tank: 20 gal.
Gray Water Tank: 32 gal.
Black Water Tank: 32 gal.
12. Dutchmen Coleman Lantern LT Pull Behind Travel Trailer
This value-oriented Coleman Lantern lineup doesn't skimp on amenities or quality, which makes it perfect for long trips as couple travelers or families. What makes the Coleman Lantern LT notable is although it is lightweight, it boasts superb construction and insulation that will allow it to last for generations and will provide you the utmost comfort even in extreme weather.
The durable roof features EPDM roof, 3/8" decking, fiberglass Insulation and lauan interior panels. The body structure offers excellent insulation with metal exterior panels, wood frame with R7 thermal insulation together with lauan interior panels.
Of the 16 models of the Coleman Lantern LT, there are eight that have a GVWR under 5,000 lbs, and all but two have dry weights of less than 5,000 lbs. All of the trailers in the series can sleep at least four people, and up to eight. Sleeping arrangements include a queen size bed, plus up to two bunk beds and up to two convertible sofas.
Although there are numerous layout options, many of the features will be similar. The packages offer very limited extra options too, and you are adequately equipped enough with the standard packages.
Specs:
Dry Weight: 3,638 lbs
Tongue Weight: 506 lbs
Gross Vehicle Weight Rating: lbs
Cargo Capacity: 762 lbs
Overall Length: 22′ 10″
Exterior Height: 9′ 9″
Key Features
7cu ft refrigerator
2-burner cooktop (some models)
6 gallon water heater
Interior speakers
USB power supply throughout
4GE LTE connectivity
Stereo AM/FM/MP3/SC/AUX
Bathroom Skylight
Power awning
Living area exhaust fan (some models)
Fresh Water Tank: 27 gal.
Gray Water Tank: 28 gal.
Black Water Tank: 28 gal.
Related: Best Lightweight Toy Hauler Travel Trailers
---
Lightweight Travel Trailers: Weight Ratings You Must Know
A particular travel trailer nowadays would often come along a variety of weight-related ratings. If you want to get the best travel trailers under 5000 lbs then you must inspect the following ratings.
Dry Weight
Dry weight is essentially the weight of the vehicle when unloaded, that is without any added passengers, cargo, fuel or water tanks (this is why it's called "dry" camper weight and sometimes unloaded weight).
The dry weight range of recreational vehicles can vary greatly, from about 1,000 to 9,000 pounds, depending on the construction materials, internal features, amenities and size of the loading space. The weight is often directly proportional to the number of amenities available in the vehicle.
Gross Vehicle Weight Rating (GVWR)
The most practical metric for camper weight that you must know is gross vehicle weight. GVW is the weight of your camping vehicle when your fuel and water tanks plus cargo load inside the trailer are completely full.
The most accurate way to determine the total gross weight of your motorhome is to fill all the tanks fully, add your equipment, gears, food and supplies and put them on a truck scale.
Do note that the same model of recreational vehicle can have differing gross weights, depending on the size of cargo load and optional features included. Both a regular tow vehicle and an RV has its own GVWR.
To find your trailer's exact dry weight, unload all of your gears and equipment including propane tanks, water tanks and batteries, then go to your local truck stop to use the scale there. Once you have weighed the trailer, detach your trailer from your tow vehicle and then only weigh your tow vehicle. Subtract these two numbers to get the dry weight of your trailer.
Tongue Weight (TW)
A trailer's tongue weight (TW) refers to the weight that a fully loaded trailer exerts downward on the hitch ball of the tow vehicle. Tongue weight should be between 10% to 15% of gross trailer weight (GTW) for good control and handling on the road.
Cargo Carrying Capacity (CCC)
This is the maximum amount of weight your gear, belongings and food supplies should total to. You can weigh your items separately before loading, to accurately keep track of your cargo's weight. It's also a good idea to note these weights down somewhere so the next time you might not need to weigh them again but can still have a pretty close estimate of your cargo weight.
Gross Axle Weight Rating (GAWR)
The maximum distributed weight that may be supported by an axle of a vehicle. For safe operation, the load on any axle of the towing car shouldn't exceed its GAWR. The label 'GAWR FR' means that it is the rating for the front axle, while 'GAWR RR' means that it is the rating for the rear axle.
Gross Combined Weight Rating (GCWR)
The maximum combined mass of the tow vehicle, the passengers and cargo in the tow vehicle, plus the mass of the trailer, the passengers and cargo in the trailer.