These kinds of days, the market offers RVers plenty of options in terms of camping trailers with lots of amenities. But regardless of the lengths of the trips as well as destinations, everyone agrees that having a bathroom with intergraded showers would make the experience on the road more comfortable.
If your trailer possesses bathroom, you don't have to plan your trip around rest tops and avoid overcrowded bathrooms. Because of such conveniences, small camping trailers with bathrooms tend to be in high demand.
Best-Selling Camping Trailers With Bathrooms
Like to get your hands on decent trailers with bathrooms but you know pretty much nothing about modern-day models? Well, if you currently face that predicament, this article could introduce you to several top-rated small camping trailers with bathrooms available for purchase nowadays.
So what are the best small camping trailers with bathrooms? Here's our top 12 list:
1. Casita Travel Trailers Spirit Deluxe
Features:
Underseat storage
Wardrobe closet
Dinette/bed
Why it's our top choice
From the outside, Casita Travel Trailers Spirit Deluxe looks similar to other small camping trailers with bathrooms on the market. However, thanks to exceptional attention to detail, classy finishes and outstanding décor in the interior, the model from Casita Travel Trailers is the most promising option regarding comfort lately. Designed to withstand variable weather in the great outdoor, the Spirit trailer should comfortably accommodate three adults in all conditions. 
Boasting two independent sleeping areas that could be converted to dinette tables in a blink of an eye, Casita Travel Trailers Spirit Deluxe truly excels at supporting large-party camping. Since the trailer incorporates a large screened window, it's possible for you to have meals while enjoying natural views.
As for the integrated bathroom, the Spirit trailer separates the shower from the toilet in order to provide increased privacy. In addition to that, the bathroom also possesses a powerful extractor that keeps the air well-ventilated and odor-free.
For RVers that want to bring along multiple items, Casita Travel Trailers Spirit Deluxe is able to satisfy that wish. In the interior of the trailer, you would find seats that also double as storages after you pop the cushion. Furthermore, the Spirit contains overhead storages for camping equipment too.
In the case you want more features, Casita Travel Trailers offer a few add/on choices: furnace, microwave oven, weight distribution hitch, deep cycle battery…
Pros
Excellent ventilation 
Well built and rugged
Spacious bathroom 
Cons
Mediocre hinges/latches   
Barely acceptable cushions
2. KZ Escape Mini Camping Trailer
Features:
Storage and freezer
Queen bed
Skylight
Why We Love It
Since it comes at a relatively affordable price, KZ Escape Mini is considered to be a great way to get around for budget-minded RVers. With a wide range of amenities available onboard, the KZ trailer would be able to keep the occupants comfortable everywhere they go: RV parks, campsites, …
Being a lightweight design, the Escape Mini proves to be rather simple to tow using most light-duty towing vehicles. In addition, the smooth exterior of the trailer reduces drag efficiently and effectively which is why you don't need to concern yourself with mileages.
Nowadays, KZ Escape Mini is offered in several variants with variable features and customization to meet specific demands of travelers. All units in the series come with tinted windows, TV antenna, storage pockets, overhead cabinets and so on as standard. In the case you intend to go off-road, KZ offers a special package designed to enhance the handling of the trailer: new mud tires, extra ground clearance, double-entry step and electronically-controlled heated tank.
A major plus of KZ Escape Mini is that it contains a slide-out dinette section so you could enjoy your meals without feeling cramped. Near the dinette, you should find a microwave and a refrigerator which facilitates cooking preparation. About the onboard bathroom, Escape Mini provides with you a fully-equipped bathroom including shower, flush toilet, sink and more.
Pros
Fairly roomy
Smooth towing
Lots of storage 
Cons
Quality control require improvements 
Customer service is barely adequate
3. Jay Sport Camping Trailer
Features:
Fiberglass roof and aluminum ceiling
Sectionalized tent
Leveling tongue jack
Why It's An Editor's Choice
Possessing all amenities that ordinary outdoor adventurers require, including the bathroom, Jay Sport is by all accounts an outstanding alternative to rooms in dubious motels. Packing retractable double-entry steps, tires for off-roading and stabilizer jacks, the trailer from Jay shall give you a comfortable experience on the road. Using premium-grade materials in the construction, the trailer is capable of taking on challenging environments without running into issues.
In the interior, Jay Sport boasts tinted vinyl windows, mesh screening and powered roof vent so the atmosphere is fresh. Regardless of temperatures in the outside, occupants of the trailer would likely never feel bothered.
For the bathroom, the presence of a 6-gallon water heater should match all of your showering needs while going around. Depending on preferences and locations, RVers could take showers inside and outside of the trailer. Besides the showers, the Jay trailer also offers you toilet as well as sink taps.
On the road, the modest profile Jay Sport generates insignificant drag so the fuel efficiency of your towing vehicle remains unchanged in most cases. In addition, the lightweight nature of the trailer ensures superb handling. Assuming that you manage to set up the hitch properly, towing the Jay trailer is going to be a cinch.
Pros
Great storages 
Undemanding operation   
Nice sleeping arrangements 
Cons
Some people complain about leakage 
Less than ideal interior height 
4. Little Guy Mini Max Trailer
Features:
LED porch lighting
Hinge entry door
A/C and furnace
Why We Love It
Despite its modest appearance, Little Guy Mini Max remains well known among fans of small camping trailers with bathrooms as a light and comfortable option. Made to be towed by conventional family vehicles like SUVs, Mini Max prove to be quite forgiving on the road.
Because of the rugged construction, the trailer could support a wide range of outdoor activities without getting a single dent. As proof of confidence, Little Guy backs the trailer with a 2-year limited warranty which offers RVers peace of mind.
Though Mini Max is indeed a teardrop trailer, it possesses superior interior height to most other models in the class. That is why the Little Guy trailer is spacious enough to hold your camping luggage in most of the cases. Boasting a combination of two top stoves, a microwave and a stainless kitchen sink, the trailer would allow you to prepare all kinds of cuisines. Regarding sleeping capacity, Little Guy Mini Max is capable of accommodating between two and three RVers at the same time.
About the bathroom, Mini Max features a full-sized wet bath with water-conserving sprayer and floor-to-ceiling door. Because of that, you don't have to worry too much regarding wastage and splashing. Moreover, a tall-profile is available so you should be able to take care of your business without much difficulty.
Pros
The interior is spacious 
Top-notch illuminations 
Excellent insulation 
Cons
Some parts seem to be incorrectly assembled 
Ill-suited for extended travels  
5. ICamp Elite Camping Trailer
Features:
Powered roof vent
3-way refrigerator
Porch light
Why We Love It
Made by United Recreational Vehicles, LLC, ICamp Elite is a blend of eye-catching color, aerodynamic profile and high endurance. Using enforced fiberglass and industrial-strength Styrofoam, the trailer is able to hold together while being subjected to unforgiving elements.
Naturally, ICamp Elite tends to be hailed as one of the toughest small camping trailers with bathrooms on the market. If durability is your topmost priority, the model from United Recreational Vehicles, LLC is going to be your best bet.
By utilizing innovative space-saving techniques, ICamp Elite manages to pack a lot of features into its somewhat humble interior. One of the features happens to be a spacey modular bathroom with shower and toilet. Because of that, you would be able to get the most out of your outdoor experience without having to visit rest stops on the way. Aside from the bathroom, features in the interior also include overhead cabinets, wardrobe, windows with screens, smoke/LP gas detector.
As a tiny home with limited interior height, ICamp Elite is best used by solo campers that want to take short adventures now and then. But thanks to its modest size, the United Recreational Vehicles, LLC should fit virtually every camping location you could find.
Pros
Compact and lightweight
Offer exceptional values for its size 
Outstanding storage
Cons
Bedding is sub-par
The interior height is quite limited 
6. Lance 1575 Camping Trailer
Features:
Cabinet w/mirror door
Crowned PVC roof
Reading lights
Why We Love It
Lance is a well-known manufacturer of camping trailers with more than 50 years of experience and Lance 1575 is among the most highly sought-after small camping trailers with bathrooms nowadays. Despite the fact that 1575 is engineered to be light, Lance still successfully crams into the trailer tons of luxurious amenities. Charging port, TV antenna, AM/FM/DVD stereo, LED lighting,… these features undoubtedly guarantee a high level of comfort on the road for the occupants.
Intend to whip up all kinds of meals while traveling? If that is the case then the Lance trailer would have you covered as it possesses a three-burner stove, a three-way double door refrigerator and a wall backsplash. With lots of light coming through the skylight, illumination remains top-notch throughout the day. Last but not least, Lance 1575 also contains a cabinet with transparent doors for your medicines which create a homely feel.
Compared to most regular small campers with bathrooms available for purchase, Lance 1575 boasts a well-equipped, albeit slightly small, bathroom. Namely, you have a foot-pedal operated toilet as well as a first-rate shower. Due to the incorporation of the roof powered vent, ventilation in the interior is superb for most of the time.
Pros
Well ventilated interior 
Excellent insulation 
Multiple customizations 
Cons
A couple of minor leakage issues 
Cargo door sometimes fails to stay closed
7. NuCamp TAB Teardrop Trailer
Features:
Why We Love it
So you happen to be a fan of teardrop trailers? Then it's strongly recommended that you hear what NuCamp TAB brings to the table. While it indeed looks pretty small at first glance, the NuCamp trailer surpassingly packs plenty of room in the interior as well as integrated features. Featuring a compact body, the trailer would fit the average minivans equipped with towing package. That is why TAB earns its well-deserved reputation as a family-friendly camping trailer.
With a dinette that could convert into a queen-sized bed in a few moments, you should be able to enjoy your meals and get quality shuteye without much difficulty. Additionally, the side-mounted A/C keeps everything reasonably cool once it gets hot outside. The use of a side-mounted A/C also means that you don't have to worry about increased drag as with roof-mounted ones. Just as importantly, NuCamp TAB comes along a full LP tank and a battery so it capable of running various appliances from the get-go.
In terms of bathroom, NuCamp TAB makes provisions for a wet bath with shower in addition to a flush toilet. To prevent moisture from accumulating in the interior, NuCamp fits a ventilation fan to the bathroom which works quite well. Due to the generous capacity of the waste tank, you could take care of your business for days before having to drop by dump stations. 
Pros
Rugged 
Powerful onboard A/C
Interior height is just right
Cons
Somewhat flimsy fridge handles 
Users report about alarms going off without reasons
8. Scamp 13 Camping Trailer
Features:
Power converter
Safety chains
Windows & screens
Why We Love it
While all small travel trailers with bathroom nowadays have fairly compact dimensions, Scamp 13 is undisputedly the smallest model with an overall length of just 13 yards. Notwithstanding its modest size, the Scamp is able to accommodate a family of four without trouble thanks to its amenities. A standard trailer is going to come with reinforced cabinets, A/C, microwave and more. If necessary, you could get additional features for your trailer such as TV antenna, water heater, phone jack, bike racks, … by paying an extra fee.
For the bathroom, Scamp 13 offers you a wet bath located on the front of the trailer with a closet and a shelf next to it. RVers that purchase the bathroom version of the Scamp trailer would also have a sink and a toilet in the interior, sufficient for conventional trips. Since the trailer employs a high capacity water tank, it allows you to cook, shower and use the toilet freely. The tank comes from Sani Potti which means you should be safe from possible contaminations that reside in the water.
Considering the use of light materials in its construction, the trailer from Scamp proves forgiving once it comes to towing. All you need is a light-duty towing vehicle to hit the road with Scamp 13. For structural endurance, the trailer is capable of dealing with elements in the great outdoors.
Pros
Nice handling 
Highly compact and tough
Come with various options
Cons
Slightly expensive 
Inconsistent performance between units 
9. Homegrown Timberline Camping Trailer
Features:
Advanced batteries
Queen plus bunk bed
Sustainable materials
Why We Love it
Assembled using solely non-toxic materials as well as sustainable-sourced timber, Homegrown Timberline is by all accounts the top choice for environmentally conscious RVers. Being handcrafted with minimal waste, Timberline is much lighter than other trailers of the same size which greatly facilitate transportation. While the Homegrown trailer is a lightweight model, its capacity remains excellent: between three and six people would be able to sleep comfortably in the interior without running into troubles.
About towing requirements, it's generally a breeze for you to tow Homegrown Timberline with common medium SUVs and trucks. That means you don't have to spend more money to get a separate towing vehicle before hitting the road. Furthermore, the teardrop shape of the trailer ensures that your fuel expense stays the same. Because it's already weatherized, Timberline performs admirably in all kinds of outdoor conditions imaginable.
In the interior of the Homegrown unit, you shall find some of the best amenities offered by modern-day camping trailers: under-the-counter fridge, dinette/bunk beds, multiple outlets, … Obviously, if you want to get enhanced comfort, feel free to pay extra fees for a couple of optional features. As for the integrated bathroom, Homegrown Timberline brings to you a wet bath with shower and toilet supported by a 2.5-gallon hot water tank and a 23-gallon fresh water system.
Pros
High capacity 
Environmentally friendly 
Versatile and flexible 
Cons
A bit pricey 
The delivery time is long
10. Somerset Aliner Camping Trailer
Features:
3-way fridge
Water heater
Stereo with int/ext speakers
Why We Love It
Engineered to be highly adaptable, Somerset Aliner is a pop-up camper that everyone could put to good use at every location without much difficulty. While the Somerset trailer seems plain, it's still able to accommodate up to eight adults and boast a wide range of built-in amenities. With Aliner around, you could host get-togethers, cook, sleep and so on with comfort. The simplicity of the trailer means that you don't have to be an expert at RVs to handle it.
To ensure the safety of the occupants, the Somerset trailer employs a carbon monoxide detector so RVers should have peace of mind on the road. While the king-sized bed is fairly adequate in most of the cases, it's possible to collapse the dinette to get more sleeping pace. About the bathroom, Somerset Aliner incorporates a toilet/shower chest, which is rare in pop-up campers these kinds of days, next to the entrance. Though the bathroom of Aliner is unexceptional, it's nonetheless capable of taking care of your needs in the outdoors.
Packing tubular steel frames and powder-coat finishes, Somerset Aliner naturally scores well once it comes to toughness and looks. Generally speaking, the Somerset model could go on for many years without experiencing significant issues. For its values, Aliner is an outstanding investment for RVers.
Pros
Extremely compact 
Handle elements well
Reliable and dependable 
Cons
Slightly costly 
Less than ideal warranty 
11. Forest River Rockwood High Wall
Features:
Overhead kitchen cabinet
Hanging wardrobes
Bunk LED Lights
Why We Love It
Want to have fully-furnished kitchen and private showering area? If that is the case, Forest River Rockwood High Wall would never let you down. Thanks to the incorporation of 3-burner cooktops and microwave fitted with cabinets, Rockwood High Wall permits RVers to prepare lots of dishes without trouble. In addition to that, the presence of hard wall showers and a separate flush toilet means you could take care of your business with complete privacy.
Because the Forest River camping trailer is an ultra-light model, you don't need big vehicles to tow it. Besides that, the compact dimension of Rockwood High Wall makes sure that you could fit it in most RV campsites. After you settle down, all you have to do is to extend the slide-out section to get more room in the interior and enjoy your time in the outdoors. As the trailer come at a relatively affordable price, you should be able to get it without straining your finances.
On average, Forest River Rockwood High Wall could simultaneously accommodate six occupants in its interior, enough for conventional travels nowadays. Even at max capacity, the trailer leaves plenty of space for luggage so feel free to bring along whatever you want.
Pros
Affordable
Generous room 
Commendable features 
Cons
Users notice leaks after some time
The canvas needs reinforcements 
12. Barefoot Caravan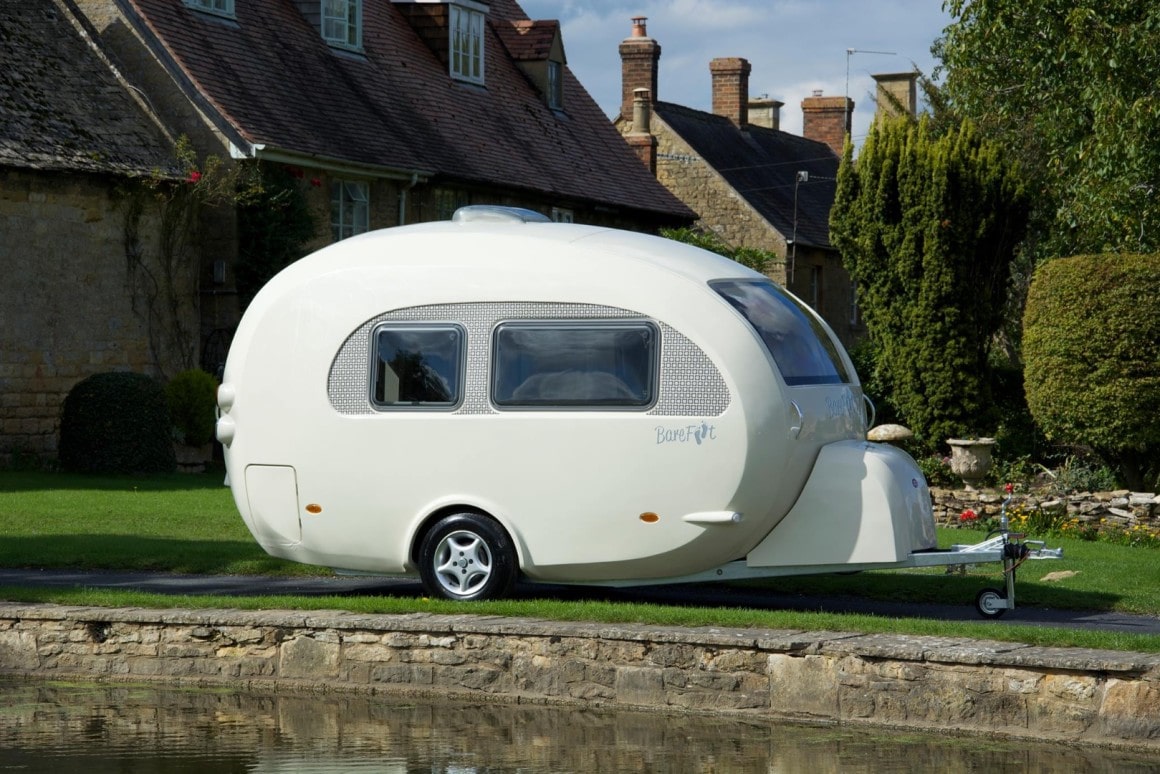 Features:
Vinyl/fabric seat cushion
Wardrobes and cupboards
Polycarbonate windows
Why It's An Editor's Choice
Produced by a UK-based firm, Barefoot Caravan attracts lots of attention not only because of its retro styling but also its highly customized interior. From the kitchen walls to the seat upholstery, you should be able to build up your desired interior as you see fit without facing limitations. Standard features of the Barefoot trailer include roof lighting, wardrobes, cupboards, polycarbonate windows and more. Being hand-built to the highest standards, Barefoot Caravan is superior to the average small camping trailers with bathrooms nowadays.
For the bathroom, the Barefoot trailer offers RVers shower, toilet and sink, all powered by an onboard 30-litter water tank. A tough hot water system is available as well which you hook to gas/electricity. Inside the bathroom of the trailer, you would also find a full portrait mirror so it's a breeze to get yourself ready for a new day on the road. All in all, while traveling on Barefoot Caravan, you could expect a level of comfort that is comparable to households.
You worry that you have to pay a hefty bill if you decide to order a trailer from the UK? Well, if that is your concern, Barefoot Caravan is going to take care of transportation by themselves, you don't need to pay additional fees. 
Pros
Stylish appearance
Plenty of customizations
Straightforward handling
Cons
High acquisition cost
Lacks TV aerial 
How to Buy The Right Camping Trailers With Bathrooms
Considering the fact that different RVers have different preferences, it's quite natural to see multiple conflicting opinions regarding ideal small camping trailers with bathrooms. However, if you want to get something that matches your investment then you better keep in mind the following criteria.
Profile
Generally speaking, most small camping trailers with bathrooms these kinds of days have compact dimensions. Nonetheless, while assessing available models, it's of utmost importance that you keep a close eye on the length, width and height of the trailers. All in all, the measurements of a particular trailer would have great influences on its maneuverability on the road as well as compatibility with campsites. As a result, if you want your trip to proceed smoothly, you should make profile one of your top priorities.
Ruggedness  
Recreational vehicles such as camping trailers must face elements in the outdoor day after day which means durability is something that you need to consider. In the case you select models with less than optimal construction material then you might have to spend a good deal of money in repair and maintenance after every trip. Because of that, it's strongly recommended that you check out the endurance of units on the market before deciding. Drop by forums of RV owners to see how models perform in variable weather conditions.
Insulation 
Good small camping trailers with bathrooms not only keep heat out of the interior but also stop outside noise outside from disturbing the occupants. As various models of trailers often thin out the walls in order to save weight, they have mediocre insulating characteristics. If you want to have a good time on the road, it's going to be wise to get a well-insulated unit that prevents heat/noise from reaching you. Thanks to recent advances in insulating materials, some camping trailers could ensure that you have peace of mind while traveling.
Operation
It's nice to own camping trailers that pack many built-in features but if the operation proves too complex, they would have negligible values. In the outdoors, you want everything in your trailer to work without requiring too much time as well as effort. That means if possible, you should opt to get a model with straightforward control for its amenities and integrated functions. RVers usually have a lot of issues to address so it's best that you go with a basic trailer and save yourself a headache.
Cost
Virtually every RVer wants to get small camping trailers with bathrooms without having to pay a fortune but remember: "You get what you pay for". Sure, it's unnecessary to break your bank just to buy trailers nowadays, don't expect top-of-the-line performance from dirt-cheap units. In order to keep everything balanced, make a list of the features you want to have then crosscheck it to available models and associated prices. That would give you a rough idea about the shopping budget you need to prepare.
Traveling On Camping Trailers: A Guide For First Time RVers
While traveling on a trailer, you have to be versatile and flexible as many things might take place without warnings. Nonetheless, if you want to have a good time in the outdoors, follow these suggestions.
Never Store Wet Camping Trailers 
High humidity encourages the growth of mildew and mold which have extremely negative effects on the heath of the occupants. In addition to that, too much moisture in the interior inevitably weakens every part that is made out of canvas. After extensive exposure to moisture in the atmosphere, canvas could disintegrate with the slightest touches. Hence, it's widely advised that you thoroughly ventilate the inside of your camping trailer before putting it into storage.
Keep Watch Over Moving Sections 
These kinds of days, small camping trailers with bathrooms often incorporate moving sections to increase space in the interior and improve the level of comfort. Though such sections indeed come in handy from time to time, they also require proper maintenance to operate as designed. Because of that, it's essential that you keep the moving sections of your trailer well-lubricated at all times. If one section malfunctions out of the blue then the entire system might be compromised. Once that happens, get ready to face hefty repair bills.
Think About Periodic Tire Checks 
Generally speaking, the tires of your camping trailer shall determine your safety on the road as well as fuel efficiency. That is why before heading out and after arriving at the destination, it's a good idea that you take a close look at the state of the trailer tires. As a precaution, inspect every nook and cranny of the tire for signs of failures. For comprehensive observations while moving around, you should consider installing a TPMS (Tire Pressure Monitor System) to your camping trailer.
Buy A Water Pressure Regulator
Different locations often have different water pressures so without proper preparations, the plumping of your camping trailer could be damaged. That is why in the case you intend to go on a long trip, you have to add a pressure regulator to your travel inventory. With the regulator, the plumping of your trailer would be well-protected against pressure spikes. Nowadays, it's a breeze to get a quality pressure regulator at most hardware stores.
Stock Up On Nonperishable Foodstuff 
Technically, RVers have no limits once it comes to meals but to make things more convenient, you better plan your daily dishes around nonperishable foodstuff. Dry rice, canned meat, beans,.. these have fairly long shelf lives and simple preservation requirements. That means after you return to your home, all you have to do is to take care of the laundry while leaving pretty much everything else, including the food, in the trailer for future travels.
Reputable Manufacturers Of Campers With Bathroom
You like a particular model and know for certain that it's of good quality? In that case, feel free to make the purchase without concerning yourself with the brand. That being said, you should keep in mind that in most cases, it's always a safe bet to buy from popular names. Considering the competitiveness of the industry, all manufacturers of campers with bathroom know that they have to keep the customers satisfied in order to succeed. That means if a certain camper maker becomes renowned, it must have done something right.
Because of that, if possible, it's strongly recommended that you keep an eye out for units from reputable brands. Only move on to campers from lesser-known names if you fail to see something that matches your camping tastes.
On the market of campers with bathroom, a couple of names stand out from the rest:
Forest River
Jayco
Barefoot
United Recreational Vehicles
Casita Travel Trailers
FAQs About Camping Trailers And Associated Issues
How could I best maneuver my trailer on the road?
All in all, it's going to take a bit of time for novice RVers to familiarize themselves with the handling characteristics of camping trailers. With towed trailers, you must anticipate the traffic as well as the road condition if you want to properly execute maneuvers like backing up, changing lanes, parking and so on. In order to get a feel of the controls and how they react, it's wise to practice driving with your towed trailer in quiet areas before hitting the road.
So what should I do to optimize my hitch setup? 
Assuming that you follow the instructions of the manufacturer, you would be able to nail the hitch setup without trouble. But just in case, perform a couple of maneuvers to check if the hitch holds up well and make adjustments.
Used trailers vs. new trailers, which ones should I get? 
While looking for suitable small camping trailers with bathrooms, many RVers come by models that they like but lack the means to finance the purchase. In that situation, several people have an idea that instead of buying brand new trailers, they could save money by buying used units and still have the features they desire. Well, secondhand trailers indeed have much lower prices than recently manufactured ones but in exchange, they tend to have expired warranties and cost a lot in terms of repair/maintenance.