Here's a complete rundown of the costs of a scamp trailer, what affects its price, its optional features and versions, etc.
What is a Scamp Trailer
Scamp trailers are some of the best camper trailers on the market, no doubt about it.
Since the early 1970s, this USA born and bred company has been producing some of the highest-rated camper trailers on the market. It didn't take very long at all for Scamp to garner a strong cult following and it's no real wonder why.
The great-looking, aerodynamic, lightweight fiberglass design has been proven to be both highly durable and great at holding its resale value.
But what sets them apart from the rest of the competition?
There are a few key points as to why Scamp trailers have such a great reputation.
First up, they are lightweight and easy to tow. They can be towed by a wide range of vehicles no matter which sized Scamp trailer you opt for, and the aerodynamic design ensures great fuel efficiency. They are also much easier to maneuver than many similar sized camper trailers.
Scamp trailers are super convenient with quick and hassle-free setup. Forget having to worry about complicated leveling systems or, god forbid, the dreaded tent poles. Just park up and you are ready to go.,
The hard fiberglass shell offers great protection from the elements and any other outdoor dangers that may be lurking about in the nighttime hours, and is also surprisingly long lasting. There are Scamp trailers that were originally built in the early 1970's and are still getting around the country today.
Each and every Scamp trailer is handmade to order in their custom built factory located in Backus, Minnesota. Every single component is proudly sourced from the USA, and the entire layout can be tweaked to suit whatever your needs may be.
How Much Does a Scamp Trailer Cost?
Unfortunately, there's no straightforward answer to this question. Since all scamp trailers are made to order the prices differ for every single unit, but the table below will provide you with some basic guidelines.
These prices are based on https://www.nadaguides.com/ which is the largest publisher of the most market-reflective vehicle pricing and information currently available. These prices are for 2021 models.
MODEL
Suggested
List Price
Low
Retail Price
Average
Retail Price
Scamp 13 ft. Standard with Front Bunk
$15,590
$14,700
$17,700
Scamp 13 ft. Standard with Front Bath
$16,890
$15,750
$19,000
Scamp 13 ft. Deluxe with Front Dinette
$18,490
$17,050
$20,550
Scamp 13 ft. Deluxe with Front Bath
$20,090
$18,350
$22,100
Scamp 16 ft. Standard with Front Bunk
$18,390
$16,950
$20,450
Scamp 16 ft. Standard with Front Bath
$20,890
$19,000
$22,900
Scamp 16 ft. Deluxe with Side Dinette
$24,490
$22,050
$26,550
Scamp 16 ft. Deluxe with Side Dinette
$24,490
$22,050
$26,550
Scamp 16 ft. Deluxe with Front Dinette
$24,490
$22,050
$26,550
Scamp Fifth Wheel Series 19 ft. Standard Basic
$20,990
$16,250
$19,600
Scamp Fifth Wheel Series 19 ft. Standard with
Option Package
$23,090
$17,850
$21,500
Scamp Fifth Wheel Series 19 ft. Deluxe Layout A
$27,790
$21,450
$25,850
Scamp Fifth Wheel Series 19 ft. Deluxe Layout B
$27,790
$21,450
$25,850
For more info be sure to head over to https://www.scamptrailers.com/pdf/Scamp%20Brochure.pdf to download the latest brochure or click https://www.scamptrailers.com/contact to contact them directly for a quote.
Main Scamp Trailer Sizes
Scamp trailers come in three main sizes – 13 ft., 16 ft., and 19 ft.
This measurement is taken from the end of the front tongue to the rear bumper.
The internal length of the cabin is a little shorter than the main sizing.
What Affects the Price of a Scamp Trailer?
As all Scamp trailers are made to order it is the optional extras that really have the biggest impact on pricing (apart from the price difference between the deluxe and standard models).
Standard features that come with every base model include:
2 Burner Propane Stove
Prep for A/C
Kitchen Sink
Cabinet Over Sink
Spare Tire & Cover
Mounted Rear Jacks
2" Receiver
LED Exterior Lights
45 Amp Power Converter
Outside GFI Outlet
Battery Disconnect Switch
Single LP Tank
City Water Intake
Gray Water Tank
12 Volt Water Pump
Propane Water Heater
1.9 cu. ft. Refrigerator (13 ft model), 3.7 cu. ft. Refrigerator (16 ft. and 19 ft. model)
24 Series Battery Pack
Screen Door
Rear Overhead Cabinets
Single LP Tank & Gauge
Volt Meter
Silverware Drawer
This list changes slightly depending on which model you are looking at, but for the most part this is the standard list of included features.
Some of the optional extras available are:
Shower & Toilet (9 gallon tank)
Dry Flush Toilet
12 Volt Water Pump
Sink in Bathroom
City Water
Sani Potti
Gray Water Tank
Gas & Electric Water Heater (Upgrade)
Gas Water Heater
Roof Fan
Roof Air Conditioner
Heatstrip for Air Conditioner
3.7 Cubic Foot Refrigerator
6.7 Cubic Foot Refrigerator (Upgrade)
Microwave Oven
Glass Stove Top (Upgrade)
Conventional Oven (Upgrade)
Power Range Hood (12 Volt)
Backsplash
Front Cabinet
Rear Overhead Cabinets
Furnace (16,000 BTU)
Group 24 Battery Pack
Group 27 Battery Pack (Upgrade)
Wireless Brake Control
Backup Camera
2nd Set of Tail Lights
Screen Door
12 ft Awning
TV Antenna
TV Cable Hookup
TV Package
Dual 20lb Propane Tanks
Wheel for Jack
Storage Cover for Trailer
Generator
Outdoor Shower
Solar Panel Kit
Power Tongue Jack
Tank Monitors
Upgraded Rims w/ Spare Tire
Sink Cover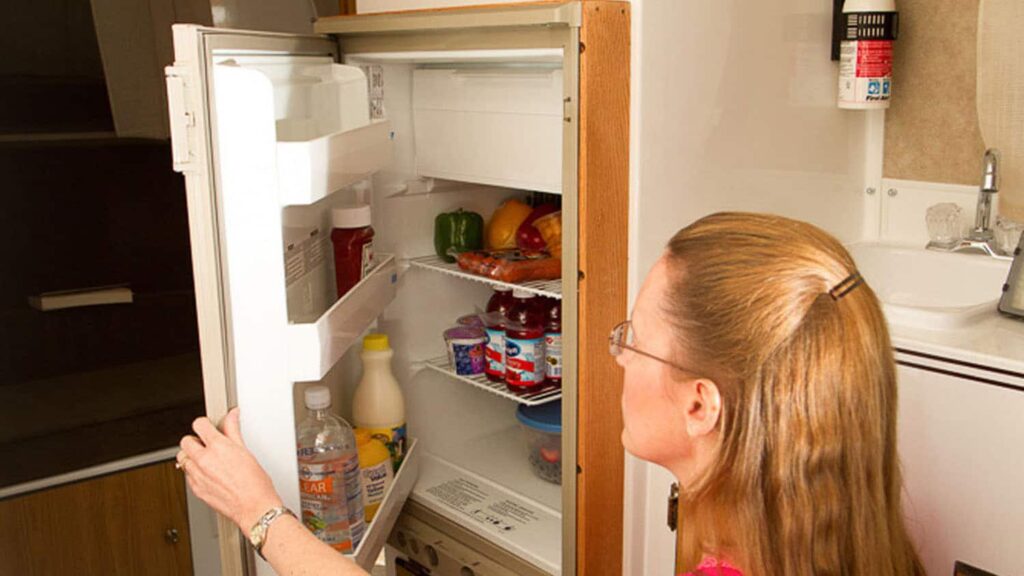 This covers every extra that Scamp offers, but that doesn't mean this whole list is available for every camper. Head over to https://www.scamptrailers.com/showroom and choose the model you are interested in to see the available options.
Standard vs Deluxe Version
There are a few obvious differences between the standard and deluxe versions of Scamp trailers.
The first difference that catches the eye is the deluxe hardwood interior. You can choose between oak or birch and they both look fantastic, although I also really like the fiberglass finishing on the standard models. The wood finishing does add some extra weight though, something to keep in mind.
The deluxe versions have a more luxurious overall feel, but some online reviews point out that the deluxe versions can feel a little more cramped than the standard versions (depending on which floor plan you go for).
The list of optional extras is also a little longer for deluxe versions. There are bigger beds available, and the layouts are slightly tweaked.
Really, it comes down to personal preference. If you are a fan of a more minimal look you may prefer the standard versions. I think both options are great.
Bathroom vs No Bathroom

There are 3 main points to consider here. If you decided on a floor plan that does not include a bathroom you will have more space, less weight, and a cheaper purchasing price.
For some, having a bathroom readily available is an absolute necessity, while for others this is not such a huge concern.
Personally, I don't feel the need to have a bathroom in a small trailer. I usually camp in the warmer months, and often at spots where bathroom facilities are available. The extra space is just too hard to pass up for me. If you like to head off grid in the cooler months a bathroom could be essential, depending on your preferences.
Why Are Scamp Trailers More Expensive Than Some Of The Competition?
Simply put, if you want quality then you have to pay for it.
Scamp trailers are custom-made, hand-built, bespoke campers. They are built to order, and can be tweaked to fit your personal preferences. They use top-quality components throughout the entire build, and have been proven to last a lot longer than the vast majority of cheaper options.
Sure, you could go out and grab an "off the shelf" trailer that will do a great job and save you at least a couple of thousands dollars.
But these cheaper trailers may end up costing you more in the long run. With lower quality components come higher running costs, higher chances of needing to make costly repairs, and a much lower resale value.
One of the huge upsides of choosing a Scamp trailer is the almost unbelievable amount of value that they hold. There have been years when owners have actually seen the price of their used Scamp trailers increase in value.
How Much Do Scamp Trailers Weigh?
This is a good question, and one without a straightforward answer.
It all depends on which model and floor plan you opt to go with, and which features you choose.
As a general rule the dry weight of Scamp trailers should weigh about:
1,200-1,500 lbs for a 13 ft. Standard or 1,300-1,600 lbs for a 13 ft. Deluxe
1,750-2,000 lbs for a 16 ft. Standard or 2,200-2,600 lbs for a 16′ ft .Deluxe
2,000-2,400 lbs for a 19 ft. Standard or 2,400-2,900 lbs for a 19 ft. Deluxe.
Where Can You Buy a Scamp Trailer
If you are wanting to purchase a brand spanking new Scamp then you can head over to https://www.scamptrailers.com/contact and fill out a quote request.
They can also be reached on the phone at 218 947 4932, or on this toll-free number: 800 346 4962 (for buyers in North America) Monday – Friday 8:00 am to 4:30 pm (CST).
There are a couple of options for second-hand Scamp trailers. A quick google search should show you the best local options, and head over to https://www.rvtrader.com/ to see what's available on the web.
How to Care for your scamp trailer
There are some basic things to keep in mind that will help keep your Scamp trailer in tip-top position for years to come:
Look after the fibreglass shell, and clean the exterior after every trip.
Try to keep your Scamp out of direct sunlight as much as possible. I am not saying that these are some sort of vampiric vehicles that will melt under UV rays, but try to store your Scamp in a shaded area and cover it up if possible.
Properly winterizing your trailer is always a good idea, and disconnect any internal systems when not in use.
Always check the towing system, connection points, tire nuts, handbrake, and tires before and after any trip no matter the length.
Make sure the water in your trailer's fuel and water systems is changed frequently.
Scamp Trailer FAQ
Are Scamp Trailers any good?
Yes indeed! Scamp trailers are some of the highest quality camper trailers and 5th wheelers on the market.
Do Scamp trailers have bathrooms?
Some do, some don't. Since Scamp trailers are built custom to order the choice is 100% in your hands.
How long do Scamp trailers last?
That all depends on how well they are looked after. Scamp trailers are known to be one of the longest lasting fiberglass egg options on the market, but with poor care and maintenance the life span can drop dramatically.
The Wrap Up
Easy to tow, a breeze to maneuver, lightweight but built to last, aesthetically pleasing, and one of the best camping trailer options in terms of resale value – Scamp trailers are known to be one of the best fiberglass travel trailer options.
If you are in the market for a great camping trailer then you could do a lot worse than a Scamp, and it's hard to find better!