A big travel trailers would require a powerful towing vehicles, for instance with a fifth-wheel RV you must own at least a pick-up truck. If you don't want to upgrade your car just for this, getting an ultra-lightweight travel trailers under 2,000 pounds allows you to utilize your current car for towing.
Such lightweight trailers differ greatly from full-sized trailers with certain advantages and disadvantages. There are also many options for different needs, thus in order to make a wise investment, you need to research carefully.
This comprehensive guide includes everything that you need to know to get the perfect lightweight trailer for your own needs.
First is the list of the very best ultra-lightweight travel trailers under 2,000 pounds, second is the factors to consider when buying such trailers, followed by the decision of buying new vs used. At the end of the guide you will find handy tips when traveling in these trailers and frequently asked questions by fellow campers.
Top-Rated Lightweight Travel Trailers Under 2,000 Pounds
Lightweight travel trailers are favored by many campers because they offer versatility without pressuring your car with too much weight. These small campers can be easily towed by regular vehicles like SUVs, crossover vehicles, or mini vans. So you do not have to upgrade your vehicles to enjoy the adventurous life on road.
Besides that, as camping trailers under 2000 lbs put less stress on your vehicle, they will give you better gas mileage wherever you travel. By burning less fuel, you will save money on gas which makes these ultra light travel trailers more eco-friendly than other options.
Lightweight travel trailers is, as the result, a convenient yet cost-effective option for campers.
If you are going for a lightweight travel trailer, you now can enjoy peace of mind and focus more on the main features instead of worrying about the total weight of your RV and towing issues.
With increasing popularity among campers, ultra-lightweight travel trailers now come in a wide variety of designs, quality and level of comfort which can confuse many first time campers. Worry not, as we have carefully selected the very best 10 ultra-lightweight travel trailers under 2,000 pounds currently offered in the market.
We've interviewed RV experts and collected user reviews of more than 50 models highly sold on the market to come up with the list of 10 best models. This handpicked list rates these lightweight travel trailers on every critical criteria, including make and durability, design and craftsmanship, reviews of users and experts, standard features plus variants or available upgrades, and more.
Dive into this comprehensive comparison to pick out the best option for your travel needs and preference
What are the best ultra lightweight travel trailers under 2000 pounds:
Taxa Outdoors Cricket
Forest River Rockwood Geo Pro
Jayco Hummingbird
Aliner Ascape
Riverside Retro
Timberleaf Teardrop
Hiker Trailer
Safari Condo Alto R Series
Happier Camper HC1
Palomino PaloMini
1. Taxa Outdoors Cricket Travel Trailer
Features:
12V Accessory Outlets (Inside & Out)
Quad Stabilizer Jacks
Furnace & Water Heater System
Why This Is The Best
At first glance, Taxa Outdoors Cricket features an odd profile due to its asymmetrical outer shell but regarding space utilization, it's second to none.
Every nook and cranny in the interior of Outdoors Cricket offers only as much space as necessary which keeps its overall dimensions to the bare minimum. The diminutive size of the Taxa travel trailer ensures that RVers would experience fairly negligible handling issues on the road.
Like most ultra-lightweight travel trailers under 2,000 pounds nowadays, Taxa Outdoors Cricket can be town with regular four-cylinder vehicles.
Packing up to 4 swing windows and 5 mesh windows, Outdoors Cricket is capable of maintaining excellent ventilation in all weather conditions. Even for 2 adults and 2 children, the trailer's full capacity, the well-ventilated interior would still be airy and comfortable. If needed, the pop-up roof will provide additional headroom.
For storage, Taxa Outdoors Cricket incorporates an under bed storage so you should be able to store everything you need for the trip.
The trailer offers a 15-gallon storage tank for freshwater and a 16-gallon one for greywater, sufficient for conventional RV travels.
Pros:
High endurance
Outstanding ventilation
Maneuver well on the road
Cons:
Some variants have costly prices
Certain features offer relatively limited values
2. Forest River Rockwood Geo Pro Travel Trailer
Features:
AM/FM stereo with Bluetooth/USB ports
12V TV with integrated DVD player
Wifi range booster with available connectivity
Why It's An Editor's Choice
Packing luxurious amenities, reasonable room and solid construction, Forest River Rockwood Geo Pro is the best value ultra-lightweight travel trailers under 2,000 pounds on the market for RVers.
As the overall length of Rockwood Geo Pro travel trailers falls in between 11 and 20 feet, they maneuver pretty well on the road and camping grounds. Additionally, if you select Forest River trailers, you would be able to choose from multiple floor plans so you can have it tailor-fitted to accommodate two to four people.
Since it employs a six-sided aluminum cage design, Forest River Rockwood Geo Pro is recognized as one of the sturdier campers under 2,000 pounds. Because Rockwood Geo Pro is made to match the towing capability of family vehicles, you should have no trouble towing it with standard SUVs.
All variants of Rockwood Geo Pro come with Wi-Fi range extender as standard so it's a breeze to surf the web. Other standard features include a rear ladder, a roof mount solar panel with converter and so on. Forest River offers several customized options such as A/C, RV bike rack, lift kit,…
Pros:
Fit light vehicles
Top-notch mobility
Modern features
Cons:
Quality control is less than ideal
Somewhat inconsistent performance between units
3. Jayco Hummingbird Travel Trailer
Features:
Rear exterior kitchen
Space-saving storage
USB ports and LED lighting
Why It's An Editor's Choice
You want to minimize the weight of your travel trailer without sacrificing interior space? If that happens to be the case then by all accounts, Jayco Hummingbird is going to be a worthwhile investment.
Compared to usual ultra-lightweight travel trailers under 2,000 pounds, the travel trailer from Jayco packs considerably more space in the interior which allows a wide range of features, ensuring a high level of comfort.
Jayco Hummingbird is available in a total of 8 floor plans.
The length of these travel trailers varies from 18 to 19 feet. The humble dimension of Hummingbird allows a pretty high degree of mobility on the road. Moreover, the trailer boasts a rear camera, exterior speakers, powered awning with LED lighting and other added features for safer driving.
In the case the weather permits, Jayco Hummingbird could support full-course outdoor dining thanks to its foldable picnic table. Spacious countertops, built-in furnaces, a propane-burner and two gas burners at your disposal, it's generally a breeze for you to whip up any dishes you like.
Pros:
Lots of space
First-rate handling
Nice interior features
Cons:
The bed in the interior sits high
People complain about missing parts
4. Aliner Ascape Travel Trailer
Features:
LED running light
Automotive finish
Aluminum wheel and spare
Why We Love It
Featuring an aerodynamic tear-shaped profile, Aliner Ascape is one of the best ultra-lightweight travel trailers under 2,000 pounds if it comes to overall drag. That is why the Aliner travel trailer receives praises for improving the towing vehicle's fuel efficiency.
Ascape is by all accounts the lightest option nowadays so you'll have an easy time towing it. Because Aliner Ascape utilizes a straightforward, no-nonsense hooking mechanism, you should be able to set it up in just a blink of an eye.
Regarding amenities, Ascape proves to be a feature-rich model: it possesses everything that RVers need while traveling. Despite the fact that the features change quite a bit between floor plans, even the basic variant would keep you relatively comfortable in the outdoors.
Regarding space, most people find the interior of the trailer fairly acceptable but if necessary, feel free to drop the floor to increase interior height.
To make sure that the Ascape holds together, Aliner gives it high-quality finish as well as welded, E-coated frame and overall top-notch manufacturing standards. The result is a tough travel trailer with fine performance.
Pros:
Save fuel expense
Stylish and sleek
Useful storage
Cons:
A bit narrow
Mediocre carrying capacity
5. Riverside Retro Travel Trailer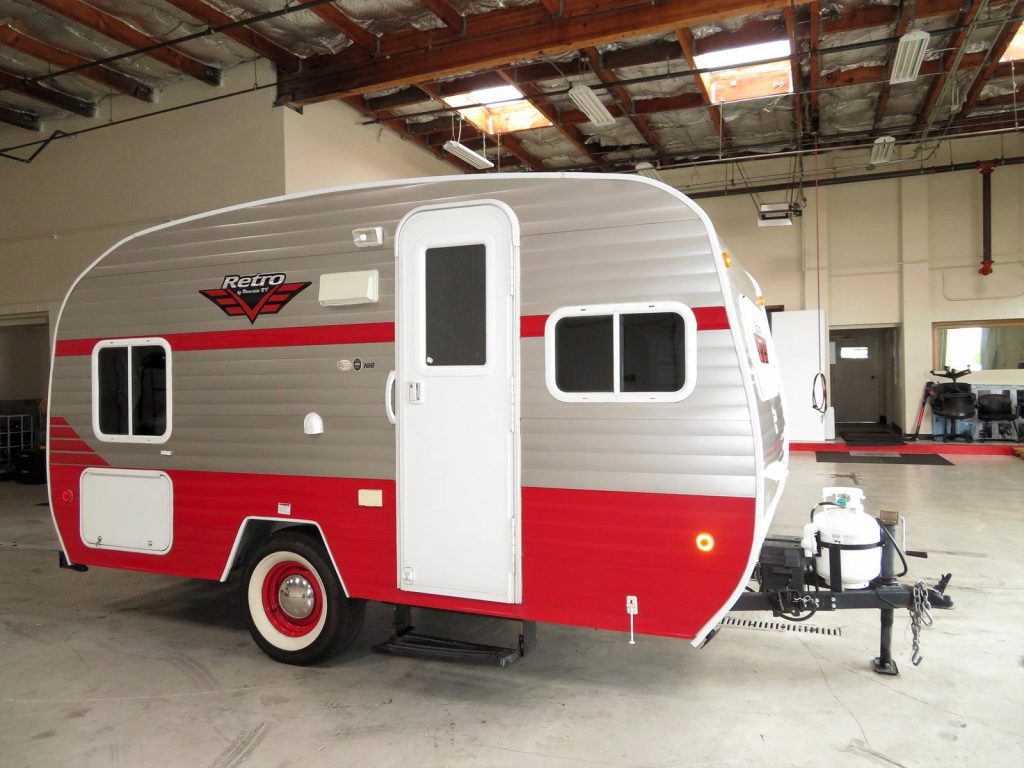 Features:
Solar-powered port
Curtain toppers/mini blinds
Electric jacks
Why We Love It
Designed with simplicity in mind, Riverside Retro is well-known among lovers of ultra-lightweight travel trailers under 2,000 pounds.
While it indeed looks fairly conventional from the outside, Retro packs some of the most modern features and construction technologies. Hence, the Riverside trailer is able to match the demands of RVers that want to get around lightly but comfortably.
With up to 16 floor plans and various customized options, you could thoroughly optimize your travel experience.
Riverside Retro employs roof vents that keep the interior airy. In case of sudden downpours, the vents have rain sensors so you don't have to worry about leaking rainwater.
Durability is pretty on point: the primary material of furniture is the durable birchwood. Additionally, it boasts an aluminum cage construction.
With solar-powered prep as well as USB charging ports, the Riverside travel trailer is easily one of the most prominent campers under 2,000 pounds in terms of convenience nowadays.
Pros:
Outstanding amenities
Well-built and rugged
Undemanding operation
Cons:
Barely acceptable post-purchase supports
Water tank balance must be enhanced
6. Timberleaf Teardrop Travel Trailer
Features:
Insulated walls and ceiling
USB power outlets
General 12v charger
Why We Love It
Knowns as an all-time favorite of minimalist, Timberleaf Teardrop packs highly sought-after features in a weight-saving body.
While it's engineered to stay light, the trailer is still capable of taking on unforgiving conditions on the road. Using premium-grade anodized aluminum in construction, Timberleaf Teardrop offers excellent durability for its price.
In the interior, Timberleaf Teardrop features a giant skylight that brings natural light in the day and permits the occupants to gaze upon the stars once night comes.
In addition, it arranges a series of bright LED lights on the porch, the galley and the cabin, so your nighttime activities should proceed practically unimpaired.
The trailer also offers ample shelving so it's just a walk in the park to find room for your camping essentials. Last but not least, this Timberleaf model uses a combination of venting windows and vented doors for optimal ventilation.
Incorporating deep cell marine battery and various outlets throughout the interior, Timberleaf Teardrop could comprehensively satisfy your need for power.
Pros:
Compact and light
Great endurance
Affordable price
Cons:
Hard to back up in certain situations
Some features could only be accessed from the outside
7. Hiker Trailer Travel Trailer
Features:
Aluminum wheels
Safety chains
Vinyl flooring
Why We Love It
Made to navigate challenging grounds and hostile terrains, Hiker Trailer is undoubtedly among the most suitable ultra-lightweight travel trailers under 2,000 pounds for off-roading.
If you venture into the outdoors without clear goals in mind, you would have a hard time finding another trailer that could outperform the Hiker. The manufacturer offers quite a few variants, also it's possible for you to make customizations in order to match specific conditions.
Like other ultra lite travel trailers under 2,000 lbs for sale these days, the Hiker requires light-duty towing vehicles like passenger cars, small SUVs, and minivans. That means you would be able to tow the trailer using the family vehicle.
A big plus is its teardrop design: the Hiker Trailer experiences insignificant drag under tow so you don't have to worry too much about fuel efficiency while traveling.
Pros:
Top-notch handling
Versatile and flexible
Plenty of customizations
Cons:
A bit long setup time
Limited storage space
8. Safari Condo Alto R Series Travel Trailer
Features:
Independent suspension
Electric brakes
Aluminum Construction
Why We Love It:
While it's undeniable that teardrop trailers have compact dimensions, they tend to have less than ideal built-in amenities. That is why Safari Condo releases Alto R Series trailers to specifically remedy that issue.
Boasting a flush toilet, movable tables, and storage cabinet, the Safari Condo model proves superior to many other travel trailers under 2000 lbs regarding comfort. With lots of variants available for purchase, it's a breeze to find a layout that fits your tastes.
On the road, Safari Condo Alto R Series is known to create up to 75% less drag than typical travel trailers. For RVers that want economic ultra-lightweight travel trailers under 2,000 pounds, Alto R Series units would be cost-effective investments.
You should be able to tow the trailer without trouble using standard compact cars/SUVs. In addition to being lightweight, the materials also happen to be recyclable for the most part too which makes trailers of the line environmentally-friendly.
During transport, the roof of Safari Condo Alto R Series must be kept down but after, you could pop it up to get more space. To raise and retract the trailer roof, you just have to hit an electrical switch.
As the crescent-shaped windows of the trailer use tempered glass, natural light provides plenty of illumination without causing glare.
Pros:
Adaptable layout
Spacious interior
Lots of integrated features
Cons:
Material might warp
No pump housing
9. Happier Camper HC1 Travel Trailer
Features:
Rear hatch
Double hull insulated shell
Leveling/swing jack
Why We Love It
Packing only the most essential of amenities onboard, Happier Camper HC1 is considered to be an ingenious solution for people that want to travel light. Known as the Swiss Army knife in the lightweight travel trailer world, the Happier Camper unit is versatile which lets it flexibly tackle various camping conditions.
With a combination of retro appearance and modern features, HC1 is also your best bet if you desire something traditional but with high levels of comfort.
The interior of Happier Camper HC1 resembles Lego cubes: from the sleeping space to the kitchen, everything could be tailored to match the needs of the occupants. HC1 would be able to accommodate up to 5 travelers comfortably, quite nice for an ultra-lightweight model.
Thanks to the large rear hatch and windows, ventilation should be top-notch.
Regarding electricals and lighting, Happier Camper HC1 features multiple LED lights from the exterior to the interior. With many ports and outlets, it's going to be a walk in the park to keep your appliances operational.
Pros:
High capacity
Excellent structural strength
Fully customizable interior
Cons:
No bathroom
Lacks electrical jacks
10. Palomino PaloMini Travel Trailer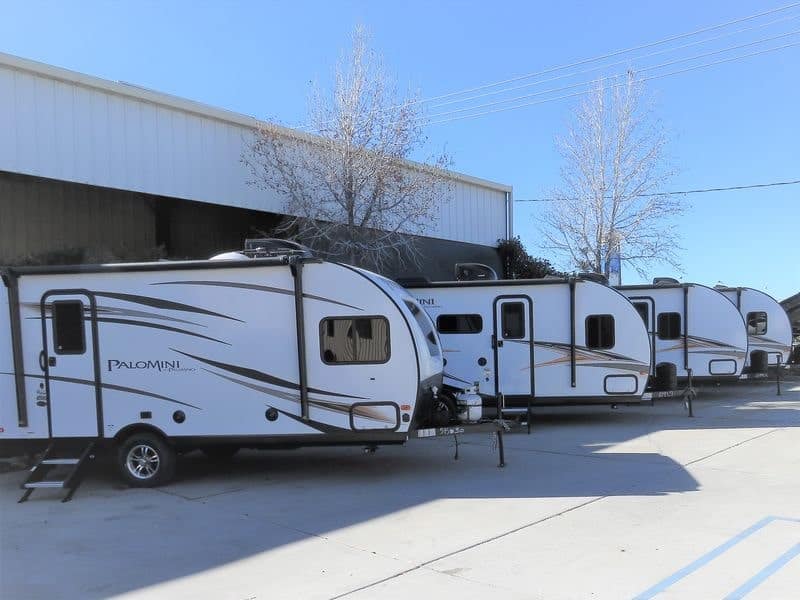 Features:
Air conditioner
Memory foam mattress
Walkable roof
Why We Love It
Palomino PaloMini attracts RVers with its luxurious amenities. You would have everything you need for comfortable outdoor excursions.
Available in 10 distinct floor plans, the length of the Palomino travel trailer varies from 16 to 21 feet, sufficient for most conventional roads, parking sites and garages. In terms of capacity, PaloMini is capable of supporting between 3 and 6 occupants at the same time depending on the variant.
While the weight of Palomino trailers changes between floor plans, the lightest variant could be towed by light-duty family vehicles. In case the standard features of the unit don't impress you, keep in mind that it's possible to add features without considerable modifications.
When it comes to repair and maintenance, the laminated walkable roof guarantees that you will have an easy time inspecting the top of the trailer. If you want to replace the original roof-mounted A/C, you would be able to get everything done in a blink of an eye.
Pros:
Great longevity
High-quality appliances
Adequate storage
Cons:
Minor leakage issues
Less than ideal assembly
---
Factors to Consider When Purchasing Ultra-Lightweight Travel Trailers
Different RVers surely have different needs and preferences, however if you pay attention to the following factors, you will definitely nail one of the best ultra-lightweight travel trailers under 2,000 pounds for your money.
1. Dimensions
You need to pay attention to the size of your trailer because many RV parks and campgrounds have size restrictions.
More importantly, the height, width and length of a particular travel trailer largely influence its handling characteristics on the road, such as turning and stability of the whole unit. In addition, bigger travel trailers tend to add considerable drag which impedes fuel efficiency of the towing vehicles.
2. Amenities
In case you only spend short periods of time camping outdoors, feel free to settle for basic facilities. On the other hand, if your trips often last for months, it's best to ensure that you have everything you will need.
3. Endurance
The last thing you ever want to experience while camping outdoors is rainwater leaking in through a giant hole in the roof. When shopping for travel trailers, do check the quality of materials, its design and overall durability to have a fair measure of whether a trailer is durable enough for your travel needs.
4. Brand
Nowadays, it's pretty common to see conflicting reviews regarding a product's performance. For your peace of mind, it's rather safe to grab a model from a well-known manufacturer with overall good reviews while browsing different ultra-lightweight travel trailers under 2,000 pounds.
5. Price
A travel trailer is a considerable investment that requires serious budget-planning. Most of the time, the higher the price tag, the higher the level of comfort.
However, remember that you don't need to empty your wallet just to get the most expensive model available. Thanks to technological advancements in the industry, nowadays you can find travel trailers with excellent amenities at affordable prices.
That being said, it's strongly recommended that you avoid dirt-cheap units as they tend to be not as durable.
Check out these similar RV reviews:
---
New Trailers Vs Used Trailers: How To Make The Right Call
So you really like that model but the price for a brand new unit is kind of steep for your pocket?
Fortunately, there is an alternative: look for used travel trailers. Of course, there would be pros and cons.
New Trailers
If you decide to purchase a new trailer, you will be sure onboard facilities are in top condition. In addition, warranty starts the second you buy so you know that you have the support you need while being on the roads.
On the downsides, newly-manufactured units usually have high insurance premiums.
Used Trailers
Apart from cheaper purchase prices, insurance for used models are more manageable than that of brand new ones.
However, an important drawback is it's essentially impossible to tell what might be wrong with such trailers at first inspection. Since the manufacturer's warranty for these vehicles often has expired at the time of sale, you must pay for repairs as well as future upgrades out of your own pocket.
---
Traveling On Travel Trailers: Tips For First-Timers
If you want to get the most out of ultra-lightweight travel trailers under 2,000 pounds, consider implementing the following suggestions.
#1. Invest In A Pressure Regulator
Water pressure varies greatly from place to place so to protect the plumbing of your trailer from potential damages, pick up an RV water pressure regulator. This simple tool will save you money on plumbing repair due to pressure spikes.
#2. Grab A Travel Trailer Cover
Outdoor conditions are unforgiving, thus it's advised that you buy an RV cover for your trailer before hitting the road to optimize its overall longevity.
#3. Purchase Separate Sets Of Necessities
If you happen to be a budget-minded RVer, it's highly likely that you want to cut down expenses by using available household items.
However, remember that it's pretty tough to bring along everything you need from the house. Therefore, it's essential to outfit your travel trailer with its own set of necessities.
---
FAQs About Lightweight Travel Trailers
1. Is there any rating I should know while buying trailers?
A particular travel trailer nowadays would often come along a variety of weight-related ratings. If you want to get suitable ultra-lightweight travel trailers under 2,000 pounds then you must inspect the following ratings.
GVWR – Gross Vehicle Weight Rating: the maximum allowable weight of a fully loaded vehicle, including liquids, passengers, cargo and the tongue weight.
Both a regular tow vehicle and an RV has its own GVWR.
GAWR – Gross Axle Weight Rating: the maximum distributed weight that may be supported by an axle of a vehicle. For safe operation, the load on any axle of the towing car shouldn't exceed its GAWR.
The label 'GAWR FR' means that it is the rating for the front axle, while 'GAWR RR' means that it is the rating for the rear axle.
GCWR – Gross Combined Weight Rating: the maximum combined mass of the tow vehicle, the passengers and cargo in the tow vehicle, plus the mass of the trailer, the passengers and cargo in the trailer.
2. So the tires of my travel trailer blow out prematurely. What is going on here?
The tires of your travel trailer might blow out for a variety of reasons. To reduce retail prices, various RV manufacturers use cheap imported tires, which have somewhat mediocre lifespans. Needless to say, such tires don't last long in use so you should immediately replace the tires of your trailer. Otherwise, most tires would be prone to blow out if RVers fail to inflate them properly before heading out.
3. My trailer keeps swaying on the road. How could I put an end to that?
In most cases, insufficient hitch weight is what makes trailers sway. All you have to do is to make sure the hitch weight is at least equal to 10% of your travel trailer weight. You have multiple options to increase the hitch weight like placing the heaviest cargo near the front and emptying/filling the water tank.
4. Is it okay to leave my trailer plugged during storage?
Generally, a conventional converter/charger might overcharge the RV batteries and cause permanent damage to them. On the other hand, a smart converter/charger stops charging once the batteries get fully charged.
You should check to see what kind of converter/charger your trailer is using. If your travel trailer incorporates a smart model then you could leave it plugged while in storage In fact, it's a good idea to keep travel trailers plugged in cold climates to prevent freezing.
5. What is the best time to buy a travel trailer?
Travel trailers are often more affordable at the end of the travel season. If you want to pay less, it's a good idea to wait until the travel season concludes. Read more here!