RV camping does not necessarily mean you have to give up on convenience. Getting access to wifi on the road not only provides you and your companions with entertainment but also, more importantly, gives you access to vital information such as maps, weather forecast and a variety of handy RV applications.
It is frustrating getting weak wifi signals at RV parks and campgrounds, especially when you explore more remote places with less connectivity. Whether you're traveling in your rig or living in it full-time, stay connected by investing a reasonable amount in the best WiFi booster for RV.
RV Wifi Boosters Comparison Chart
Product's name
Price
Key Features
More Info
NETGEAR Wi-Fi Range Extender EX6120 - Coverage Up to 1500 Sq Ft and 25...
$39.99
Universal compatibility
Wired Ethernet port
WEP and WPA/WPA2 security protocols
See Latest Price
Linksys RE6500: AC1200, Dual-Band Wi-Fi Extender, Internet Booster, 4...
$57.99
Adjustable antennas
Audio jack
Ethernet ports
See Latest Price
Winegard WF-3000 White ConnecT WF1 WiFi Extender (Secure RV Internet, 3x...
$476.66
Protected WiFi access
Low-profile construction
Onscreen instructions
See Latest Price

No products found.

No products found.

$165.88
Fiberglass-encased antenna
Updated USB router/repeater
Ethernet cable included

No products found.

Bearifi BearExtender Outdoor RV & Marine High Power USB Wi-Fi Extender...
$54.97
No power supply required
Protective coating
Various mounting options
See Latest Price
C. Crane CC Vector RV Long Range WiFi Repeater System 2.4 GHz- Extends...
$249.99
Single-band
Omni-directional antenna
Heavy-duty system mounts
See Latest Price
TP-Link AC1200 Wireless Wi-Fi Range Extender (RE350K)
$$$$
Gigabit Ethernet port
Toll-free technical support
Indicator lights
See Latest Price
Winegard - 80800 ConnecT 2.0 WF2 (WF2-335) Wi-Fi Extender for RVs
$199.00
Three external antennas
Accommodate multiple users
Secured access
See Latest Price
C. Crane Super USB WiFi Antenna 3 - Long Range WiFi Booster for a Windows...
$69.99
Water-resistant (IP65 rated)
15-foot USB split cable
Plug and play
See Latest Price
Alfa AWUS036NH 2000mW 2W 802.11g/n High Gain USB Wireless G/N Long-Range...
$$$$
Diagnostic LED indicator
External antenna jack
High powered adapter
See Latest Price

No products found.

No products found.

$$$$
Dual-band
LED indicator
Multiple modes

No products found.

WAVLINK WL-WN570HN2 High Power Weatherproof Outdoor WiFi Access...
$$$$
Weatherproof
AP mode and repeater mode
Support POE (Power Over Ethernet)
See Latest Price
---
What Is A RV WiFi Booster?
Definition
An RV campground is huge, and being parked a mile away from the campground router might mean weak wifi signals or no access to wifi at all. Furthermore, RV campground's wifi is always plagued with problems and security issues.
You will no longer have to pull your hair out with irritatingly weak wifi. As the name suggests, a wifi booster boosts weak WiFi from up to two miles away and typically tether multiple wifi signals together to create an even faster wifi.
An important feature is connection encryption to protect you from the massive number of unsecured wifi signals you'll be connected to on the road. In addition, these RV wifi boosters are designed to withstand harsh outdoor conditions.
Types Of WiFi Boosters For RV
You can choose among a wide variety of models for WiFi signal booster for RV tailored for different needs:
Dual-Band Boosters: Known to be extremely versatile, these boosters attach themselves to most RV settings in a blink of an eye. In addition, dual-band WiFi boosters prove capable of supplying strong signals at great ranges.
Wireless Boosters: Available at cheap prices, wireless WiFi boosters are ideal for budget-minded RVers that need connectivity enhancements in a hurry. These models tend to have fairly straightforward setups for hassle-free installation.
Mobile Boosters: As the name suggests, mobile WiFi boosters feature top-notch portability compared to other types of boosters. You would be able to fit them inside your pockets and carry them around to get stronger signals wherever you go.
WiFi Booster, WiFi Extender, and WiFi Repeater: The Differences
The term "WiFi booster for RV" is often used to describe every device designed to enhance the strength of WiFi signals. Quick lesson: "WiFi booster" is an umbrella term. You will hear variations, including Wireless Repeater, Wireless Range Extender, WiFi Network Extender and more. They are all different.
RV Wireless Repeater: As the name suggests, a wireless repeater re-broadcast the signals that it receives to a localized area. The strength of the repeated signals remains pretty much the same as the original ones but the response time increases.
RV Wireless Range Extender: Being a standalone device, a wireless range extender sits between the router and the space where you need WiFi coverage. Like the wireless repeater, the wireless range extender also re-broadcast acquired WiFi signals. The difference is, the signals may broadcast on different channels in addition to that of the routers.
RV WiFi Network Extender: Unlike others that capture signals traveling through the airs, a WiFi network extender communicates with the routers directly through wires. Thanks to this feature, the WiFi network extender works consistently but as the distance increases, its speed will drop.
How Does It Work?
Since all RV WiFi boosters work toward the same goal, it's only natural that they have similar operating principles. The boosters first capture the signals that come from the WiFi transmitters, then amplify the strength of WiFi signals.
Finally, the boosters transmit the strengthened signals so other devices that have built-in WiFi receivers can use them. This means significantly improved speeds and coverage.
Benefits Of RV WiFi Boosters
Many travelers might argue that when you're RV camping, WiFi is a distraction from nature and thus is an unnecessary luxury. This may be true for short trips to places you are extremely familiar with and are not too far away.
However, for longer trips to unfamiliar territory, which translate to ample complications and mishaps, WiFi can be a life saver in many situations. You will need the Internet to browse for the next stop, the closest gas station, repair shop or grocery store, or check the weather daily before heading out.
Daily Weather Forecast
The last thing you want to do is to drive on slippery mountain roads in the rain or worse, a storm. Driving such a bulky unit with not-so-easy handling in less than ideal weather is highly dangerous, plus the stress will ruin your camping experience.
With stable Internet access maintained by good WiFi boosters, you will be able to check weather forecasts daily before heading out and along the way to stay safe, dry and happy.
Access to Vital Navigation Apps
Traveling in unfamiliar territory, especially in remote areas, Google Maps and other navigation apps will be your best friend and possibly a life saver.
Being able to use these applications any time on the roads will help you plan and proceed to the shortest, safest and most scenic routes. Plus, you will especially be thankful for the WiFi booster later in cases where you urgently need to find the nearest repair shop, gas station or grocery store.
Staying in Touch With Loved Ones
On long trips which can extend to weeks or months, even with unlimited access to tranquil, pristine nature, you will feel lonely at times and will need access to WiFi to get in touch with your loved ones. Especially when you're traveling alone or to remote areas, it is recommended that you stay online to update your family on your journey and can seek help when needed.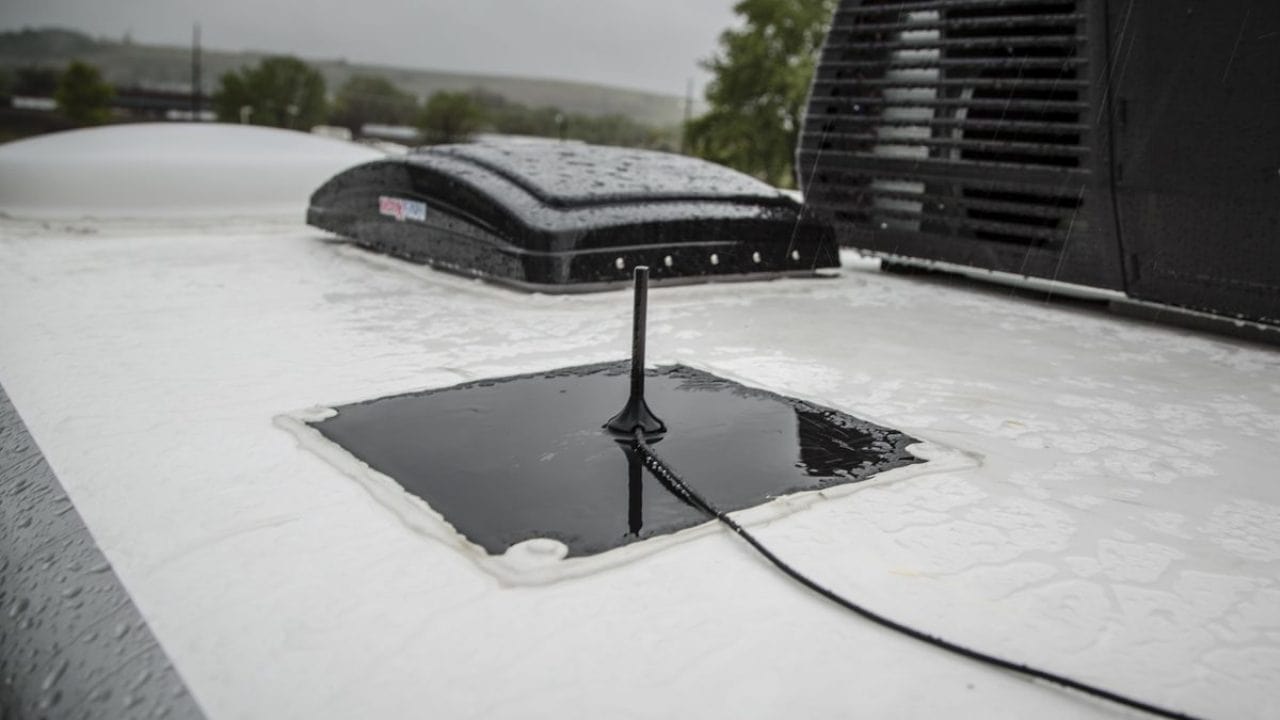 Excellent Entertainment
Feeling bored in downtimes while traveling is common, and so is having to stay indoors due to bad weather. In such events, you will crave for some entertainment. And great entertainment you will get, even streaming videos and movies, with the best WiFi boosters for RVs.
Work Work Work
Many RVers have to bring their work with them while traveling, or at least occasionally checking and responding to emails. Securing strong and undisrupted WiFi connections will be a priority. If you have to work from your recreational vehicle, RV WiFi boosters will be worth your investment.
---
Best RV WiFi Boosters Reviewed
New to the RV life and know pretty much nothing about WiFi boosters for recreational vehicles? Check out this handpicked list of the finest models widely recommended by seasoned full-time RVers in RV WiFi booster reviews.
Each will come with a detailed analysis of the notable features plus its pros and cons, so that you can pick out the most suitable RV WiFi boosters for your needs and preference.
1. Netgear EX6120 RV Wifi Booster – Best Overall
Why This Is The Best:
Praised for being able to increase WiFi coverage to 1,200 square feet and support up to 20 devices simultaneously, Netgear EX6120 is considered a highly reliable model. Incorporating FastLane technology, EX6120 possesses a maximum speed of 1,200 Mbps which is quite sufficient for demanding activities such as gaming and streaming.
Engineered for universal compatibility, the Netgear model functions well in various network setups with superb reliability. Thanks to these top-notch features and consistent performance, the Netgear EX6120 proves itself to be the best WiFi booster for RV regarding all-around performance.
Regarding installation, EX6120 is a hassle-free wall-plug design so all you have to do is find an outlet for it.
Keep in mind that Netgear offers a downloadable app (Netgear WiFi Analyzer) to help determine a good spot for the booster in the interior. After locating the ideal location and setting up, connect the EX6120 with the RV WiFi router and you're good to surf the net. Thanks to the presence of the Ethernet port, Netgear EX6120 allows RVers to run devices on wired as well as wireless networks smoothly.
Security-wise, the Netgear WiFi booster supports WEP and WPA/WPA2 protocols so you have nothing to fear. Information stored in your devices will be well protected.

We are moochdocking at my daughters for the holidays and their wifi signal doesn't quite cut it so I very easily programmed this extender, plugged it in inside the RV which is about 80′ from their router and it works great, even at the other end of our 40′ 5th wheel we get full signal. We are running a computer, reader tablet, two phones and have two TVs with firesticks that operate just fine not to mention my four grandsons on their tablets playing games, their TVs in the house and phones too. Tons of devices and bandwidth is still strong, of course that is also the provider but you would think piling all these on would affect it somewhat. Nope. Well worth the money over the aggravation of signal going in and out.

Shared by Avidreader
Pros
Straightforward operation 
Well built and rugged 
Excellent data speed 
Cons
Slightly confusing instruction manuals 
Customer service requires improvements  
2. Linksys AC1200 RV Wifi Booster – Best Value For Money
Why It's The Best Value:
Engineered to eliminate dead spots in WiFi networks coverage, Linksys AC1200 is highly sought after by RVers that prioritize smooth Internet surfing. Owing to the integration of wireless-AC technology, AC1200 is capable of delivering speed up to three times faster than the average RV WiFi boosters.
Characterized by such stellar performance, this Linksys model is the top choice for large recreational vehicles with multiple devices connecting to WiFi networks. In addition, Linksys AC1200 boasts simultaneous dual bands that guarantee consistently optimum performance at all times.
Being universally compatible, AC1200 works with a wide range of routers and gateways. On top of wireless connectivity, you can also establish secured wired connections using the modern Gigabit Ethernet ports and enjoy enhanced speeds to paired devices.
One interesting feature of Linksys AC1200 is that it contains an audio jack that allows RVers to connect it with stereo systems without much difficulty. So if you like to wirelessly stream music from your laptops now and then, phones and so on, the Linksys product would be your best WiFi booster for RV.
Bought this going on 3 years ago to extend signal for our customers at an RV park. Covers about 500 square yards. I've connected to it up to a quarter mile away during testing. Yes, it cuts bandwidth in half, but that's better than NO signal. We pay for 200Mbps from our isp. This cuts that down to around 100, but have had 10+ customers connected to it for years streaming, surfing, and gaming without problems. I have it mounted in a plastic box 10ft above ground on a pole. Well worth the price.

Shared by The Gibbonator
Pros
Fast installation 
Superb endurance
Convenient indicator 
Cons
No automatic update 
Inconsistent performance
3. Winegard 80800 ConnecT 2.0 WF2 Wi-Fi Extender for RVs – Editor's Choice
Why It's An Editor's Choice:
Being a compact, low profile model designed for roof applications, Winegard ConnecT 2.0 allows you to access distant WiFi networks without losing too much room. With a rugged, outdoor-oriented dome, ConnecT 2.0 withstands elements well so you could expect it to hold together for a long time on the road. Due to its user-friendly assembly, the installation of the Winegard WiFi booster just takes a couple of moments. All you have to do is to follow the step-by-step onscreen instructions and you would have access to the Internet in no time.
Knowing that information theft is a common worry of RVers these kinds of days, Winegard uses advanced encryption techniques (WPA and WPA2-PSK) for ConnecT 2.0. Moreover, the product from Winegard features double Firewall protection (NAT and SPI) and DOS (Denial Of Service) prevention as well. As a result, if you want to protect your self while surfing the Internet and have some money to spend then ConnecT 2.0 should be your best WiFi booster for RV.
Aside from the booster, you would receive mounting hardware and a 20-foot power cable after purchasing Winegard ConnecT 2.0 so no need to make additional investments. Everything is backed by a 2-year limited warranty on parts and a 1-year warranty on labor which definitely brings peace of mind to the users.
Pros
Strong reception 
Uncomplicated operation 
Responsive customer service
Cons
Slightly pricey
Less than ideal reliability
4. Alfa WiFi Camp Pro 2 Long Range WiFi Repeater For RV
No products found.
Why We Love It :
While it indeed comes at a pretty steep price, Alfa WiFi Camp Pro 2 is by all account the best solution to connect to distant WiFi network and extend coverage. Consists of an R36A router/repeater, an Alfa Tube-U(N) receiver and a 9 dBi outdoor antenna, the Alfa kit is what every RV that desires the best WiFi booster for RV want. In use, Camp Pro 2 would pick up a weak WiFi signal then repeat it as your own personal hotspot which guarantees uninterrupted Internet surfing.
To configure Camp Pro 2, Alfa advises that you connect it to your computer using the included Ethernet cable and follow the manual in the kit. You don't have to install any software as pretty much everything could be set up through a web browser. Once properly installed, the Alfa should be able to offer a range between 500 and 1,500 feet in areas with medium coverage. In the open, the signal range of WiFi networks may reach further than usual.
For post-purchase supports, Alfa provides users of Camp Pro 2 with a 1-year warranty that covers the hardware that breaks due to faults during manufacturing. Retailers of Camp Pro 2 also sell replacements if you want to swap out parts of the kit damaged by accidents.
Pros
User-friendly
Relatively fast setup process
Excellent signal range and strength
Cons
The acquisition cost is high
Some RVers report random disconnections  
5. Bearifi BearExtender For Outdoor & RV
Why We Love It:
Attached directly to your computer and draw power from it, Bearifi BearExtender requires no separate power supply so it's versatile in terms of installation. Also, after purchasing the Bearifi WiFi booster, you would receive adjustable mounting band, detachable tripod and Velcro mounting strap. Because of that, BearExtender could be adapted to a variety of layouts without much difficulty. As for the operating system, Bearifi BearExtender should work with Windows Vista, Windows 7, 8/8.1 and 10 but not Mac OS, iOS, Android, …
Possessing anti-UV as well as anti-corrosion protective coating, the Bearifi product is able to stand up to unforgiving elements found in the outdoors. That is why full-time RVers that care about ruggedness often think of BearExtender as the best WiFi booster for RV on the market. Thanks to the enclosed design of the booster, its performance remains consistent in variable conditions. All in all, if you don't push it to the extreme, Bearifi BearExtender would work for years to come.
Depending on environments, the range of Bearifi BearExtender changes slightly on occasions but it's going to be 2 – 4 times that of computer WiFi receivers. The combination of high output and modern directional antenna often make sure smooth Internet surfing in most of the cases.
I'm using this in my RV for when the park's wifi signal is so weak that I can't maintain a constant connection. After installing the included cd software on one laptop and using the manufacture's website to download the software on another laptop that didn't have a cd drive, I didn't have to do anything else but plug in the antenna and log into the available wifi network. Even without putting the antenna outside and higher up, it provided a noticeable increase in signal strength and I haven't yet even tried using the included usb signal amplifier. Putting the antenna outside and on the RV's roof made a huge difference. Long story short, this antenna works very well. You do have to be careful to disable the wifi connection on your computer's regular wifi manager and then log in on the antenna's wifi manager. If you don't do that, you will think that your logged in to the antenna's wifi manager but you will actually still be logged into the computer's wifi manager.

Shared by TLD
Pros
Affordable
Outstanding durability
Optimize WiFi range
Cons
Compatibility is a wee bit limited 
Require a lot of angle adjustments 
6. C. Crane CC Vector RV Long Range WiFi Repeater
Why We Love It
Packing a highly capable Omni-directional outdoor antenna, C. Crane CC Vector is able to pick up distant WiFi signals and makes them available devices in your recreational vehicles. From gaming consoles to smart TVs, every device that RVers often carry could connect to CC Vector without much difficulty. Besides wireless connections, the C. Crane model also provides wired connections to the devices as it boasts two Ethernet ports. Using the all-time popular 2.4GHz band, C. Crane CC Vector is quite versatile and flexible in ordinary RV applications.
In most cases, the installation of C. Crane CC Vector is going to take roughly 30 minutes from opening the box to obtaining WiFi signals. By creating a private network with a private password, the booster of C. Crane makes sure that only devices you know could gain Internet access. In terms of speed, the rating often changes from case to case but in optimum conditions, it should reach 150 Mbps. That is enough for a couple of users to surf the Internet at the same time.
Since things such as AC adapter, sealant, split cable and so on often accompany C. Crane CC Vector, you should be able to get it up and running without trouble. The booster is backed with a 1-year limited warranty which is adequate for the price.
Pros
Superb portability
Forgiving handling 
Powerful
Cons
The price tag is steep 
Some units seem defective on arrival   
7. TP-Link RE350K RV Wifi Booster
Why We Love It
Capable of working with every router nowadays and only require an outlet to work, TP-Link RE350K is a solid choice for RV interior. Using the free Kasa app, which is available for Android and iOS, it's going a breeze for you to identify the best setup location for the TP-Link booster. After that, it should take around 4 minutes to properly configure RE350K then you may start enjoying enhanced Internet connections. In most cases, TP-Link RE350K is able to increase the coverage of WiFi to 10,000 square feet, more than enough for everyday use.
In addition to wireless networks, RE350K also present secured wired connections to devices because of its Gigabit Ethernet port. Normally, the model from TP-Link works as a dual-band unit but if necessary, it could switch to the high-speed mode by combining the bands into one to acquire the fastest connection. The LED lights on the booster would keep you up to date about its operation but in the case you feel them distracting, it's possible to turn the lights off.
Incorporating the latest security protocols, TP-Link RE350K is, in essence, the best WiFi booster for RV on the market once it comes to protection at low prices. While paring devices with RE350K, RVers don't have to worry about losing sensitive information (account password, credit number, …).
Pros
Low price
Intuitive installation 
Superb tech support
Cons
Occasionally lose connection
Poorly written instructions
8. Winegard WF-3000 RV Wifi Booster
Why We Love It
Combining a powerful signal amplifier with three high-performance antennas, Winegard WF-3000 proves superior to the average WiFi boosters once it comes to coverage. Engineered by Winegard to support multiple users, WF-3000 ensures that the speed of individual devices stays optimized at all times. Similar to many other Wifi boosters that come from the brand, Winegard WF-3000 employs the most recent encryption protocols, firewall protections and attack preventions.
Regarding installation, WF-3000 could be set up in no time at all as you just need to follow the simple instructions displayed on the screen. Afterward, it's generally a breeze for you to connect your devices to desired networks. Since the Winegard booster features an Ethernet port, it's possible for you to run devices on wired as well as wireless Internet connections simultaneously. As Winegard WF-3000 is designed for mobile settings, it's able to adapt itself to recreational vehicles with relative ease.
As for post-purchase supports, Winegard offers users of WF-3000 a 2-year warranty for parts and a 1-year warranty for labor which proves quite sufficient. You could get technical advice through phone as well as email if you experience issues.
Pros
High endurance
Optimized strength and range
Hassle-free installation
Cons
 Pretty expensive to most RVers
Bulky
9. C. Crane US3 Super RV Wifi Booster
Why We Love It:
Light, compact and tough, C. Crane US3 Super is the ideal RV WiFi range extender for less crowded areas. Usually, the single band C. Crane booster could extend the range of WiFi coverage to 300 – 400 feet even with walls. Moreover, US3 Super employs a long cable so RVers would be able to mount it high to achieve enhanced connections to host routers, free hotspots,… Utilizing N technology, the 150 Mbps data transfer rate of C. Crane US3 Super is good enough to satisfy most users.
Made to be compatible with operating systems from Windows XP to Windows 10, US3 Super truly performs admirably in conventional configurations. To facilitate the setup process, C. Crane includes a CD along with the WiFi booster for direct driver installation. In the case you want to update the drive, visit the website of the manufacturer. As the tech support of C. Crane seems quite responsive, you should be able to resolve issues with US3 Super by making some phone calls.
Regarding resistances, C. Crane US3 Super happens to be water-resistant which means it's perfect for standard outdoor applications. Furthermore, performance drops rarely occur due to the use of quality materials for the cable.
My wife and I started a cross country RV trip a few months back and it seemed that every RV park we went to we struggled with WiFi reception. The Crane US3 has provided a tremendous boost in reception range and signal quality. We quickly learned to connect our PC's together with a LAN cable so we can both use at the same time. We ordered a few extra cables recommended by Amazon that we did not need-recommend that you just get the antenna. We attach the antenna to our ladder of RV. Overall, great product and money well spent.

Shared by Kay M. Young
Pros
Undemanding setup 
Flexible mounts
Minimize delays/dropouts
Cons
Only work with one device at a time. 
The connection should be redesigned
10. Alfa AWUS036NH RV Wifi Booster
Why We Love It:
Weighing less than 2 ounces, Alfa AWUS036NH is second to none once it comes to portability: you would barely notice its presence in your pocket. Since it's made to be a USB adapter, the Alfa booster is able to fit all computers that have USB ports, a major plus for RVers traveling with laptops.
Boasting a powerful high gain folding antenna, AWUS036NH allows you to extend WiFi networks coverage and increase signal strength. In most cases, Alfa AWUS036NH should connect to 2.4 GHz outdoor antennas with ease.
The catch is you would have to somewhat compromise performance to enjoy portability. Featuring a data transfer rate of 150 Mbps, this RV WiFi booster from Alfa provides RVers with unexceptional but nonetheless adequate surfing experience.
You will also enjoy the latest wireless data encryption with AWUS036NH. For its values, this Alfa model is arguably the best WiFi booster for RV in terms of cost-effectiveness.
Thanks to its no-nonsense setup, you don't need to be a hardware expert to get the booster up and running in the blink of an eye. Still, AWUS036NH is not exactly a plug-and-play product, so follow the manual closely to install it without hassle.
My husband and I travel in our RV a significant number of months during the year, so we have been so frustrated with the poor wifi offered in most of them. If we are lucky enough to get the closest campsite to the wifi router, fine….but woe to the rest of the campers. The Alpha unit was highly recommened on one of the RV websites I read so decided this year to purchase it in hopes it would help. I was tired of lugging my laptop and sitting in the reception room of the RV camp office or just outside.
Well, this little thing is great! When my tablet will just barely pull in 1 bar, I'm getting 4 bars on my laptop with the Alpha. I'm using the stronger antenna. When we tried out the unit before we left home, I was so surprised at all the available wifi in our neighborhood. Thanks! Wish there was a way to connect it to my Toshiba tablet!

Shared by L. Seifert
Pros
Compact and light
Amazing coverage and strength
Offer great values for the price 
Cons
Users complain about receiving counterfeits  
Barely acceptable delivery service 
11. Persevere AC1200 RV Wifi Booster
No products found.
Why We Love It:
Repeatedly frustrated by the WiFi dead zones in the interior of your recreational vehicle? If that happens to be the case, you must see what Persevere AC1200 could do. Packing up to four external antennas (two for 5Ghz, and two for 2.4Ghz), the dual-band AC1200 is able to extend the coverage of WiFi signals to hard-to-reach corners of your rig. Hence, by giving you constant access to the Internet, the Persevere booster lets you to leisurely brow web, chat online, stream HD media,… on the move.
Persevere AC1200 is designed with three connection modes: router mode, AP mode and repeater mode. In the router mode, AC1200 put together an instant of private wireless network then permit multiple devices to share it. If you want to create an access point that connects to a wired router, switch and so on using the Persevere booster then you need to engage the AP mode. Last but not least, with the repeater mode on, Persevere AC1200 would proceed to extend the overall WiFi coverage of an existing wireless network.
In order to assist RVers in finding the best spot for it, Persevere AC1200 features LED indicator that show the strength of WiFi signals. Walk around in your rig while checking the indicator should let you know where to put this top-notch multipurpose WiFi booster for RV.
Pros
Suit a variety of roles 
Powerful and strong
Convenient controls 
Cons
A few connectivity issues
Mediocre quality control 
12. Wavlink WL-WN570HN2 RV Wifi Booster
Why We Love It
Boasting two external antennas and a transfer rate of 300 Mbps, Wavlink WL-WN570HN2 truly excels at addressing WiFi dead zones in its surroundings. Using MIMO technology, the single band Wavlink booster provides distant data transmissions as well as stable connections to paired devices. WL-WN570HN2 contains two operating modes: AP and repeater. In the AP mode, Wavlink WL-WN570HN2 converts wired internet connection into wireless WiFi networks and in the repeater modes, it extends the reach of WiFi routers.
Engineered by Wavlink for outdoor uses, WL-WN570HN2 possesses a tough weatherproof housing that could resist heat, water, moisture,… In most of the cases, the model from Wavlink is able to work in temperatures ranging from -22 to 158 degrees Fahrenheit. Furthermore, Wavlink WL-WN570HN2 packs static (15KV ESD) and lighting (4KV) protection as well. So if all you want is a durable RV park WiFi booster, you must give this booster a look.
Unable to find an outlet for Wavlink WL-WN570HN2? Well, don't worry because the Wavlink WiFi booster supports POE (Power Over Ethernet). In layman's term, WL-WN570HN2 lets you combine network connection and power into a single cable so no need to run separate cables.
Pros
Simple to install
Clear instruction  
Reasonable price 
Cons
Inconsistent performance between units
Connectivity requires several tweaks
---
Finding The Best RV WiFi Booster: The Criteria
Considering the fact that different RVers have different preferences, the RV communities have contrasting opinions about what could be called the best WiFi booster for RV on the market. Nonetheless, everyone agrees that to avoid wasting money on less than ideal products, you must follow a set of criteria.
Compatibility
The latest models of WiFi boosters should match all common configurations but you still have to think about compatibility while shopping for the best WiFi booster for RV. Some products only work with certain devices that limits their uses to particular setups so don't make purchases until you know what you want. Keep in mind that it's only a waste of money to buy fancy, feature-rich models that fail to work in your recreational vehicle. In case you feel uncertain then contact the manufacturers in order to get more information.
Speed
While talking about Internet connections in recreational vehicles, speed is something that always comes up. Rated in Mbps, the speed of your WiFi booster largely determine your surfing experience. Do remember to keep things moderate as high Mbps is not necessarily mean superior performance. Check out the max speed of your WiFi network settings and choose a booster that features a similar rating. Refrain from using models that offer higher speeds than what your current system could support.
Handling
Compared to previous generations, modern-day WiFi boosters for RV prove to be more forgiving in terms of handling. However, to avoid potential troubles later, it's essential that you assess the operation, maintenance and setup of the models you see on the market. No one wants to be stuck with overly complex boosters that require a lot of work just to turn on. As an RVer, you already have a lot of issues to take care of every day so don't invite more into your recreational vehicle.
Security
Overall, WiFi connections definitely come in handy on multiple occasions but they also contain quite a few security risks. That is why it's of utmost importance that you take a good look at the security standards of the boosters you intend to buy. The best WiFi booster for RV needs to be able to guard the information of users from potential attacks. In most of the cases, it would be wise for you to consider going after models that offer layered encryptions.
Price
With numerous RV WiFi boosters available for purchase, you should be able to find one that matches your wallet. Still, don't forget that quality comes with a price: dirt-cheap models could never have premium-grade features and top-of-the-line performance. If you want to have something good, you must be ready to pay for it. It's possible for you to determine the ideal shopping budget by listing the prices of all WiFi boosters that have the values you want and start from there.
---
FQAs About WiFi Boosters For RV
1. How to tell RV WiFi boosters from household ones? 
In terms of performance, WiFi boosters made for recreational vehicles work like household models. That being said, purpose-design RV-rated boosters pack several refinements that allow them to adapt to campers, trailers, motorhomes,…
For example, the average RV WiFi boosters tend to be highly compact and use lightweight materials in order to ease handling in narrow space. In addition, models for RV may be reinforced before to deal with vibration caused by minor bumps on the road. 
2. Should I keep an eye out for certain booster brands?  
All in all, you could get whatever models you like if you know for certain that they match your demands. Nonetheless, like everything else, it's a good idea for you to prioritize products from well-known manufacturers before others.
Brands only become reputable by delivering quality products as well as appropriate post-purchase supports. So in the case you want to get your money's worth, you better pay attention to names such as Alfa, Winegard, Redport, Netgear, Wavlink,…
3. What is the best place to buy WiFi boosters?
Thanks to services offered by Amazon, eBay and similar websites, RVers would be able to purchase RV WiFi boosters without having to move far. But if you want to play it safe then please consider visiting physical shops to get to know individual models before making up your mind.
You can also find other in-depth reviews and buyer's guides on best RV tire pressure monitoring system, best RV backup camera, best TV for RV, best portable satellite dish for RV, best RV TV antenna, best cell phone booster for RV, best RV stereo, best pet temperature monitor for RV, best RV GPS, best RV thermostat, best RV security system, best trailer brake controller and best TV mount for RV in RV Electronics category where we provide you the handpicked list of top-rated products on the market with specific reviews, pros and cons to help you easily choose the best products for your needs and preference.