If you are traveling in a big family and often go on long vacations, you would never get as much storage space as you desire.
Even the hardcore minialist have a ton of things to bring along — dry food, cookware, clothes, appliances, cleaning products and tools, not to mention the bikes, kayaks, and other adventure gear you may be taking along for your exploration.
Worry not, as we have compiled this ultimate guide on RV storage ideas so that you can get the most out of that tiny space.
RVing does not necessarily mean you have to sacrifice comforts. These RV space saving ideas will not only help you maximize the limited space in your RV but will also protect your things from rattling or breaking when traveling off roads.
This guide will cover every aspect of the RV experience, from closet and bathroom organization to kitchen as well as RV storage ideas for much more.
RV Storage Ideas: Closet & Bathroom
Over-the-door towel rack
Apart from the kitchen counter flaw, RVs never seem to have enough towel racks in the bathroom. A cheap and easy solution is over-the-door towel racks, which you can easily buy online or at department stores.
No drills, simply hang the hooks over the thickness of your bathroom door or shower.
Hampers & closet organizers
Open storage compartments in an RV are never adequate, even if you are a minimalist. Hampers and closet organizers will help you effectively optimize space and keep things organized.
These come in a variety of forms and shapes. Most are foldable for space saving and super lightweight. You should definitely get some foldable storage bin cubes, which you can stack up, and some hanging shelves with sturdy metal frames for separating your items into categories and for easy access.
Storage bin cubes usually come in packs of 4, 6 or 8 at $12 to typically under $30 for a pack. Hanging shelves can range from $13 to $30 for one.
Drawer dividers
If you are a neat freak, maybe grab some drawer dividers for underwear and thin summer clothes. When you don't need them any more for your RV, they will always be useful in your home.
Storage cubes turned on their sides
This is a super hand trick shared and loved by seasoned RVers. A huge plus is, it is very versatile and can be used for closets, kitchen cabinets and anything else. This RV storage ideas will help you find things more easily by categorizing and will keep them from tumbling to the side on top of each other. No doubt it is also a super popular household storage hack.
Over-the-door shoe organizers
All you need is one of those cheap, commercially-available cloth shoe storage racks, some scissors, and some velcro… and you've got an amazingly versatile storage hack to add anywhere in your RV you see fit. Some choice spots include along the base of the bed in the master or on the sides of your RV couch.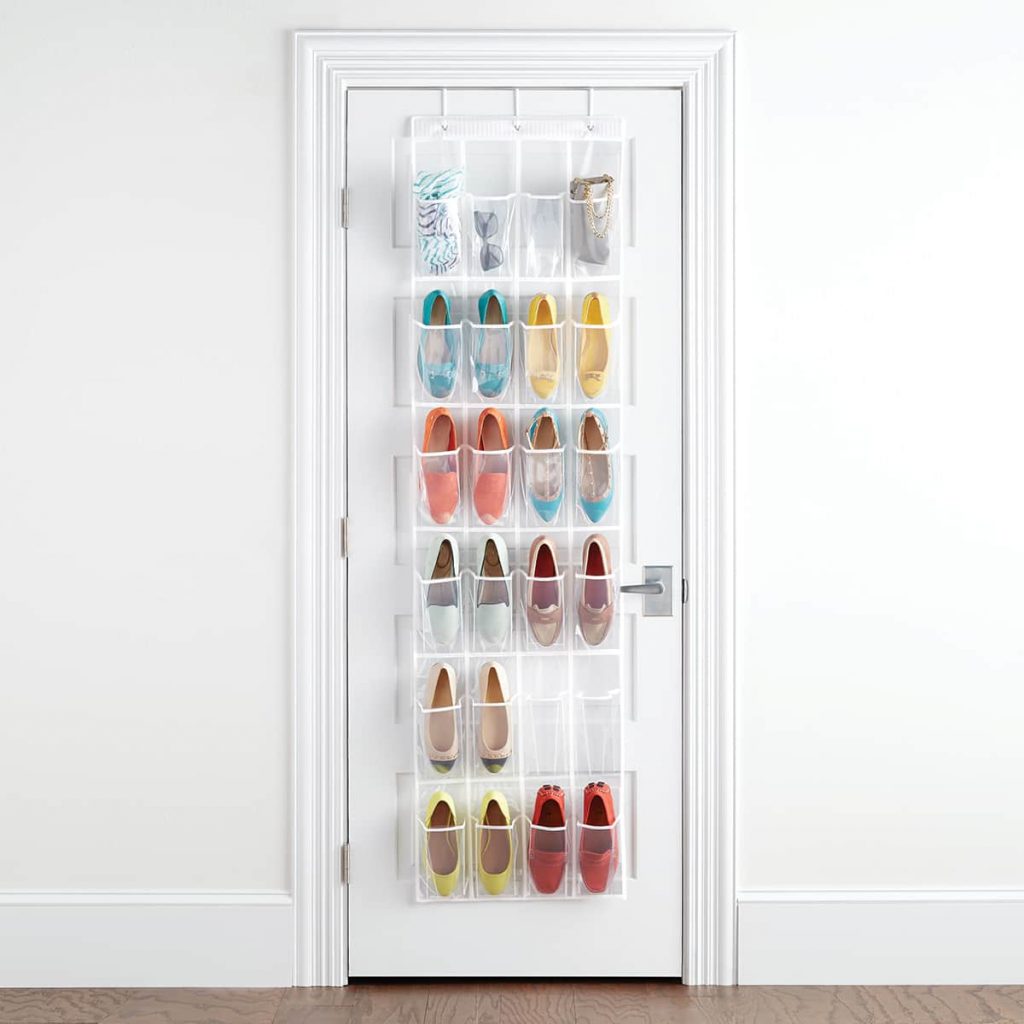 RV Storage Ideas: Kitchen
Cooking on your own on longer trips is essential regarding both your budget and health. This is why every RV storage ideas list includes a number of kitchen organization tips and portable accessories.
DIY Sink Covers/Chopping Board
A lack of counter space can sometimes be a problem in RVs. One simple hack is to make a DIY stove cover or sink cover to give you more space for prep. A sink cover could even double as a chopping board – you can simply cut a wooden chopping board to fit.
DIY Countertop Fold-Outs
Many RV DIYers have also added to their countertops by creating their own simple fold-out extensions, which will hang down or slide into existing cabinets when not in use.
Fruit Hammock
Fruit bowls are lovely displays, of course — why else would so many artists immortalize them in still life paintings?
But when you're on the road, those carefully-arranged apples and bananas can quickly take to flying through the air if you forget to stow them away when you're ready to pick up camp and move on. All to say nothing of the fact that your beautiful bowl takes up precious kitchen counter space, which you probably don't have too much of to spare.
Our favorite solution to this potentially-sticky problem? A fruit hammock! Not only does it save you space, but it also helps your fruit last longer by providing gentle ventilation that won't bruise or crush. And yeah, it looks pretty neat, too.
Square Canisters
Think about it, how much more food can you fit into your rig's tiny kitchen if the storage containers you use all fit neatly together? It's definitely a lot more than you'll be able to pack in if you're using round or otherwise irregularly-shaped containers.
The trick here is only opting for square plastic containers that are stackable and preferably by the same brand so you can organize them neatly like Legos.
A good set of airtight food containers can help you keep leftovers and dry goods fresh for longer than they'd stay in a bag or box, as well as allowing you to pack more of it into your RV's kitchen cabinets and refrigerator. You can even look into smaller, single-serving containers made specifically for meal prep.
Multi-Functional Cooker
A multi-functional cooker will save you space on your small RV by combining typically 7 kitchen appliances in 1, including: pressure cooker, slow cooker, rice cooker, steamer, sauté, yogurt maker, and warmer.
The most user-friendly, reliable and affordable cooker is arguably the Instant Pot Duo Mini 7-in-1 Electric, which costs $60. It receives a 4.5 overall rating from almost 50,000 positive reviews on Amazon, making it the absolute best seller.
Cutlery protectors
This might not sound super grand, but is one of those RV hacks you will love more and more the longer you spend on the roads. Towing on bumpy roads can cause annoying rattling and worse, your cutlery can fall off the shelves and brake.
A favourite cutlery protector by full-time RVers is the Camco Stack-A-Plate, which costs $10 for a pack of 2, one small and one big.
Dish Cradles
Stacking dishes vertically in a dish cradle makes them take up less space and, more importantly, makes it easier to get them out without needing to take anything off the top of them.
Hanging utensils on peg boards
A peg board on the wall looks like a really cool, easy way to organize the unorganizable: pots, pans, cups, mugs and utensils. Peg boards are used in supermarkets and department stores as they offer easily customizable solutions for organizing shelves.
You can use your creativity with this super versatile and easy-to-work-with material to organize your working station and wardrobe – with different kinds of hooks, the possibilities are endless. You can use many peg boards of appropriate sizes for any intended spaces.
Fridge storage
While you're on it, getting some organizers for your fridge would also prevent rattling and things knocked over as well as maximizing space. These plastic containers make it easy to look for, pull out and put back things and importantly, keep your produce fresh.
Magnetic knife holder
If you're an avid chef, you know how important it is that the blade matches the purpose. But when you've got several knives on hand, it can be difficult to find a way to fit them all in your RV's kitchen drawers… and big, clunky knife block is right out of the question.
Magnetic knife strips are a great way to keep your knives handy, out of the way, and also as sharp as possible, since they won't be clanging around with other silverware in your drawer. Just make sure they're well-adhered before you take off for a new campsite — you definitely don't want those guys flying around inside your coach!
Magnetic spice organizer
Another creative application of wall mounted magnetic strips is a magnetic spice rack. This is a great way to keep your flavors close at hand, out of the way and easy to access.
Or: Fold Out Spice Rack
This spice rack can be installed right under a cabinet and will save tons of RV cabinet and counter space.
Fridge magnetic shelf
Honestly, using magnetized storage is one of our very favorite space saving ideas, both in an RV or a sticks-and-bricks home. You can find all kinds of neat magnetic storage solutions, like this all-in-one paper towel and utensil organizer by Great Circle. Just make sure it's good and solid before you put, as they do in the photo, something as heavy as a full wine bottle into the caddy. And don't forget, if you don't have room on your RV refrigerator (or if it isn't magnetic), you can always install magnetic strips on your RV's walls!
Mount those rolls
By now you should have noticed a clear pattern in any list of RV storage ideas: in a small space, try to optimize vertical space. That is, hang everything that you can hang. Plus, surely in the settings of an RV, anything hung must be secured for safety and organizational purposes.
If you've got the extra room on your RV's walls, you can make your quest for food storage accessories like aluminum foil and cling wrap even easier by mounting the rolls of aluminum foil and saran wrap on the wall. Crazy easy and useful, right? A great idea from Anna Moseley over at Ask Anna.
Stackable cookware
One of the simplest ways to maximize the limited space inside your RV kitchen cabinets actually has nothing to do with retrofitting more shelving or finding clever ways to mount magnetic objects.
It's actually as simple as purchasing pots, pans, and other cookware items that were made to fit in as little space as possible, such as this space-saving six-piece set.
The $299 price tag might seem steep, but as long as you take care of them, pots and pans really only need to be purchased once. And by choosing a single, stacking set like this (as opposed to just bringing along whichever pieces from home you feel like), you'll capitalize on your RV's kitchen space and buy yourself more room to store other goodies — like, you know, actual food!
Pots & pans organizer
Not in the market for a whole new set of cookery? We get it. Fortunately, there are less-expensive ways to achieve more or less the same result.
A simple kitchen cabinet organizer can help keep unruly pans and lids at bay, both increasing your usable storage space and making it way easier to find the piece you're actually looking for. And at less than $15, it's a far cry from purchasing a whole new set!
Upgrade: Slide-out/Pull-out cabinet organizer
If you have OCD or are willing to spend extra money for effortless access to your kitchenware, there is probably nothing better out there than pull-out cabinet organizers and under-sink organizers. Depending on your needs, take your pick among pull-out drawers, lid organizers, cookware and bakeware organizers. Each type is specially designed to best store different types of kitchenware safely and offers instant access while maximizing space.
For instance, cookware organizers feature strong heavy-duty adjustable dividers, so that you can customize to securely hold the different sizes and styles of pots and pans. Bakeware and cutting board organizers typically have tall dividers to keep everything organized, separated and easy to access. Meanwhile, lids organizers feature loop dividers to securely hold pan lids of all sizes and styles.
Or: Use Towel Rods to Hold Pot Lids
Pot lids are the worst things to find space for. They are awkward and never sit right. Alternative to the above lids organizer, you can just use a curtain rod to hold them on the back of a cupboard.
DIY cabinet organizer: tension rods
Here's a way to keep your kitchen goodies separated and secure that's both super-cheap and fully customizable. Instead of buying a wire cabinet organizer, try a pack of tension rods, the kind you might use for window curtains.
A pack of six will run you about $15 on Amazon, and you can easily install and reinstall to your heart's content. Install them vertically to safely store cutting boards, trays, baking trays, baking sheets … for easy access.
Silicone roll-up dish drying rack
Cooking in your RV is one thing, but clean-up can be a whole different ball game. After all, you most likely aren't packing a dishwasher, even in the most luxurious of rigs… and you can only fit so much into even the most generous of kitchen sinks.
Taking up counter space with a traditional drying rack could spell disaster if you forget to put things up before you pull out of camp, and besides, even the folding ones are pretty unwieldy to store. That's why the new-generation roll-up dish racks are often featured as one of the most revolutionary RV storage ideas these days.
Just unroll it over your sink to allow your dishes to drip dry, and then curl it back up tight when it's time to store it and move on. These racks are typically made with stainless steel rods coated entirely with food-grade silicone, which keeps the rack completely slip-free and heat-resistant. The anti-bacterial silicone coating means cleaning will be a breeze.
In addition to dinnerware, you can use these racks when washing and drying vegetables and fruits. Super simple, super versatile, super space-saving and it'll only cost you from $18 to about $22 for a high quality silicone rack.
Over-cabinet-door organizer
A version of the highly versatile over-the-door home organizers, you can further optimize vertical space by hanging these wire baskets over your cabinet doors. You can hand them either outside or inside, to easily access items that you frequently reach for, such as cling wraps, baking sheets, aluminum foil… They also offer an ideal place to leave cutting boards, baking sheets and baking trays out to dry.
Hide your garbage: Over-cabinet-door baskets
Garbage is a smelly problem even in the best of circumstances and that goes double when you're traveling in the tight quarters of an RV. A traditional garbage can not only allows obnoxious odors into your rig's coach, but also takes up precious floor space. Definitely not ideal as no one wants to look at their garbage all day.
These convenient over-cabinet-door garbage baskets are perfect for RVing. They keep your garbage out of sight, out of mind, and — most importantly — out from underfoot. Of course, you can use these over-the-door baskets for almost anything.
They're small, but in a rig, you'll be wanting to take out your garbage pretty frequently anyway. And they're cheap so that you can easily invest in a few for the kitchen and a few for the bathroom.
Under-sink free-standing drawer unit (secure with bungee)
These cabinet-sized drawer units are on the pricey side, but if you have the money they can be one of the best ways to use RV cabinet space that may otherwise be wasted. Secure them with bungee cords to keep them from opening on the move.
Extend your shelf space with under-shelf baskets
They're great for packing extra dry goods into your kitchen, but you can also use them in the bathroom or bedroom for clothes, towels, and more. These baskets are hugely popular in households and are among the most affordable yet versatile organizing solutions for small spaces like rented apartments.
Under-shelf hooks holder for mugs & utensils
Yes, hang them all! You might be surprised by how much space is available when adding up a little bit of under-shelf space here and there. And more under-shelf RV storage ideas means more counter space freed up for prepping and cooking.
Surely you must store them away while the wheels are rolling, but these hooks offer a quick solution for drying them without taking a lot of precious kitchen counter space.
RV Storage Ideas: Move It Outside
One area of RV storage ideas has nothing to do with the internal space of an RV, but creatively deals with the external space. The roof and the back of a motorhome offer a lot of space for mounting those bulky gears like paddle boards, kayaks, bicycles and camping gears.
External Mounts for Extra Utility Space & Storage
Another hack to increase the forever-limited storage capacity on your RV is to add an external mount to the rear of the vehicle. Bicycles and kayaks are the most common items that you will see.
In addition, you could also use an external mount to stow extra fresh water tanks or waste containers. Some full-time RVers even stow a whole little greenhouse for their RV-grown fresh produce, or an outdoors kitchen. Yes, that is one hell of a creative RV storage ideas. Extra space will allow you to take on plenty of cool DIY projects for amazing upgrades, helping you get the best out of your RV living.
Outdoor shower
Showering outdoors in good weather is a perk of the RV life. For a bit of fun, or if you do not have enough space for a shower in your small RV, or many people are sharing one bathroom, which is often the case, you can fit your own outdoor shower on the side of your vehicle.
An outside shower will prevent the interior of your RV from extra moisture and is useful for getting the mud off from your trekking trip before you go inside. Make your own privacy screen for your outdoors shower using a shower curtain and wire or piping is a fun and not too challenging project.
Check out the best RV shower head units here!
Awnings for outdoor dining
If you're traveling with your family, there might not be a comfortable space for dining inside the RV. Plus, a huge perk of RV camping is dining outdoor while enjoying nature, which also keeps your RV fresh and free of odors.
If you love staying outdoors in great weather, an RV awning is a must. An awning can provide shade and help save money on cooling in hot summer weather. It can also provide a shaded place to dine, enjoy a drink or read outside your RV.
If you don't want to invest in a commercial awning, there are many guides, including videos, within the RV community on how to make your own awning by up-cycling the material from an old tent, or even old umbrellas. A curtain rod and simple pulley system plus some craftsmanship will provide reliable support for your awning.
RV Storage Ideas: Others
Bedside portable caddy organizer/night stand
You've got your cell phone, notebook, reading glasses, whatever it is you're actually reading… and soon, you've got a great big mess right alongside your bed.
At home, you might be able to just stuff it all in the nightstand and forget about it. But depending on the design of your RV, you may not have a convenient nightstand junk drawer… or any nightstand at all!
A portable, caddy-style organizer not only offers extra room and encourages you to keep things separated and easy to find, but you can also simply pick it up and tote it along with you to the living room, or wherever.
Over-the-seat caddies
Another "over-something" RV storage ideas. If you're in a travel trailer rather than a motorhome, you spend a lot of time in your tow vehicle — and it can get cluttered just as quickly as your cabin can. That's especially true if you're traveling with kids, who have to bring along their whole playpen in order to endure the long driving hours of a typical camping road trip.
These backseat car organizers can help keep everything you and your family needs within reach, without having it be spread all over the backseat itself. Even if you're not traveling with kids, it's an easy and affordable way to extend your RV's storage space, especially for items that you don't need every single day inside the coach itself.
Command hooks
Command hooks might top the list of those RV storage ideas that seasoned RVers everywhere would universally agree on. They are not only useful in RV settings but are hugely popular in the homes as well, thanks to their versatility, easy installation and damage-free removal.
Yes, in case you haven't heard of this magical creation, these hooks are designed so that you can remove them safely without stripping the paint on your wall or doors. The mechanism is simple: it sticks on surfaces by a thick adhesive. To remove, pull the end of the adhesive that sticks out vertically downward and do so very slowly.
The adhesive is made from a material that is stretchy and strong, so when you pull it correctly, it would not break but instead stretch to the point where it comes off the surface clean and damage-free.
Command strips
Same mechanism with command hooks and also damage-free, command strips are just like velcros – each consists of one hook strip and one loop strip, both with adhesive on the back. Stick one trip to the wall and stick the remaining strip to anything that you need to secure on a surface.
Got a habit of losing the TV remote? Just a small command strip on an unassuming side of your RV couch can help you keep those zappers close at hand at all times.
These strips are very handy for securing small items that you often reach for but are easily lost. They also work wonders in case you want to secure something to a surface to avoid it rolling around or getting knocked on the floor while your RV is on the move.
Magazine racks for odds and ends
Wire magazine rack are lightweight and can easily be mounted on walls, doors and cabinets sides. You can use them to store anything.
Inside-the-door storage
Keeping shoes near the RV entrance is a good idea. The best solution is to mount a regular over-the-door shoe organizer with pockets on the door. You can easily cut the pocket organizer into smaller pieces to fit your door.
Ottomans
Collapsible ottomans are great for adding extra storage and utility at the same time. When not in use, just collapse them and put them away.
Vacuum-Sealed Bags
If you're bringing extra pillows, blankets, or clothes with you in the RV, these vacuum-sealed bags are an excellent way to keep them fresh and save space. The cheaper version is simply a zipper bag, where you roll the bag with, say, a blanket in it to force the air out, then zip it close.
Needless to say this version is far less effective than a kit that comes with a vacuum. If you travel a lot, it's best to invest in a decent kit with reusable bags and a vacuum. Otherwise, a pro trick is to turn the hairdryer around and place the intake valve into the neck of the bag, then turn on the hairdryer while minimizing any opening. The air will be sucked out of the zip bag.